The 2016 International Travel Goods Association Show brought together the travel goods industry's largest merchandise manufacturers. This year, Hill & Partners designed and executed an upscale 3,000 square foot Rental Branded Environment for Hartmann. The challenge in this massive space was to incorporate three distinct brands, Hartmann, Boyt and LiPault, while maintaining a cohesive environment. Hill & Partners' branded environmental specialists give some insights on three ways to execute a successful design that effectively communicates diverse brands all within a seamless retail environment.
1. Utilize unique materials and textures to differentiate the environments:
The Hartmann brand speaks to the desire for luxury and quality crafted accessories so their area utilized warm woods, leather and burlap textures, highlighting the brand's American heritage.
Boyt's use of greywoods, brushed aluminum, matte black metal and industrial pendant lights reflected the rugged yet refined nature of their luggage.
Just on the other side of Boyt, Lipault's space contrasted well with its gloss white environment, allowing for its products' bright colors to stand out on the show floor.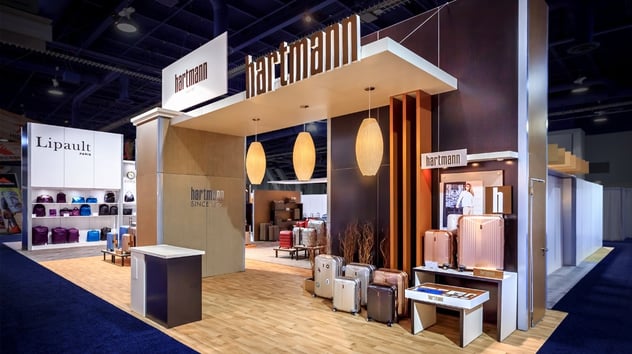 2. Showcase the diverse products with similar displays to unify the space:
All three brands utilized custom non-traditional shelving structures, nesting tables and glass display cases. LED lighting was strategically added to the displays to draw they eye and provide visual interest to the display areas.
Showcasing the products throughout the space emphasizes the retail environment and allows the products to be the star of the show.

3. Create seamless navigation throughout the space using flooring as a guide:
Each brand's space had a unique flooring to allow the attendee to be immediately immersed into the different areas.
The Hartmann space utilized light wood flooring that complimented the rich and luxurious textures of their luggage perfectly while the darker wood tone of the Boyt area communicated their strong and stylish brand. LiPault's cool greywood served to add to the high-end retail environment of their space and allowed the vibrant colors of their product to pop.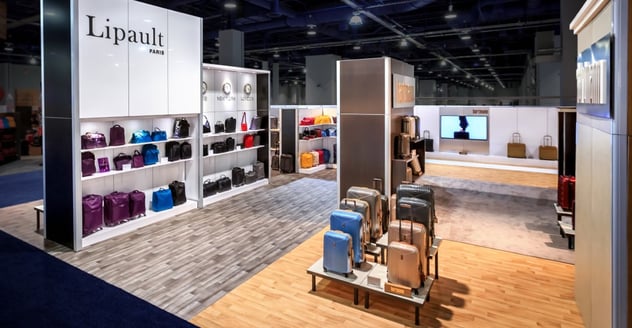 When designing and executing a single Rental Branded Environment for multiple brands, it's important to create a cohesive space while highlighting the individuality of the products. Within their space at TGA, Hartmann, Boyt and LiPault were showcased in a harmounious retail environment without sacrificing any of their brand's creativity. To read more, click here.
May 3, 2016 3:45:02 PM