There's a lot to be said for companies that spend as much time in the office as they do outside of it. What your employees can achieve on a day-to-day basis grows exponentially when you challenge them, and let them challenge themselves.
In 2008, Amy Connery, then the office manager of Hill & Partners, was challenged by CEO Michael McMahon to find a way for the organization to give back to the community. Connery wanted to keep it local, somewhere the team could easily get to and someone to have more than a one-off relationship with. She settled on Habitat for Humanity and worked to organize the first build, which took place in Greater Boston. The team had a great time and loved the experience, and Connery went home with relevant connections.
Fast forward to 2012; H&P moved from Quincy to Weymouth and immediately recognized a neighbor; the South Shore Habitat office was right across the road. Connery and McMahon wasted no time and made quick friends with their team, establishing what is now one of our strongest partnerships in the community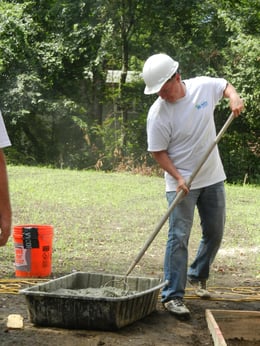 Paul Cunningham and Amy Connery participate in H&P's first build day!
To date, H&P assists on about 2 or 3 Habitat builds every year, but the relationship goes far beyond hammers and nails. Our CEO Michael McMahon became an active member of the Habitat board, and what started as a community relationship soon developed into a business partnership, as well. From website creation to financial contribution, time and energy donated, and helping bring their annual gala to life, H&P made good on their goal to give back in a big way.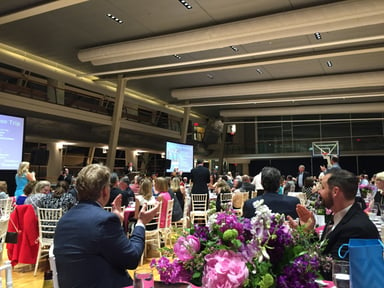 High Heels & Hard Hats Annual Gala
We have a slogan that I'm sure you've heard before; Our People Become Your People. It's in our employees' hearts and minds. We encourage our team here at H&P to be present with everyone and every project they work on, and that extends past the walls of the office. When it comes to volunteering with Habitat, there's no limit on the amount of hours or effort we would give.
April is Volunteering Awareness Month; what does your organization do to give back to its community? How do your people become their people?
Apr 28, 2017 10:00:00 AM