Ask The Expert: Temporary Trade Show Booth Staff
HEATHER BURDETTE- Trade Show / Marketing Strategist & Presenter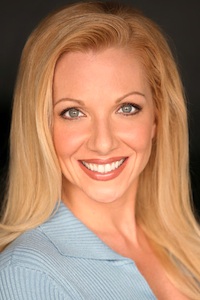 Following a 12-year career as a full-time theatrical performer in everything from premiere Las Vegas shows to commercials and correspondent roles for national media, Ms. Burdette has spent several years as a full-time trade show presenter, spokes model and lead generator.

Heather's interest and experience in the industry led her to developing expertise in the why's and how's of exhibitor success on the show floor as well as how to continuously increase and contribute to that success.

Hill & Partners asked Heather to share with us some insight about outsourcing booth staff for a trade show to help you decide whether temporary booth staffing is the best alternative for your exhibiting needs:
---
1.) Firstly, why would you recommend using temporary booth staff?

A few main reasons:

- Leave the experts where they work best. Using temporary booth staff, whether as local-hires or professionals you've brought in from another city allows more of your existing company staff and/or sales force to keep doing what they do best back at the office, while still providing professional representation on the show floor. I've heard salespeople complaining that they're getting more and more behind on work at home--which was clearly impacting their ability to connect to the goals of the show in any personal way.


- Don't burn out the talent. Additionally, not every salesperson is cut out for the trade show experience. Never mind the sensory overload, a salesman who works from a desk or a car the majority of the time will not be able to suddenly switch to the high-intensity flood of interactions that occurs on the trade show floor, not to mention the 8-10 hour days on their feet. People like me do this week in and week out, and we understand our roles as facilitators in that environment.


- Maximize your show budget. For example, hiring a Lead Generator in place of someone who's great on the phone, but not-so-great at stopping and engaging attendees in the aisles. Using additional staff of this kind can also ensure that the company salespeople you do bring are conserving their energy for the conversations of real merit.


- Your staff knows your product, but how are they with presenting? When presenting your product in a formal stage presentation--it's best to hire a professional narrator or at least a pro MC to introduce your company's presenters. I have one client who recently called me a "talking brochure." By that she meant that my years of speaking on stage give me the presence, vocal quality, and an ability to convey information clearly and engagingly that non-speakers can rarely emulate on a larger scale, no matter how charming they were at the last meeting back at the office. The trade show environment is intimidating, and your presenter who's great in a small boardroom can get overwhelmed if they're not accustomed to taking the stage like a pro.


2.) What different kinds of staffing are available for exhibitors?

Trade show and exhibit managers might be surprised to discover that there is a whole sub-industry of professional representatives, with several different categories. I think we're all familiar with the traditional



BOOTH HOSTESS

- the pretty girl who mainly stands around scanning badges--and smiling, if you've got a good one. This is a fine position, but being the most common, often the reason she's just a hostess is that not many companies take the time to educate these types--they're purely meant as extra help around the booth, as eye candy, or a combination of the two.

This category often breaks down into two sub-categories:

Eye candy: the stand-around and look pretty types--not always friendly, and often not willing to engage attendees
Actual hostesses: taking care of beverages for meeting rooms, reaching out to attendees more actively, etc.
Either way, we all work that role occasionally, so don't assume that she's not smart--some will knock your socks off with their brains AND their beauty.

BRAND AMBASSADOR is sometimes used interchangeably with the Booth Hostess title. These types are usually a bit perkier than Booth Hostesses and are usually fairly clever and on-the-ball. It's ironic, because BA's get paid the least on our side of the carpet, but they usually have a lot more spunk and hustle. BA is where a lot of younger and newer models come into trade show staff work--it's sort of entry-level. There are also more (usually young) men in this category than in the others. BAs are also more commonly seen outside of the trade show environment, schilling for credit card or cell phone companies at the airport or concerts, or sampling food or liquor at the grocery store. These types of gigs are more accurately called Brand Ambassador than a booth hostess' duties are.

RECEPTIONIST - I've also worked shows where I've had hostess duties along with complicated reception duties (answering phones, locating salesmen I've never met before on a sprawling booth floor, coordinating with destination travel services to pick up or drop off invited clients, etc.)

A more specialized staffing category is Product Demonstrators/Specialists, who have been trained specifically on one or a small set of products prior to the show, and can speak intelligently to attendees in detail on those items.

LEAD GENERATORS, another specialized category. These staffers have learned product and/or company information ahead of time, and focus their energy on actively pulling people into the booth for the purpose of accurately qualifying leads; recording the low-level leads, and passing mid-level-and-up leads off to company salespeople for further conversation.

You can think of Lead Generators as Pre-Sales. Best of all, both Lead Gens and Product Demonstrators/Specialists are typically a little more mature, and can blend in as an employee of the company. (I usually say "I'm based here in Las Vegas" if asked, in order to avoid those awkward "Oh, you're in Boston? You know that deli on 3rd St?" things that tend to come up from time to time...)

These types can be anywhere from 20s on up age-wise, depending on your personal preference and your brand image. You'll find more experienced models here in general, or people who have left other professional careers for the freedom of freelancing.

CROWD GATHERERS are only as educated on your company and product as you feel they need to be, but are highly energetic and professionally aggressive, working hard to fill seats in a presentation theater and to collect lead info (without qualifying, typically).

I discussed professional Presenters, Narrators, and MCs above, but I can't emphasize enough how much they improve your product demonstration. Since they are not generally given more information than their presentation script, presenters and MCs typically only remain in the booth long enough to deliver that script, then vanish until the next presentation.

Obviously, you wouldn't hire one of these folks to speak as an expert on an educational topic (unless he or she happened to be an expert in that area)--but if you want a "talking brochure", or to make your educational presenter stand out with a professional and polished introduction, a presenter or MC is a must-have. You'll find all ages, sizes, and types of presenters available, so find one who matches your brand image the best whenever possible.

3.) What do you find as a common problem exhibitors run into when not educated about staffing options?

I have been hired to be a Lead Generator only to discover that a client actually wanted a hostess (no product info), and vice-versa. The duties and responsibilities in each role affect our rates whether working through an agency or direct, so it's helpful all-around if you know what you actually want from a booth staffer, and hire accordingly. Again--understand your goals for the show, and how to plug us into those goals. (And we can help clarify that for your individual exhibit--just ask.)

4.) What about travel expenses? Is it typical to have to foot the bill for outsourced staff?

For all of these categories in the major trade show markets, you can nearly always find local talent, or talent willing to work as a local (no travel expenses.) But I have some clients that worked with me initially as a local-hire here in Las Vegas, and were so thrilled that they no longer felt it worth the gamble to "go fish" for another girl in a new city just to save on travel expenses--they'd rather stick with a sure thing and bring me along. I've earned my wings, so to speak.

5.) What do you say to people that refer to temporary booth staff as "booth bimbos?"

Ha ha! Well, it's a delicate line, really, wanting to defend my fellow women and all that--but I'd be lying if I denied that they're out there. I actually had a longtime repeat client who hired just such a girl once and was somehow surprised when she turned Day 1 into a train wreck. He said to me, "Heather, you should have seen the photos she submitted!" to which I replied, "I can imagine--and you hired her!!"

But with that said, the vast majority of those of us who work trade shows on a regular basis do so not only because we are attractive, but because we are quite smart-- smart enough to work for ourselves while the opportunity exists, or while we're completing education, or while we're building a different career. For every "bimbo" trade show model out there, there are at least 30 intelligent, professional, and legit "babes" of all ages, sizes, and types who will genuinely and actively maximize your investment by bringing in qualified leads and by lightening your (over)load, and who will do so while being an attractive, polished, and professional representation of your company and your brand.

6.) How can you tell if you're getting a "booth bimbo" rather than quality personnel?

RULE NUMBER ONE: if the girl or the agency submits only or primarily lingerie photos, there's your Bimbo Alert. This person is extremely unlikely to be anything but an added expense to you, and could very likely cost you brand equity if not actually do real damage by speaking to a reporter while wearing your company logo.

Granted, many legit models and spokesmodels have a bikini shot on a zed card (a composite of 3-4 looks)--we're required to have them actually, to show our figure. But LOOK at those photos. Are they classy? Shot by a professional? Professional makeup and hair? I'd like to think we can all tell by the advertising, but some people clearly read their internal clues incorrectly.

For some shows and some markets, it's fairly appropriate to have particularly sexy girls in tiny dresses or higher heels than is normally considered appropriate for the professional world. For example, a car show with a young male audience may prefer to have these types of models acting as car accessories to grab attention. It just really depends on the industry and the crowd, as to whether it makes sense or not.

You still might want to ensure that you hire girls who can think, speak, and gets that she's there to promote your company--not just absorb attention--just in case that top blogger in your industry comes by with a flip cam...

7.) What do you suggest for communicating appropriate attire to temporary booth staff?

Whenever possible and even as early as the RFP, give us brand-looks to emulate. We understand "BeBe business-sexy" or "Express business attire." Nearly every legit trade show model-staffer will have a classic black suit, with pants and/or a skirt. Have a photo of your ideally-attired company staff from last year's show? BAM--instant professional non-bimbo in your booth, ready to blend in with your team.

For some tips on professional staffing agencies providing the best available staffers in any city, just drop me a line. And don't forget to ask for me when booking your show. ;-)


---
Contact Heather Burdette
Hear More from Heather on Youtube
---
Want to learn more about how to maximize your total branding experience?


Disclaimer: Hill & Partners is dedicated to providing value for your business. The opinions, views and expertise contributed to this blog are credited to the "Ask the Expert" blog authors and do not represent the views of Hill & Partners, Inc.
Topics: From the Experts