3 Rules for Event Success, Year After Year
By Whitney Crowley
Thirty-five-plus sponsors, one thousand attendees, three days of learning, and a little bit of organized chaos. That's the best way to describe Catalyst, an annual user conference put on by ChannelAdvisor, with the help of Hill & Partners. What normally takes place in Las Vegas made the switch this year to Nashville, and it goes without saying that managing a venue change was only a small piece of the puzzle.
While the goal of this conference is straightforward - help sponsors like Google, eBay, and Walmart, who use ChannelAdvisor's software on their backend, introduce their products to a room full of consumers - the way in which we get there is not so simple. When only a few select elements can really change, how to keep everything within the budget, but make it fresh? What can you do to make sure the experience is consistent, but still exciting? How do you succeed year over year?
Here are the three rules I follow when organizing and planning an event like Catalyst and how they help make each conference, especially this year's, a success:
1. Be Creative
In 2016 the Catalyst floor plan spanned about 42,000 sq. ft.; 2017 brought us to Nashville's Music City Center, and jumped the space up to 50,000 sq. ft. Having to expand the design to accommodate a new hall layout, all while staying within the same budget, was one of our bigger concerns. Designer Trevor Beniak did it without breaking a sweat.
Trevor considered which key elements needed to remain in the space; a sponsor pavilion, meeting spaces and a theatre to name a few. He made visual changes to the physical structures, booth placement and even graphic elements, all while staying within budget and keeping on brand. We added new features to what sponsors received in their turnkey booth package, and considered every way in which we could take it to the next level. At the end of setup, Catalyst 2017 offered something fresh and exciting for fourth year veterans and first year attendees alike.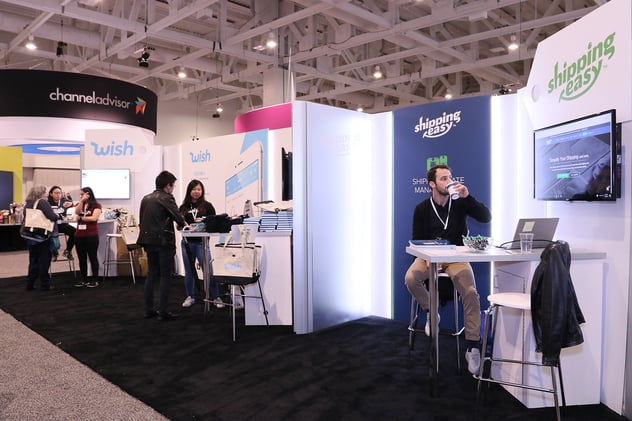 2. Be Consistent
When we execute a multi-faceted event like Catalyst, our team extends something we call our "Concierge Service" to any sponsor attending the conference. From the moment they sign up, to the moment the conference ends, H&P takes care of all the details - contracts, invoices, graphics, you name it - anything they need to reach their goals at Catalyst, we assist with.
Providing this service is a natural extension of what we already do when we plan and prepare for an event. We aim to be the consistent answer to the question "Who can help me?" It keeps the overall feel of the show consistent for all sponsors because everyone is getting the same level of care and attention. It allows ChannelAdvisor to focus on their team goals and takes a burden off their shoulders.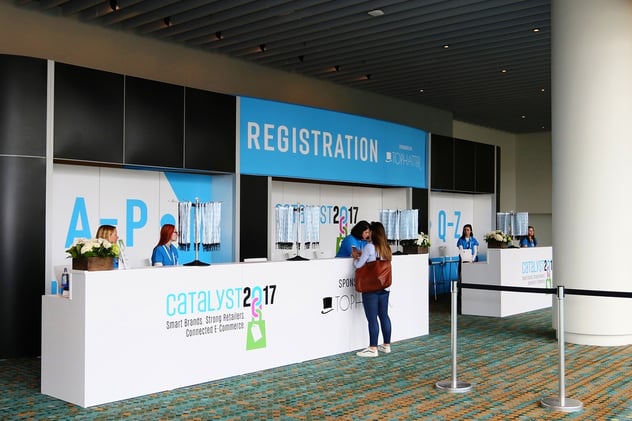 3. Be Prepared
If there is one thing you can always count on when you go to a new city, it's that something will go awry. You can do site visits and walk through as many times as necessary, but until it is time to install you never really know what could happen.
We prepare for the unknown by talking to our existing partners around the area to get recommendations for local vendors. It's critical to have partners and relationships set up beforehand so if in the event a graphic rips during install or you need a few extra crew members, you know who to call. The exhibit space may have contracted teams on site for electrical, technology, etc., but it is important to check with the venue managers and fully understand what they expect you to handle. Once you've established the expectations, your team will be equipped to handle whatever gets thrown your way.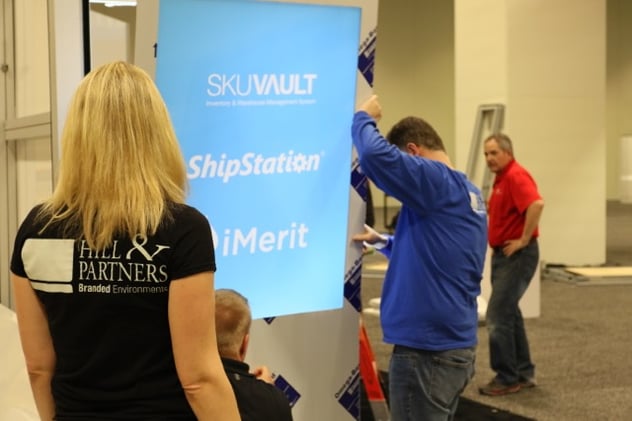 Year over year we have a great time working with ChannelAdvisor and seeing this event come to life. If I can leave you with one final tip on how to succeed, I would say to fuel up on some coffee, bring Advil just in case, but first and foremost, call Hill & Partners! Entrust us with your next event!
Topics: From the Experts, on the ground