A Day of Reflection: Celebrating a Client, Mentor, and Friend
It's 7:45 AM on a Friday morning in the middle of October. I'm winding my way into work with the windows and top down, attempting to squeeze in one more open-air drive as the New England winter lurks ahead. The sky is as blue as it can be, speckled with slow moving puffs of white and I'm going through my early thoughts for the day. I typically focus on the things that have to be accomplished, however, today my thoughts are pushed toward feelings of gratitude. They always start close to home; children, wife, family, friends, but the gratitude quickly extends to the people I work with, and the amazing opportunity that each day presents for us in the work that we do.
Today my thoughts roam to a project currently under way in Chicago, where one of our most cherished clients, Optos, is in the middle of an event. Optos, an industry leader in retinal diagnostics, may be attending yet another one of the hundreds of shows that we have participated in on their behalf over the years, but it holds another special meaning. It marks the last show for Judy Reger, our beloved leader in all things Optos. Judy is an industry veteran with a storied career and is currently the Senior Manager for Global Exhibitions at Optos, Inc. She has been both our client and our mentor during her time here, and her wisdom and leadership have championed every victory and challenge that we have met with along the way.
Judy reminds us that the best collaborations between organizations often require some essential, but simple, ingredients:
A Brand with purpose and mission
Great people, sharing values and beliefs that are in line with an organization
Attitude! A positive, unrelenting willingness to continue to do better
---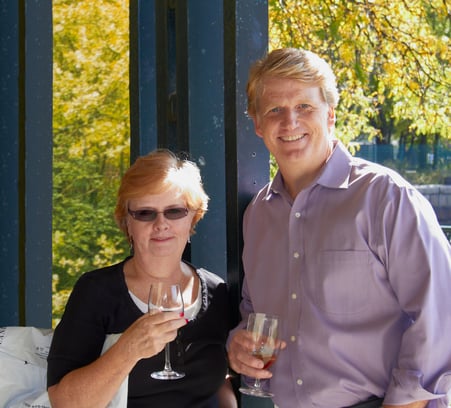 Judy Reger and Michael McMahon celebrating a launch event for Optos in Boston
---
When I think about our history with Optos, and the amazing work they invited us to share with them, it is hardly void of challenges and hurdles. In fact, the best work we've done in our history here at Hill & Partners, emerged from a period of perseverance and even sometimes, doubt! What you often learn over time is that the people and organizations doing great things are the ones who actually intend to do great things. … And most great things are rooted in creating benefit to others. This is why, while we are grateful for all we've learned, we are sad that this show in Chicago marks Judy's last show with Optos.
Some of the many things that will be missed, from our perspective:
Her trust in our people to be stewards of her projects and activities
Her mentoring, support and guidance with dozens of people here at H&P
Her consistent demonstration of professionalism
Her commitment to the pursuit of excellence
Her obvious concerns for those who are impacted by the quality of her work.
The list could certainly go on.
The funny thing about writing down these thoughts is that the frequency of my encounters with Judy are far fewer than the many members of our team, but whenever you ask anyone about Optos and how things are going, "Judy's Great" is always part of the next few sentences.
So, while this truly is a sad day at Hill & Partners, we look back and reflect on our time with Judy conducting the show and look forward at a future with hope for whoever follows in her footsteps. She has certainly earned her opportunity to return to Minnesota and be close to her family and the town and people she calls home. When we consider the next chapter for Judy, the one emotion that bubbles up on her behalf is, Happy!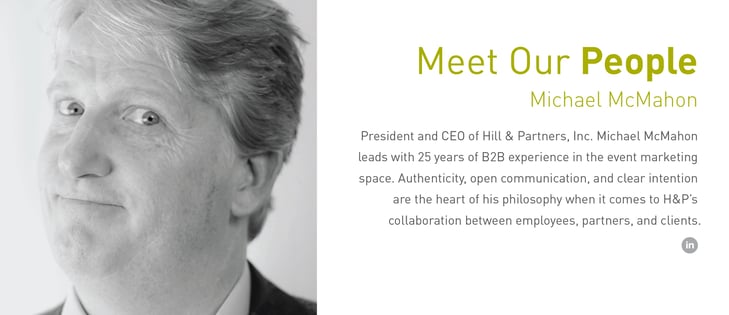 Topics: Authentically Us