15 Of The Best Trade Show Giveaways (For All Price Points!)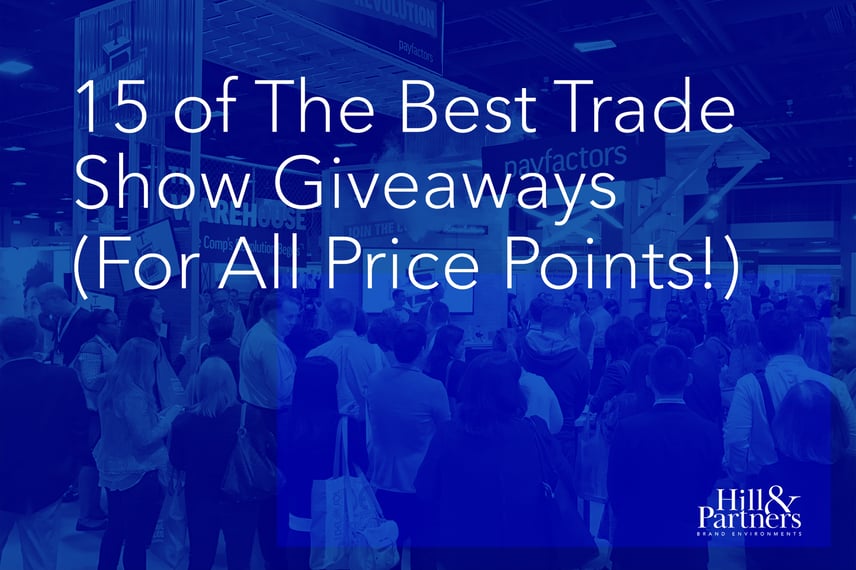 Since you're here for giveaway inspiration, let's get right to the magic. The best trade show giveaways do three things:
Give attendees an incentive to visit your Branded Environment
Connect to your brand and overall marketing strategy
Leave a positive impression on visitors
Sure, there are other factors to consider—such as being cost-effective and cool—but these three aspects can be the difference between a gimmicky giveaway or a memorable one.
Since we don't know your brand yet—you can change that today—we can't provide tailored recommendations for gifts or prizes. However, we've put together 15 trade show giveaway ideas that have worked for other exhibitors in the past. Fingers crossed that one of them gives you inspiration for a giveaway that blows your visitors' minds at your next trade show.
Best Trade Show Giveaways On A Budget (About $10 Or Less)
Want to get your brand in front of a lot of people without breaking the bank? Here are five trade show ideas for giveaways you can easily purchase in bulk and hand out like candy. (Tweet this!)
1. Branded Multi-use Charger (CloudHealth by VMWare)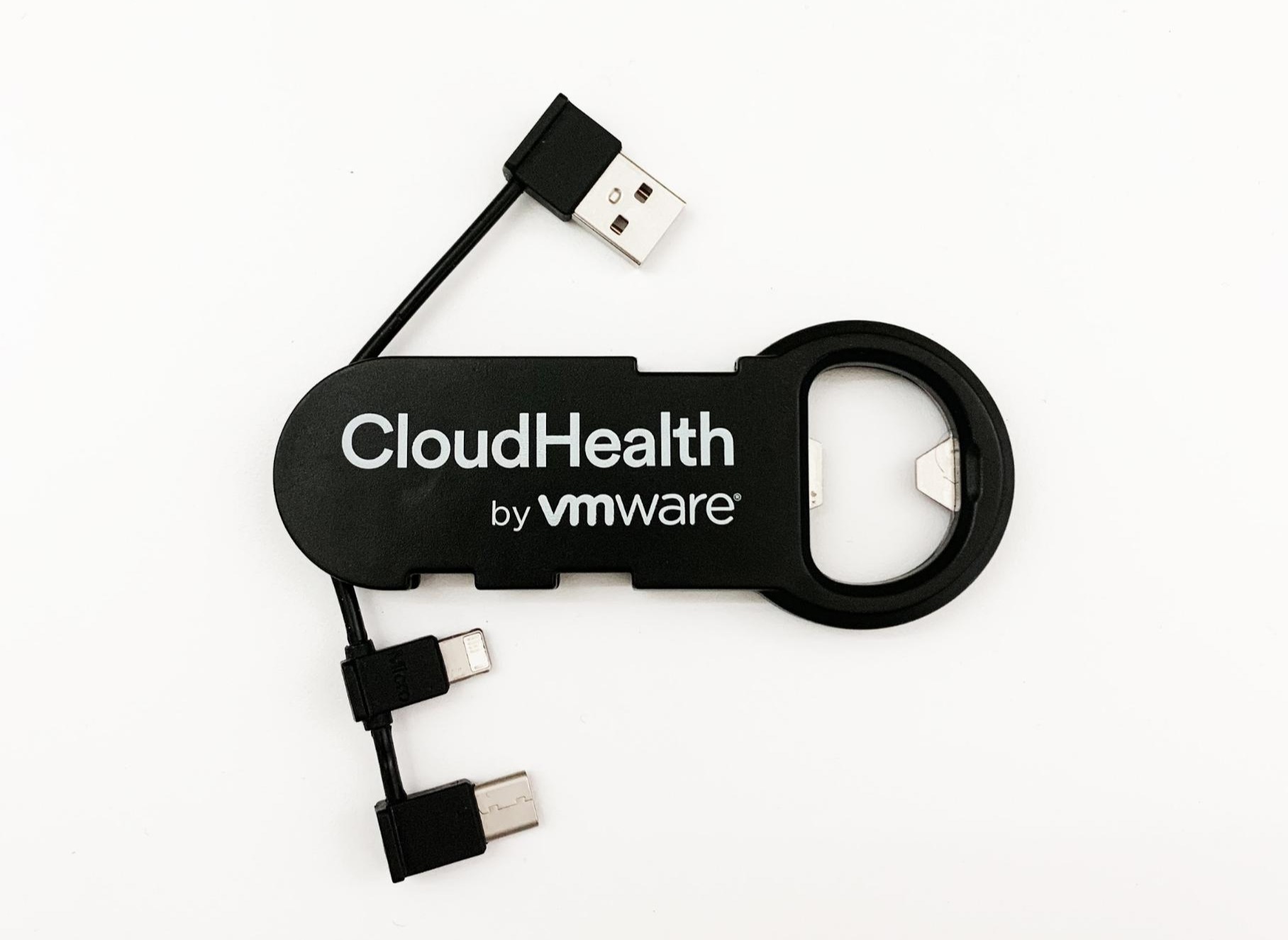 Cloud security platform CloudHealth caters to a tech-savvy audience that tends to use multiple devices—often simultaneously. Wanting to help with the challenge of charging multiple devices at once, CloudHealth gave away branded chargers with multiple USB ports. It even had a bottle opener! Every time recipients charge their laptops, tablets, and mobile phones they will be greeted with the CloudHealth brand.
2. Socks (Sophos)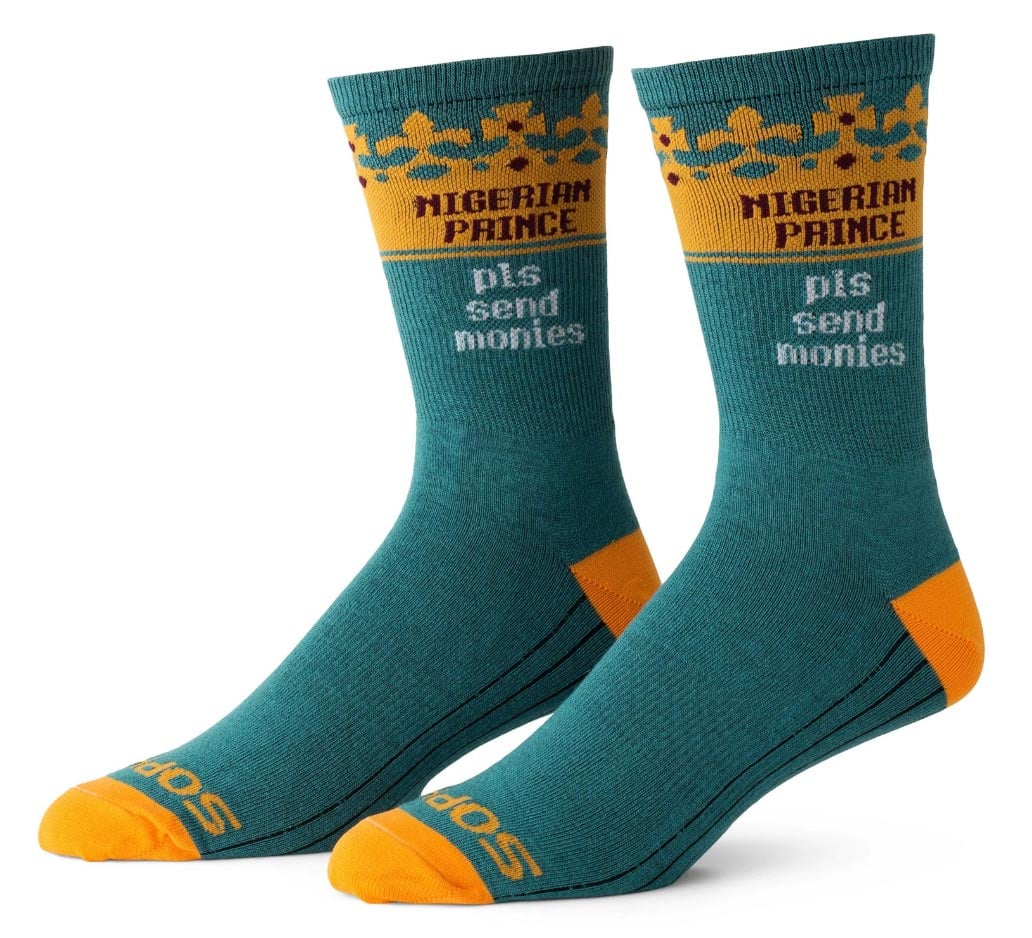 You may not immediately think of socks in connection with a cybersecurity company, but Sophos saw an opportunity to appeal to a target audience that appreciates quirkiness. Sophos creates socks with unique designs that reference cybersecurity terms and incidents—such as the well-known "Nigerian prince" email scams. Relatively inexpensive, the socks are a cool novelty people in the industry seek out every year. And of course, every time someone puts on the socks, they think of Sophos.
3. Branded Travel Adapters (IGT)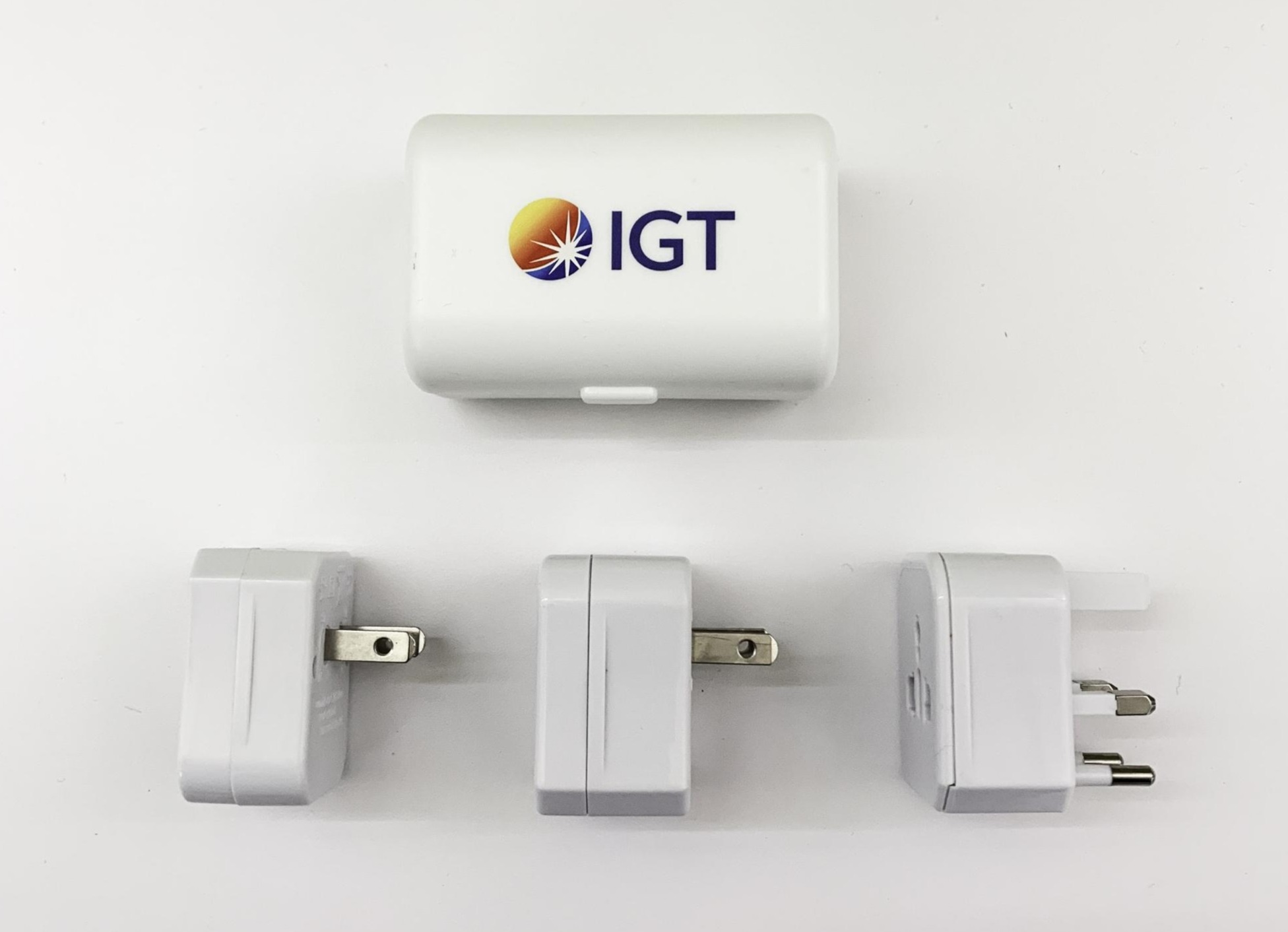 When IGT exhibited at an international lottery show, staffers knew their target audience would consist of avid travelers. In an effort to appeal to this group, IGT gave out branded travel adapters for plugging into outlets wherever recipients happened to be in the world. These adapters were practical, useful items that recipients considered valuable.
4. Branded Portable Battery Pack For Phones (Hill & Partners)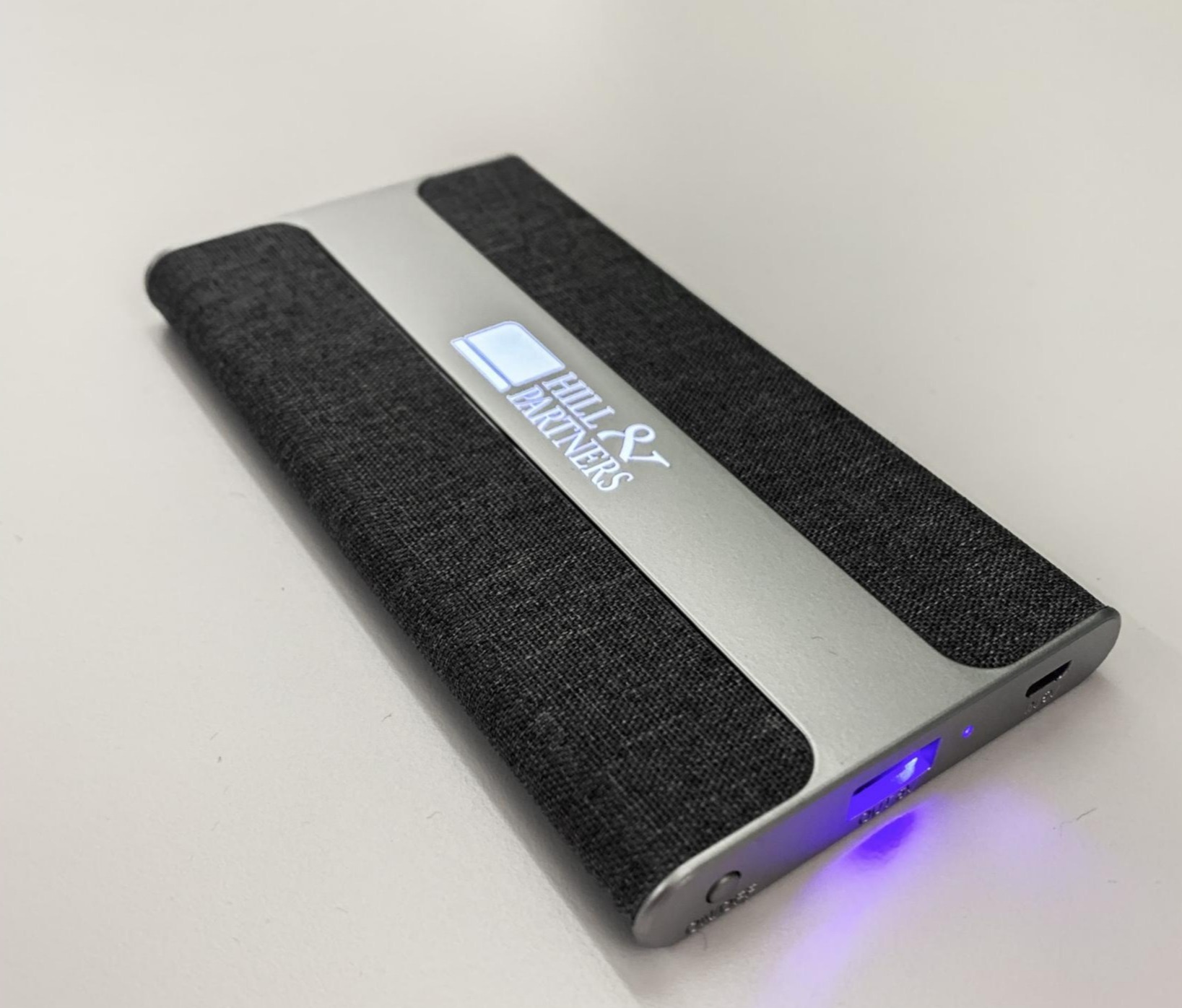 Similar to branded travel adapters, branded battery packs are toted around from place to place. People who keep these around will be reminded of the Hill & Partners brand daily, and equate their product experience to one of convenience and helpfulness.
5. Coffee Shop Gift Card (Hill & Partners)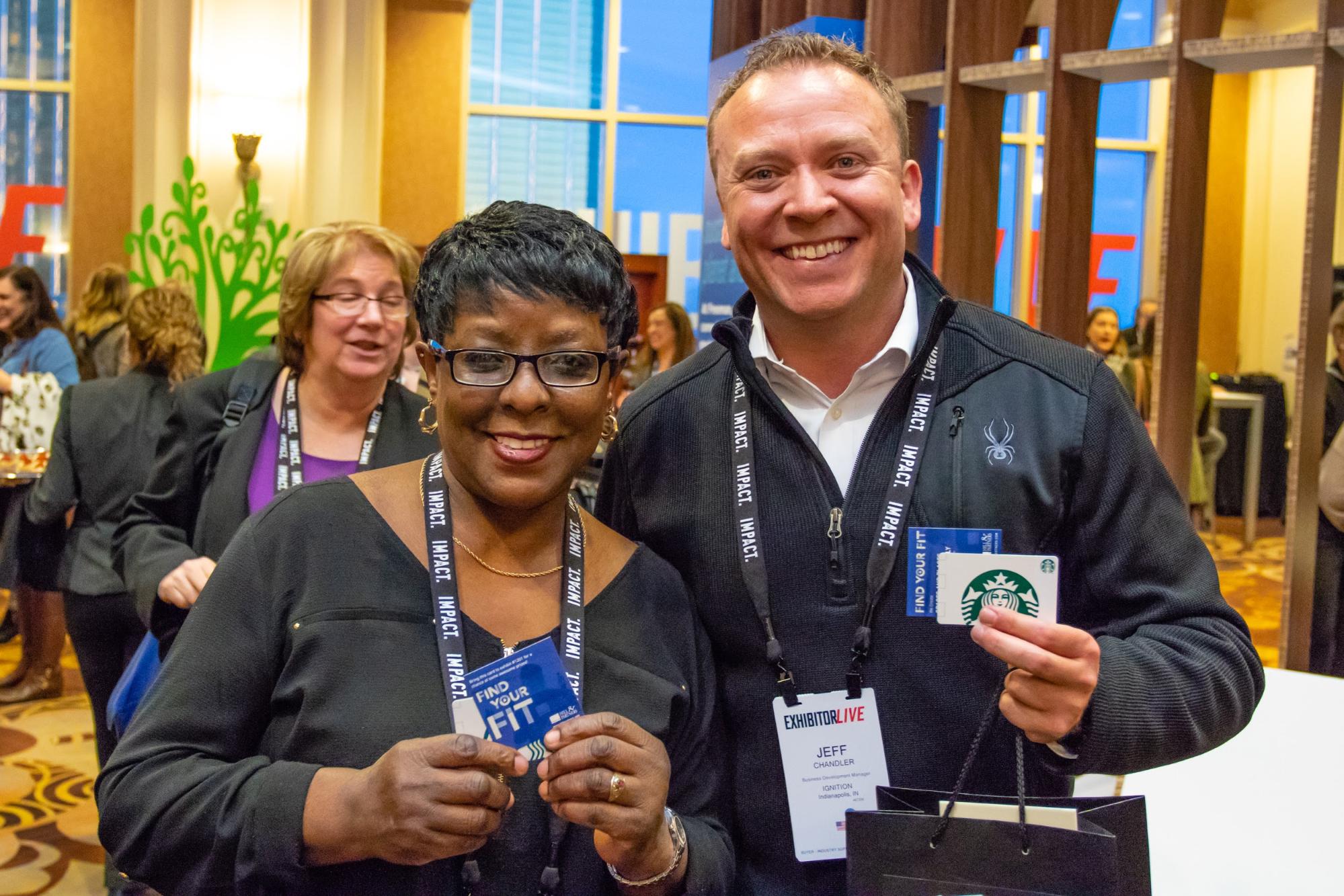 You can never go wrong with coffee! With many trade shows lasting the whole day, a morning or mid-afternoon pick-me-up is usually welcome. Thankfully, gift cards are easy to come by, and you can often purchase a large amount online prior to the show. (Keep in mind the retail store may not have enough in stock on the day of the event.) We've used this simple giveaway many times to ensure visitors walked away with something tangible. Consider the event venue and nearby coffee shops, and purchase gift cards accordingly.
Best Trade Show Giveaways For A Moderate Amount ($20 to $50)
Somewhere between "we want their jaws to drop" and "we want to be seen" lies these five mid-tier giveaway ideas. They're not too expensive, and they're just cool enough to catch the eye of most trade show attendees.
6. Echo Dot (Hill & Partners)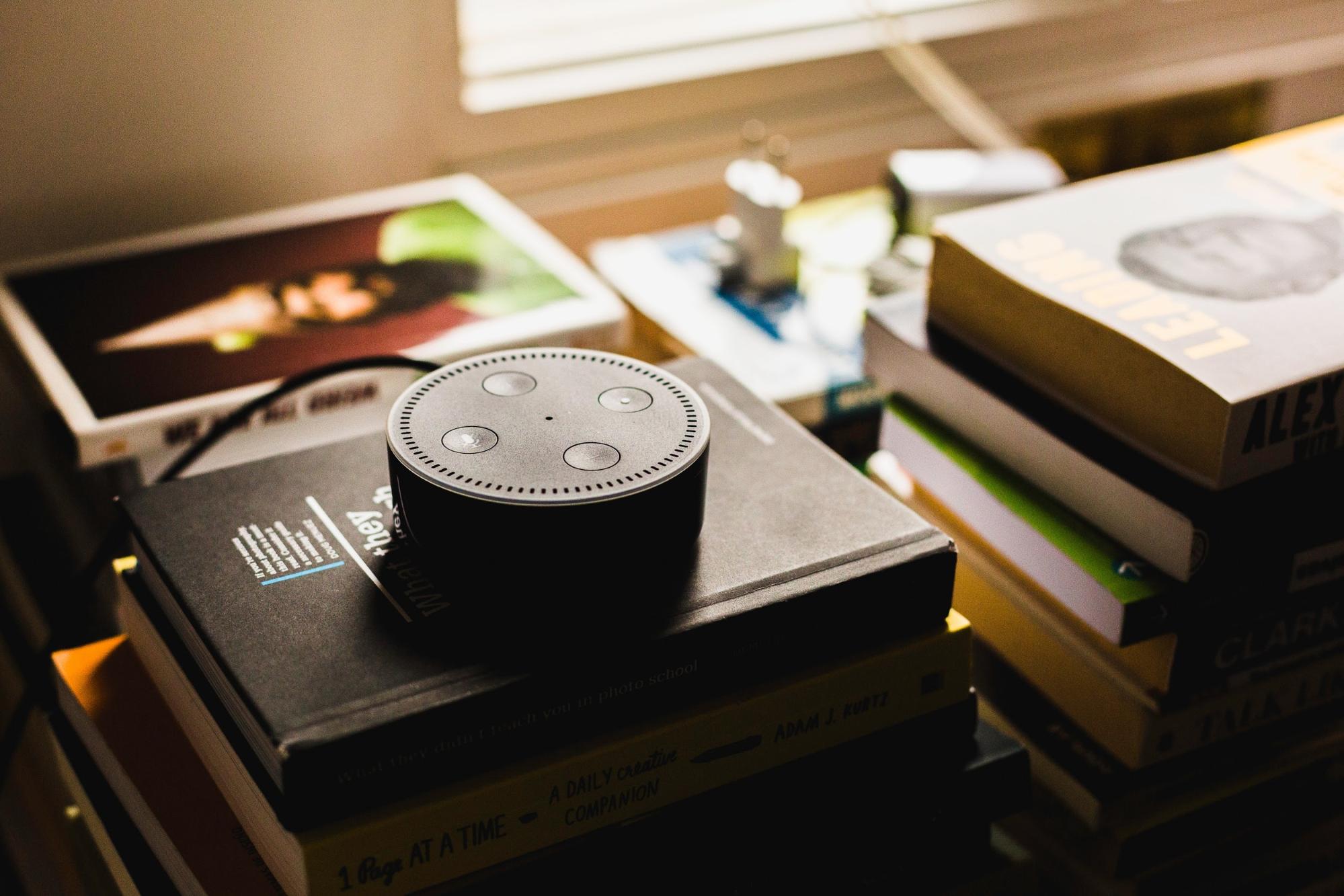 The Amazon Echo Dot is one of those items that appears to be more expensive than it actually is, which tends to be the case for most tech products. (The well-known brand helps with that perception as well.) We used this giveaway as part of our "Find Your Fit" theme, which encouraged people to find their fit in work and in life.
7. Custom-designed T-shirt (Rapid 7)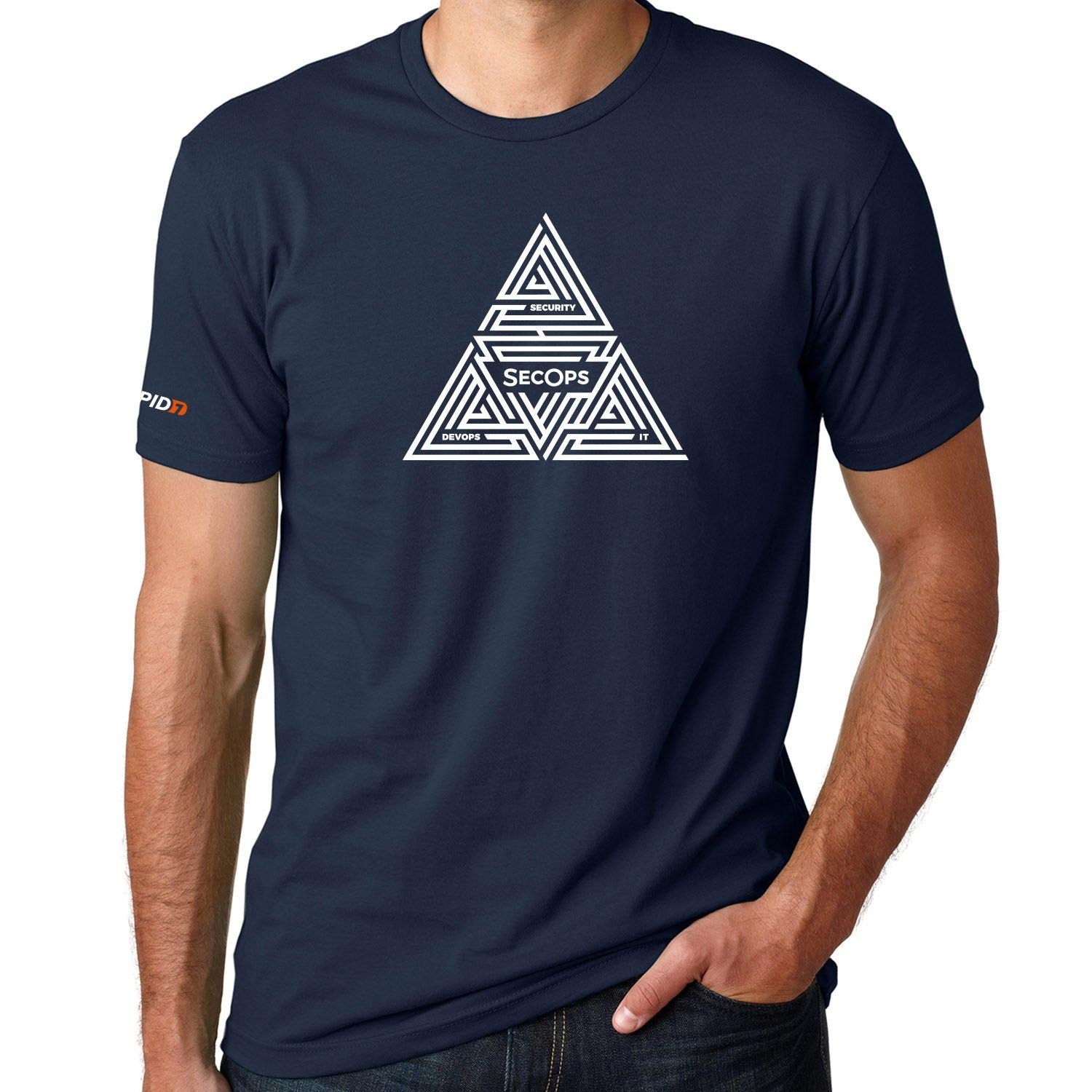 Photo courtesy of Rapid 7
T-shirts are always fun, but Rapid 7 went beyond just slapping its logo on some fabric. This cybersecurity company designed unique t-shirts relevant to its target audience and its product, such as a cool visual with the word SecOps, a well-known industry term. The t-shirts were so popular, people were willing to line up for hours to get one.
8. Branded Yeti Tumbler (Cybereason)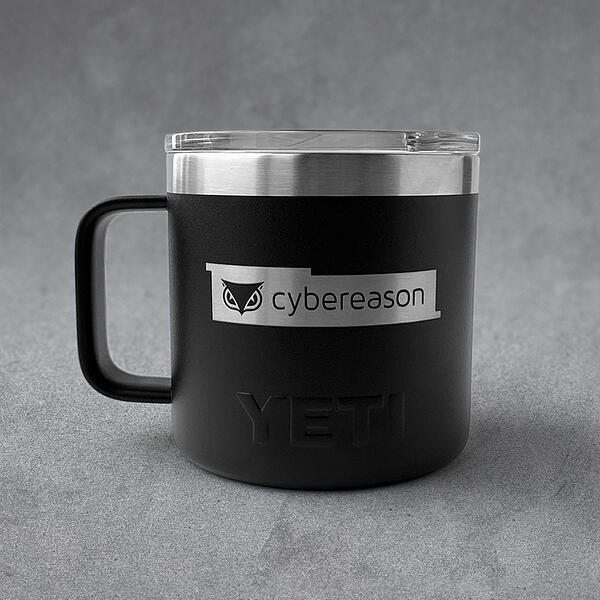 Photo courtesy of Cybereason
For the Black Hat show, Cybereason went a different direction. Its Branded Environment theme was a hunting lodge filled with mythical creatures mounted on the wall—each creature was related to well-known malicious threats like viruses. "Join the hunt" was the tagline used throughout its messaging, and each visitor was a would-be hunter. And what hunter worth their snuff would be in a hunting lodge without a sturdy tumbler for their drink of choice?
9. Branded Water Bottle (Scorpion)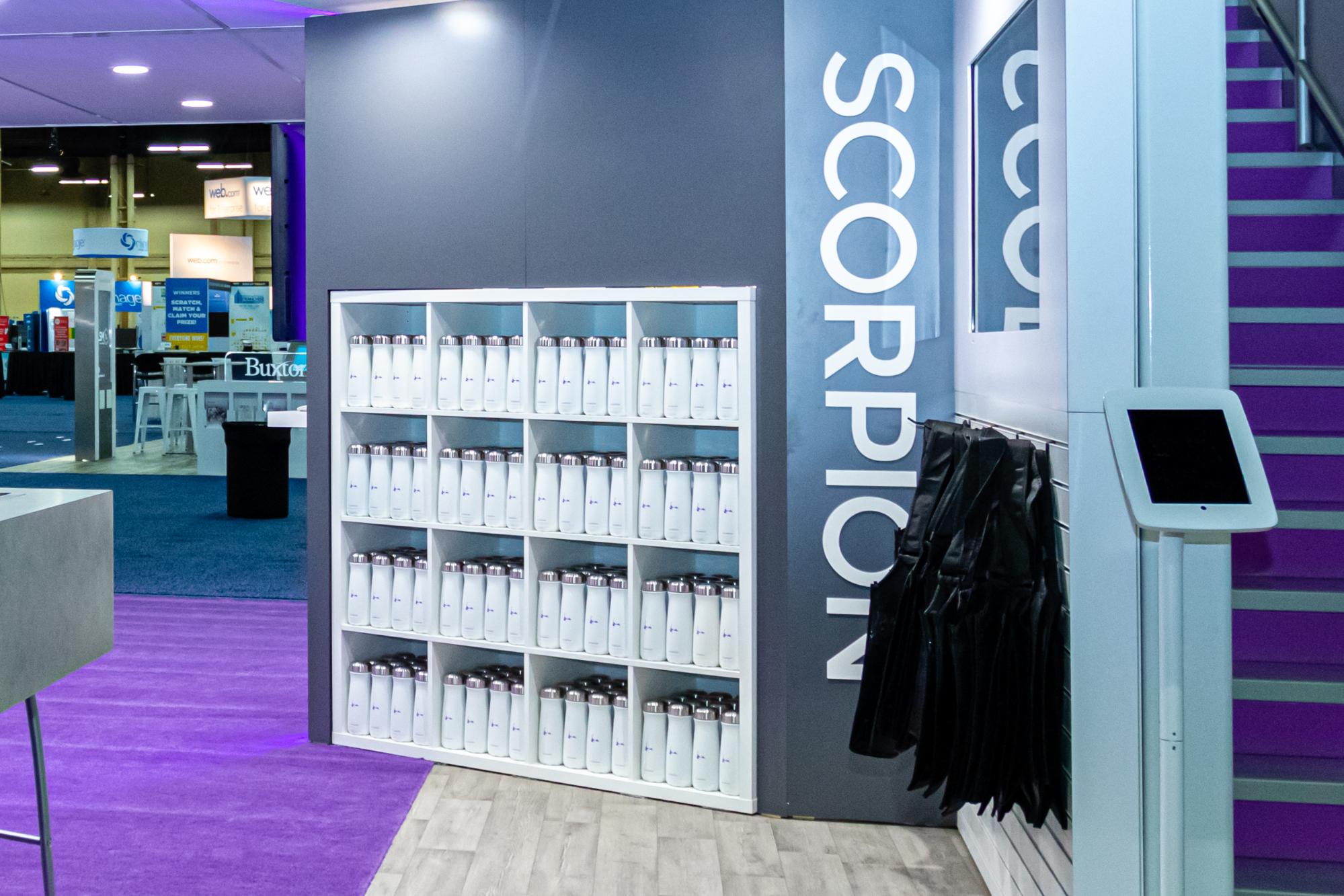 As a marketing company, Scorpion wanted to create a giveaway that resonated with its target audience and left a good impression. It chose a metal, white water bottle with the Scorpion logo. The bottle was durable and reusable to address rising concerns from their target audience about the environmental impact of plastic usage. (Plus, the bottle just looked really cool.) Recipients will be repeatedly exposed to the Scorpion brand every time they use it.
10. Branded Beanie (High Sierra)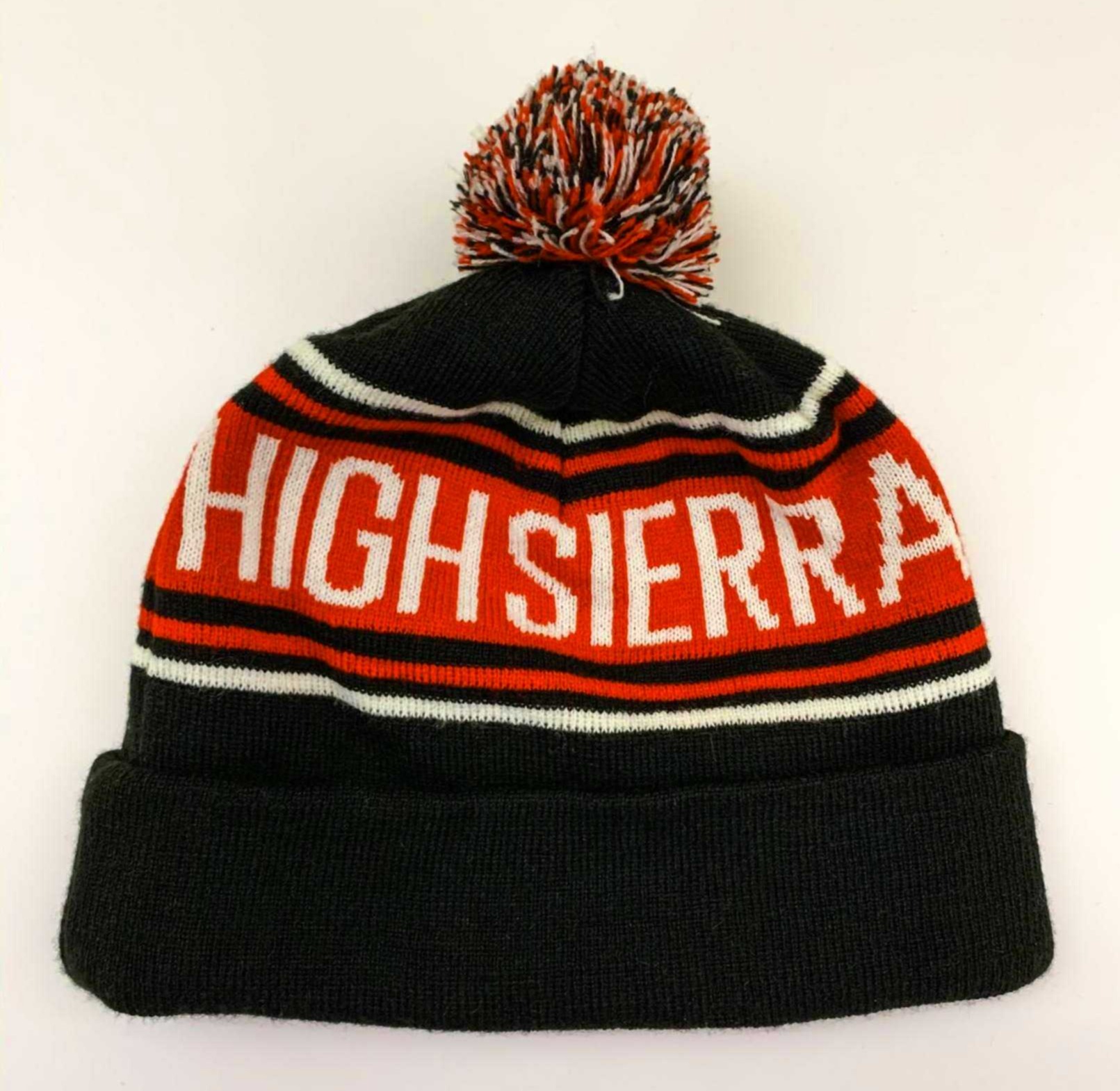 High Sierra makes outdoor apparel and accessories such as rugged clothing and backpacks. For Outdoor Retailer's Winter Market—one of the biggest shows for outdoor adventurers interested in winter apparel lines—High Sierra gave away branded beanies. The beanies tied well into the event, spoke to the company's product offering, and were well received by attendees.
Best Trade Show Giveaways For Big Bucks ($100+)
Sometimes you want your brand to come out with a bang. These five giveaway ideas did just that—but they didn't come cheap.
11. Vacation (Channel Advisor)
Channel Advisor, an ecommerce company that integrates with other services in the space, went all-out for its giveaway at the Catalyst show: A three-night getaway on Mexico's Riviera Maya. They tied this top-of-the-charts giveaway to their brand with a game they held during the show. Contestants in the game were given a passport they were to fill out by visiting different "countries" (various event sponsors on the show floor). Once they completed and returned the passport, contestants were entered to win the trip. The passport game was a tie-in to the company's integrative nature.
12. Nintendo Switch (Hill & Partners)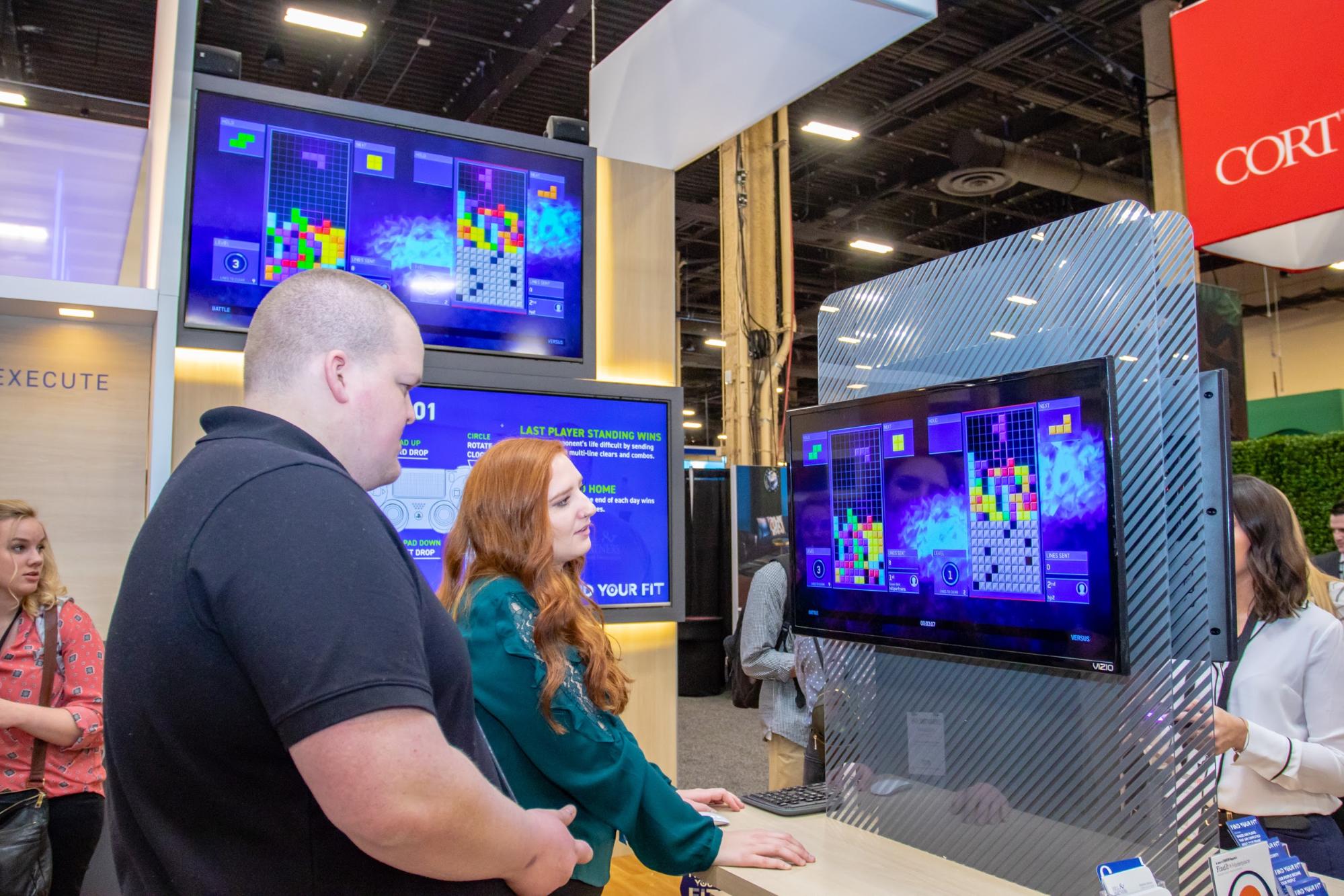 We love engaging with visitors, and games offer a great way to accomplish that. At one of our exhibits, we set up a Tetris station for anyone daring enough to play our staff. Whoever had the highest score at the end of each day won a Nintendo Switch. This encouraged people to come back multiple times per day to play and beat whomever was on top. Once word got around, our Branded Environment became the place to be because it was such a fun atmosphere.
(One visitor won a Switch, but came back every day to keep playing—even though he couldn't win the game system again. He just loved to play Tetris! Our team looked forward to his return to see how long he could stay on top.)
13. Macbook Pro (Payfactors)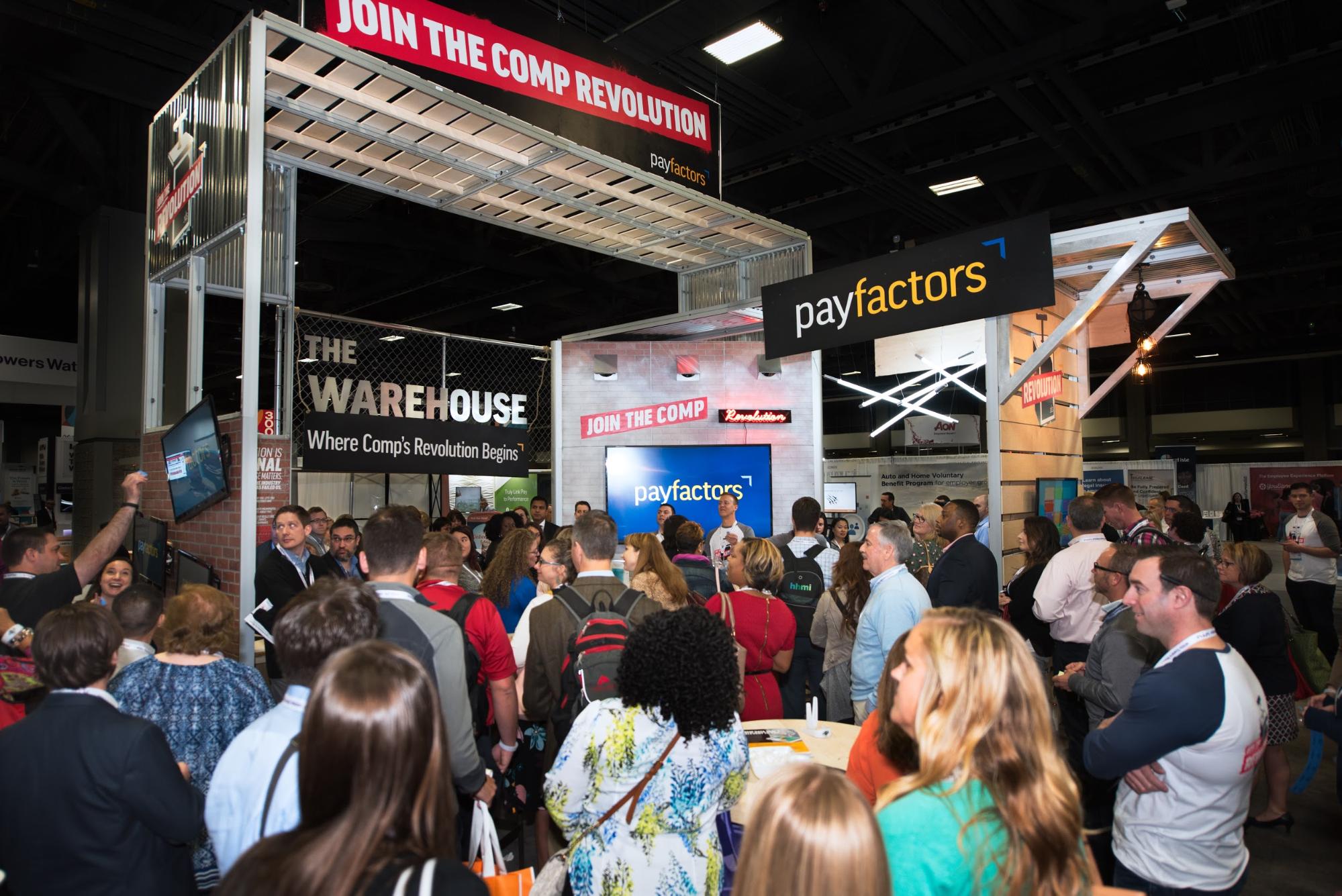 Our client Payfactors, an HR technology company, also chose a pricey, once-per-day prize for one of their exhibits: A Macbook Pro. The team gave visitors Bluetooth-enabled bracelets that lit up when visitors were supposed to return to participate in a giveaway. Once a day, they gave away the Apple device to one of these returning visitors. The way they set this activity up encouraged people to come back to the Payfactors Branded Environment multiple times, increasing brand interactions.
14. Kindle Fire Tablet (IGT)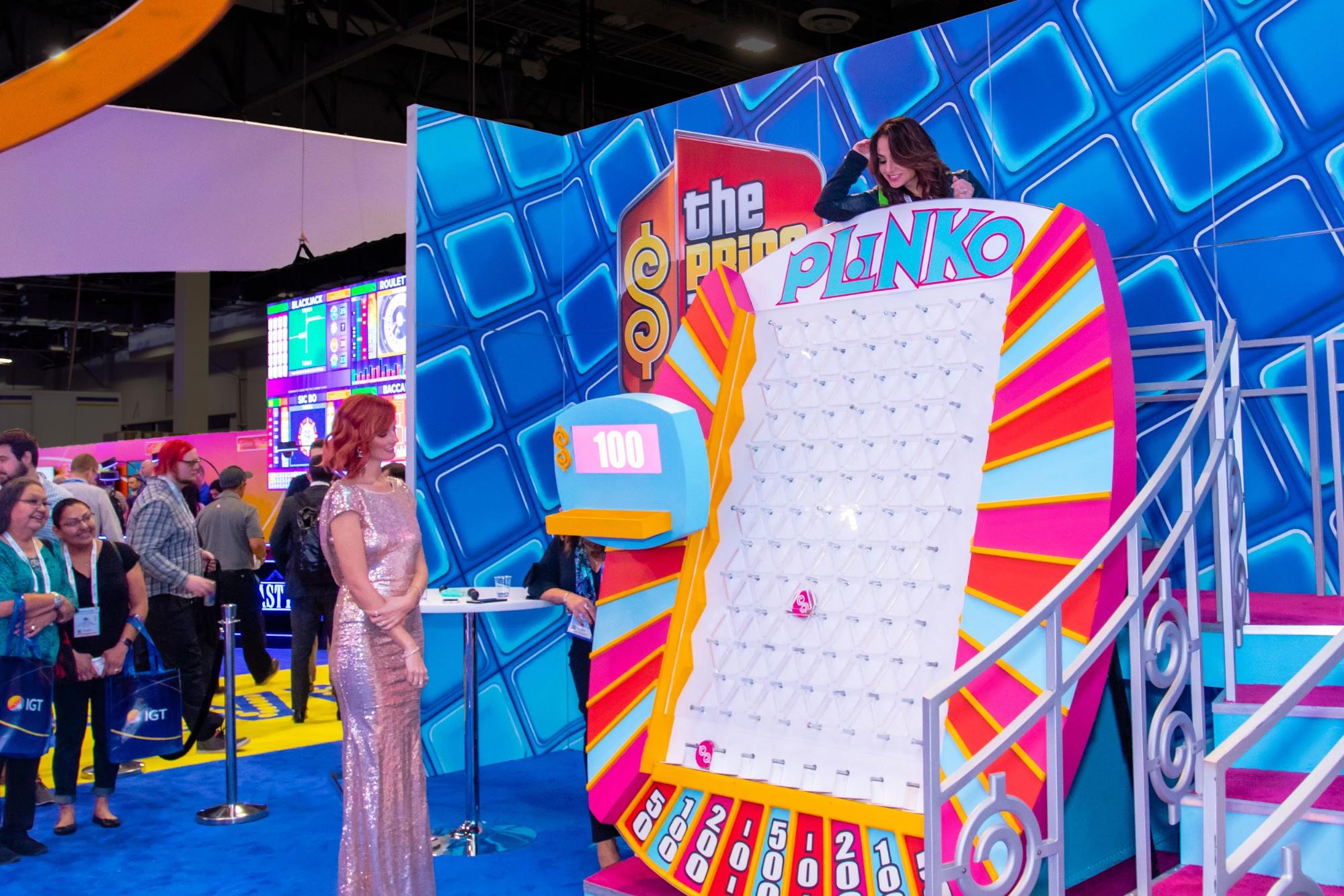 As a manufacturer of lottery and gaming technologies like slot machines, IGT unsurprisingly exhibited at a gaming technology show. The company was there to promote its new "The Price is Right" gaming machines, so to fit this goal and be on-brand, it chose to give away Kindle Fire Tablets through a Plinko game. If you hit the right slot, you'd win the tablet. Naturally, the "right" slot was also the rarest, and only about 10 to 20 participants won per day. But the line around was around the corner for people who wanted to play at the chance to win.
15. AirPods (Cybereason)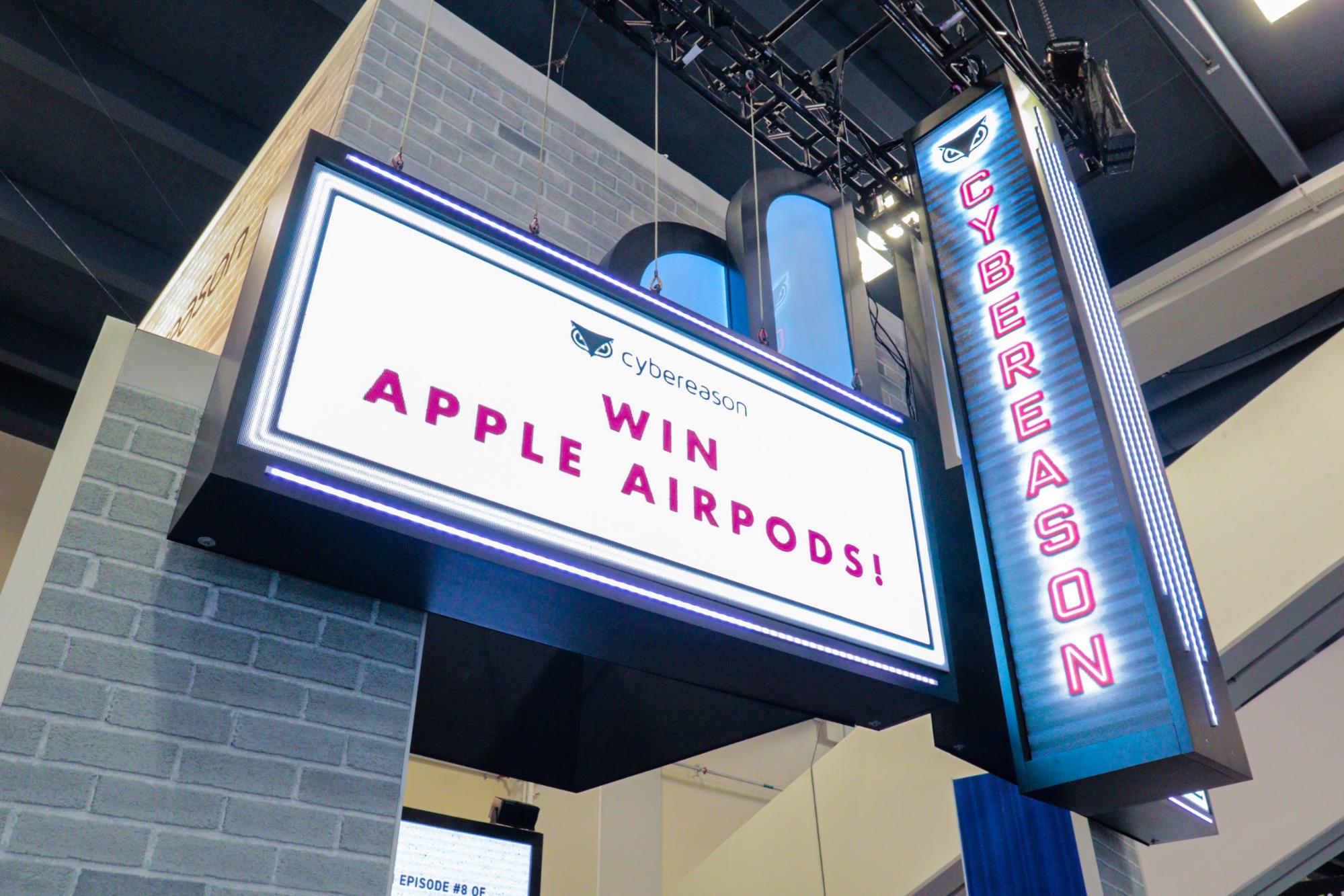 Cybereason, a cybersecurity company, gave away these popular headphones at its RSA Conference exhibit. Every time it showed a film trailer at its movie-themed booth, one lucky viewer won a pair of AirPods.
Inspired by some of these trade show ideas for giveaways? Reach out to us, and let's go beyond giveaways to create a customized space of your own at your next trade show.
Topics: Brand Experience, Featured, Trade Show Giveaways