Ask The Expert: Trade Show Booth Lighting
Lighting may be one of the most overlooked important elements of any branded environment. Without truly understanding the importance of utilizing light to compliment your surroundings when showcasing your brand or products, you may be missing out on some key opportunities to truly enhance the visual effect that creates an impact for your target audience.
Hill & Partners went to the experts, and trusted lighting partner, ATR/Treehouse, for the answers on the best way to enhance an environment with light:
1) Why would you suggest for exhibitors to invest in special lighting for their trade show exhibit?
As an exhibitor you want to control the immediate environment you have created. Lighting can DEVelop your environment, providing control in three ways: Dimensional,Emotional, and Visual.
---
Dimensional- Lighting Creates Depth
---
Emotional – Lighting Sets the Mood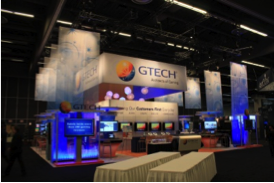 Cheery, exciting, romantic, suspenseful; whatever mood you want to enhance your environment with can be conveyed with lighting. Let's face it, rarely has the overhead warehouse lighting of an exhibit hall ever conveyed a desired emotional response. Sometimes it is toobright, or too dim, or very uneven. Whatever the issue, if you do not control the light, you likely will not invoke the desired emotional response.
---
Visual – Lighting Catches the Eye
Trade shows by their nature are very visually stimulating, but with all there is to see, the brightest spot will draw your attention every time. Just like the spot light on a stage highlights the performance, a spot light on your exhibit highlights you. Even just lighting your primary signage will draw attention.
2) What are some different options in accent lighting that you would recommend for enhancing an exhibit?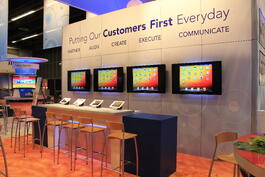 I would recommend starting simple with general accent lighting. This would include halo lighting on flat screens, accent lighting under/over counters and bars, and everyone's favorite- uplighting at transitions. From there you can enhance your exhibit with theatrical overhead lighting, changing the color and color temperature to harden or soften the look of your exhibit. This brings out the desired emotional response.
3) What are the most common places that need light on an exhibit on the show floor?
Aside from highlighting your name and signage, a place of real need would include where exhibit design creates shadows from above. In order to combat the warehouse feel of an exhibit hall, exhibits are often designed with canopies and soffits to help bring in the ceiling and create a more intimate setting. A great idea as long as lighting follows.
A canopy will likely block any overhead/ambient light, and create shadows on signage and product displays. By using the vast array of efficient LED products at hand, such shadows are not only eliminated but you once again have control over your environment, color, brightness, temperature (warm, cool), and so on. Interactive areas of your exhibit are also a common place which needs lighting solutions. Lighting these areas properly enhances the displays and increases foot traffic to your exhibit.
4) How can adding texture to light make an exhibit feature really pop or come alive?
Most are familiar with the use of gobos (Goes Before Optics) as a method to project a company logo, but gobos can also be used to create textured lighting with the use of break-up patterns placed in a focusable theatrical fixture.
These patterns can also be used to create obvious or subtle changes to surfaces of an exhibit, to help create a particular environment. For example you might use foliage patterns to create a sense of being relaxed and outdoors.
More subtle choices that provide ambient light that is not too harsh but rather warm and inviting. Conversely, certain intelligent features could be changed on a regular basis without any effort. Gobos can also add movement when used in moving lights, quite literally bringing the exhibit to life.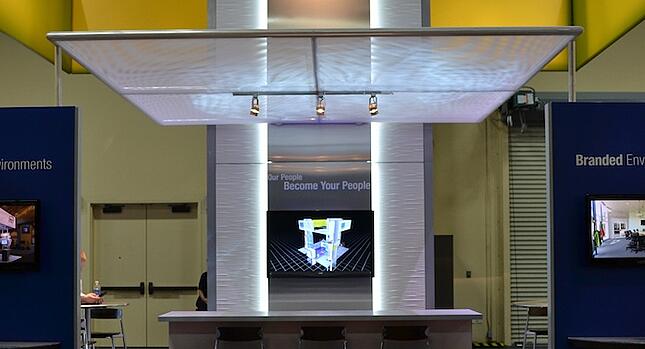 5) What are some of your best trade show or event projects that utilize lighting effects and enhancement?
One particularly interesting project was an exhibit event for Optos held at the Boston Museum of Science. The exhibit design was exceptional thanks to the team at Hill & Partners, and was a pleasure to work on. It allowed us to show off many of the ideas touched upon, while as is often the case, overcoming some rigging challenges. There are never rigging points where you need them in a trade show venue, and the booth had been designed with a light shining in the exact middle of the booth.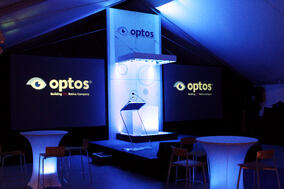 Along with coming up with a fantastic booth, one of Optos' goals for the event was to showcase a new product. This allowed us the opportunity to use some new technology along with time honored theatrical tricks to create a reveal. From the audience's walk in all that could be seen was lit drape, but on command the lighting was changed to reveal the new product. This was combined with room décor lighting and audio visual elements all tied together with designers vision providing an enjoyable team project.
---
More:
Visit the ATR/Treehouse Website
---
Want to learn more about how to maximize your branding experience?
---
Disclaimer: Hill & Partners is dedicated to providing value for your business. The opinions, views and expertise contributed to this blog are credited to the "Ask the Expert" blog authors and do not represent the views of Hill & Partners, Inc.
Topics: From the Experts