Polartec Exhibits at OutDoor 2011 in Germany with H&P Custom Design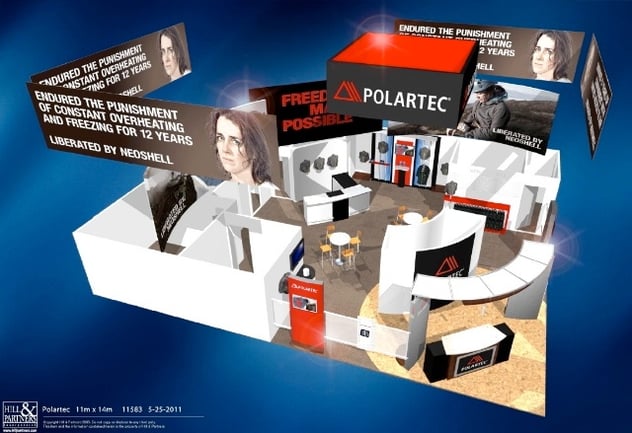 QUINCY, MA, ISSUED AUGUST 4, 2011 …..Hill & Partners, Inc., a full-service trade show exhibit design firm recently partnered with Polartec® to create a distinctive booth for OutDoor 2011, held July 14-17 in Friedrichshafen, Germany.
Polartec®, which Hill & Partners has maintained as a client since 1995, exhibited atOutDoor 2011 "The Leading Trade Fair" with a 11 x 14 meter custom built booth, complete with five meeting rooms, three storage units and a bar and kitchen.
The inventive and spacious booth designed and managed by Hill & Partners provided Polartec® ample space to display and demonstrate several of its proprietary fabrics, including; the new Neoshell® line, a breathable, waterproof fabric; Power Shield® Pro, a water resistant soft shell fabric; and REPREVE , made from 100% recyclable materials.
The booth's back wall showcased a large mural with quotes about the Power Shield® Pro and Neoshell® fabrics. Three exterior IPad kiosk displays were positioned on the outside walls of the booth with two more at the NeoShell® demo area allowing visitors both audio and visual access to information about the Polartec® product lines. The creative booth also incorporated hanging fabric signs to highlight the Neoshell® brand and its tagline "Freedom Made Possible."
Garments receiving the Polartec® APEX Awards were on display throughout the predominantly white, red and silver booth; the awards annually recognize those designers and companies that make the most outstanding Polartec® based products.
The global trade show featured 890 exhibitors and drew an estimated 21,520 visitors from all five continents and 72 countries.
"It was exciting to bring long-time client Polartec® to this premier international tradeshow," said Michael McMahon, President and CEO of Hill & Partners, Inc. "The inventive booth successfully captured the innovative spirit that is synonymous with the Polartec® brand."
About Hill & Partners
Hill & Partners, Inc. is a full service exhibit design company specializing in three dimensional branded environments for tradeshows, events and facility installations. Over the past fifteen years, the company has earned a reputation for exceptional strategic insight, strong account management and inspired design services. The team at Hill & Partners has worked across many industries and six continents. Experience is a key factor in their long running relationships with clients including Polartec LLC, Dunkin' Brands, Samsonite, GTECH and Stanley Black & Decker. The company offers custom exhibit design and production, custom turnkey rentals, and branded environments along with complete client program support and services. Hill & Partners, established in 1995, has been named one of the Boston area's fastest growing companies by the Boston Business Journal. For additional information, please call 857-401-0312, visit www.hillpartners.com or find the company on Facebook,Linkedin & Twitter.
Topics: Project Highlights, International Work