Hill & Partners takes GTECH to Northern Light, European Lottery Congress 2011
QUINCY, MA, ISSUED JULY 7, 2011…Hill & Partners, Inc., a full-service tradeshow exhibit design firm, provided long-time client GTECH Corporation with a prominent 14mx6.43m custom exhibit that captured the attention of more than 600 visitors from throughout Europe attending the June 5-9 Northern Light, European Lottery Congress 2011 show held at the Marina Congress Center along the picturesque Scandic Marina. in Helsinki, Finland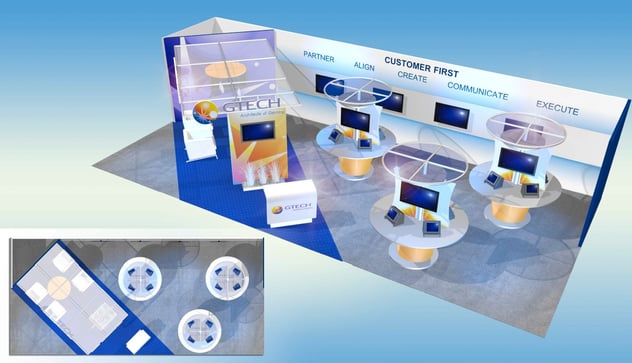 The creative team at Hill & Partners designed and managed a striking open lay-out booth featuring three attractive "pods" that functioned as double-sided workstations to display products and provide demos of the GTECH product line at work. The circular pods contained a monitor on each side allowing for easy viewing; the colorful workstations were punctuated by glowing orange fabric bases and circular white canopy toppers under-lit by a vibrant blue hue. The spherical pods and multi-colored accents worked in harmony with the entire booth's color scheme to stay true to GTECH's logo and brand.
The booth contained a total of 12 monitors, four of which lined the booth's backwall, mounted to a silver band that spanned the entire back portion of the exhibit. The eye-catching band was back-lit to create an increased dimensional look and feel.
In addition to the trio of workstations and a dozen monitors, the technology-driven booth showcased a lottery ticket vending machine, two gaming machines, and a workstation that displayed four table top gaming kiosks.
Visitors to the GTECH booth were provided a sophisticated, yet comfortable seating area, complete with a refreshment station. A white canopy, accented by an appealing circular yellow light fixture with a trio of bulbs descending in graduated lengths, gave the sitting area an open and unconfined atmosphere while still allowing for the feel of a separate space away from the demo area.
The GTECH exhibit enjoyed a prime location close to a balcony overlooking the Scandic Marina, allowing visitors to the popular booth full advantage of Helsinki's magnificent weather and water views.
GTECH is a leading gaming technology and services company, providing innovative technology, creative content and superior service delivery. Headquartered in Providence, RI, GTECH maintains a large international presence and is the global leader in the online lottery industry.
Hill & Partners Inc. has partnered with GTECH for more than 10 years, supporting the company at national and international trade shows.
Michael McMahon, President and CEO of Hill & Partners, Inc. said, "It was a pleasure to work with GTECH in support of this prestigious international congress, this year located in Helsinki, one of the most beautiful cities in the world. We're proud of our long-term relationship with this leading, global company and of our ability to provide appealing and welcoming properties that showcase the GTECH brand to both domestic and international audiences."
Hill & Partners, Inc. is a full service exhibit design company specializing in three dimensional branded environments for tradeshows, events and facility installations. Over the past fifteen years, the company has earned a reputation for exceptional strategic insight, strong account management and inspired design services. The team at Hill & Partners has worked across many industries and six continents. Experience is a key factor in their long running relationships with clients including Polartec LLC,Dunkin' Brands, GTECH, Samsonite and Stanley Black & Decker. The company offers custom exhibit design and production, custom turnkey rentals, and branded environments along with complete client program support and services. Hill & Partners, established in 1995, has been named one of the Boston area's fastest growing companies by the Boston Business Journal. For additional information, please call 857-401-0312, visit www.hillpartners.com or find the company on Facebook & LinkedIn.
Topics: Project Highlights, International Work