Hill & Partners staff participate in American Cancer Society Relay for Life Team Hill & Partners raises $4,220 for cancer research and programs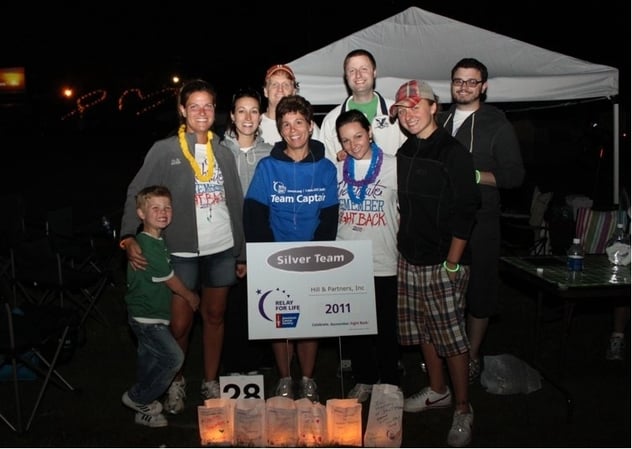 QUINCY, MA, ISSUED JUNE 23, 2011…Staff members of Hill & Partners, Inc., a full-service trade show exhibit design firm recognized for its inspired services, recently participated in the Braintree/Quincy/Milton/Randolph Relay for Life, raising $4,220 for research and programs facilitated by the American Red Cross.
Captain of Team Hill & Partners was Braintree resident Tracey Fitzgibbon, who was joined in the fundraising event by staff members Danielle DeBenedictis, Andrea Collura, Amy Connery, Michael McMahon, John Grogan, Rachelle Kulak and Michael Vallone. In addition, several of the staff's family members participated in the Relay for Life, held June 10-11 at the Braintree High School track. The team surpassed its initial goal of $2,500 by raising $4,220, thereby achieving Silver Team Fundraising Status.
In addition to the relay, Team Hill & Partners held an on-site "Guess How Much Candy" contest, with participants donating $1 to guess the number of pieces of assorted candy in a large container. The contest was a great success, receiving an enthusiastic response from the crowd.
Team Hill & Partners was one of 76 teams participating in the Braintree/Quincy/Milton/Randolph Relay for Life, which this year raised a total of more than $197,000.
While every Relay for Life is different and incorporates varying themes, there are certain traditions at all Relays to empower participants to "Celebrate, Remember, Fight Back." In addition, the fundraiser's annual "Birthdays" theme represents the Relay for Life commitment to find a cure so that those with cancer can continue to celebrate many more birthdays.
"Cancer is a disease that affects everyone in one way or another," said Fitzgibbon. "The Relay for Life is an emotional event that celebrates and remembers patients, survivors and those lost; Team Hill & Partners is proud to have played a role in this important fundraising event."
About Hill & Partners
Hill & Partners, Inc. is a full service exhibit design company specializing in three dimensional branded environments for tradeshows, events and facility installations. Over the past fifteen years, the company has earned a reputation for exceptional strategic insight, strong account management and inspired design services. The team at Hill & Partners has worked across many industries and six continents. Experience is a key factor in their long running relationships with clients including Polartec LLC, Samsonite, GTECH and Stanley Black & Decker. The company offers custom exhibit design and production, custom turnkey rentals, and branded environments along with complete client program support and services. Hill & Partners, established in 1995, has been named one of the Boston area's fastest growing companies by the Boston Business Journal. For additional information, please call 857-401-0312, visit www.hillpartners.com or find the company on Facebook, Linkedin and Twitter.
Topics: Authentically Us, Community Highlights