Unifi Exhibits at 2011 Hospitality Design Expo with H&P Custom Exhibit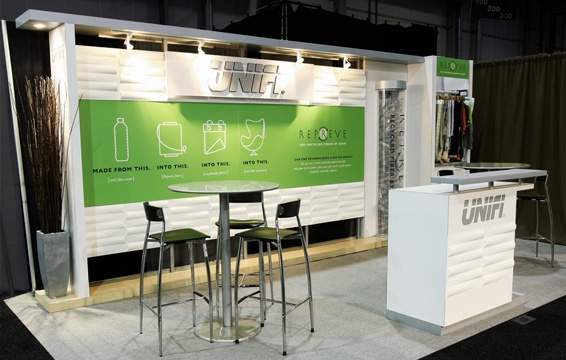 QUINCY, MA, ISSUED JUNE 9, 2011…..Hill & Partners, Inc., a full-service trade show exhibit design firm recognized for its inspired services, partnered with Unifi to showcase a custom exhibit at the Hospitality Design Expo, held May 18-20 at the Sands Expo & Convention Center in Las Vegas, NV.
The open floor plan of the 10×20 linear exhibit accommodated constant traffic drawn to the clean, minimalist property that provided Unifi a visually appealing forum to promote its REPREVE® fabric, made from 100% recycled materials.
Prominent was a display containing plastic water bottles to convey the origin of the REPREVE® product line in a three-dimensional manner. The sustainable nature of the product was underscored by natural elements within the booth including clusters of vegetative twigs. Textured bamboo pulp panels added depth and dimension to the fresh and modest lines of the exhibit.
Unifi, headquartered in Greensboro, NC, is the leading producer of multi-filament polyester and nylon textured yarns and related raw materials. Since its founding in 1971, Unifi has provided innovative, global textile solutions and unique branded yarns for customers at every level of the chain supply.
"This is the second year we've brought Unifi to this major hospitality industry trade show," said Michael McMahon. President and CEO of Hill & Partners, Inc. "We're proud of the large numbers of attendees drawn to this subtly designed booth that successfully placed the spotlight on Unifi's product line while also speaking to the company's core environmental concerns."
About Hill & Partners
Hill & Partners, Inc. is a unique team of branded environment specialists who provide complete full- service and turnkey solutions for custom exhibits, rental solutions,corporate interiors and modular displays. Over the past sixteen years, the company has earned a reputation for exceptional strategic insight, strong account management and inspired design services. Hill & Partners is recognized for producing superior branded environments and providing complete client program support and services. The team at Hill & Partners has worked across many industries and six continents. Experience is a key factor in their long running relationships with clients including Polartec LLC, Dunkin' Brands, GTECH, Samsonite and General Cigar. Hill & Partners, established in 1995, has been named one of the Boston area's fastest growing companies by the Boston Business Journal. For additional information, please call 857-401-0312, visit hillpartners.com or find the company on Facebook, Linkedin andTwitter.
Topics: Custom Branded Environments