Hill & Partners designs and manages Polartec booth for ISPO Winter 2011 in Munich, Germany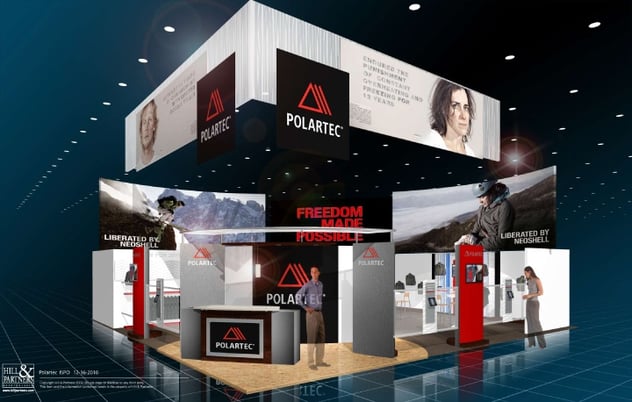 Polartec® launches new product NeoShell® to European markets with inventive booth
QUINCY, MA, ISSUED MARCH 16, 2011…Hill & Partners, Inc., a full-service trade show exhibit design firm recently partnered with Polartec® to create a distinctive booth for ISPO Winter 2011, held February 6-9 at the New Munich Trade Fair Centre in Munich, Germany.
Polartec® which Hill & Partners has maintained as a client since 1995 launched its new product NeoShell®" to European markets at ISPO Winter 2011 with a 10 x 12 meter (33 x 39 foot) highly-trafficked booth.
The "Liberated by NeoShell™" campaign was rolled out by illustrating the effects the breathable, waterproof fabric has on the body; this was achieved by signage with candid high definition images of real-life athletes and adventurers before and after their introduction to garments made of NeoShell®.
The "before" images captured the athlete's sense of worn weariness, while the "after" images exemplified the "coming out of the shell" transformation enjoyed when wearing the proprietary product that protects like a hard shell but breathes like a soft shell.
The booth offered six iPad demo stations to illustrate the maximum water-proof and breathable properties of the new NeoShell® fabric line. The internally lit demo area was enhanced by colored lighting and textured panels that simulated water flow, adding an organic look and feel to the eye-catching exhibit. Cylinders of water with both Neoshell® and a competitors' product were displayed to further demonstrate the proprietary properties of the Polartec® fabric.
In addition to the new NeoShell® line, the booth highlighted the company's other high-performance fabric for sports and active wear. Polartec® revolutionized the world of outdoor clothing with the invention of fleece in 1981 and is a highly acknowledged world leader in technical, performance fabrics. Its products are utilized by the best clothing brands in the world; Polartec® fabrics are used extensively by all branches of the United States military.
The inviting appeal of the predominantly white, red and silver was further enhanced by a bustling café area, where visitors were served a variety of food and beverages.
Hill & Partners coordinated a catered event within the booth at the end of the first of the three-day trade show. The high-end party featured a menu of New England style fare presented with German flare, including lobster, clam chowder and seafood bisque. A DJ supplied music, adding to the festive atmosphere.
"We're proud to have partnered with Polartec® for the past 15 years and to have the continuing opportunity to deliver their branded message to audiences both nationally and internationally," said Michael McMahon, President and CEO of Hill & Partners, Inc. "Our long-standing relationship is built upon their trust in our ability to rise to the occasion for all Polartec® specialty projects."
About Hill & Partners
Hill & Partners, Inc. headquartered in Quincy, Massachusetts, is a full service exhibit design company specializing in three dimensional branded environments for trade shows, events and facility installations. Over the past fifteen years, the company has earned a reputation for exceptional strategic insight, strong account management and inspired design services. The team at Hill & Partners has worked across many industries and six continents, bringing clients to trade shows both nationally and internationally. Experience is a key factor in Hill & Partners' long running relationships with clients including Polartec LLC, Dunkin' Brands, Samsonite, GTECH and Stanley Black & Decker. The company offers custom exhibit design and production, custom turnkey rentals, and branded environments along with complete client/exhibitor program support and services. Hill & Partners, established in 1995, has been named one of the Greater Boston area's fastest growing companies by the Boston Business Journal. For additional information, please call 857-401-0312, visit hillpartners.com or find the company on Facebook, Linkedin and Twitter.
Topics: Project Highlights, International Work