Community Highlight: THE FACES OF ALS™
Four years ago, we were at our company cookout at my house, an event that is typically filled with food, games and fellowship enjoyed by our entire staff and their families. During that particular summer, we built a contraption to answer the ALS Ice Bucket Challenge put forth by one of our clients. Five large buckets of ice water were simultaneously dumped on a crowd of our folks who had accepted the challenge.
Today, we have staff and family members who are much closer to the impact that ALS often creates. We know much more about the life-shifting implications for those diagnosed, along with the need for a strong community of people who choose to lean in and make a difference. This experience has heightened our intentions toward the effort to create effective treatments and hopefully a cure. ALS ONE has provided our organization with ways to fulfill our commitment to be active participants, and we are grateful to be part of their team.
- Michael McMahon, CEO of Hill & Partners
ALS Awareness Month 2017: THE FACES OF ALS™
Written By: Jen DiMartino, Executive Director, ALS ONE
We first introduced The Faces of ALS™ gallery at the ALS ONE Snow Ball in December 2016. A way to show guests at our holiday event some of the courageous and brave faces that battle ALS or have lost their lives fighting that horrific disease. It was incredibly impactful for guests to be able to put faces to a disease that many had thought "so rare that no one gets it". People do get it, many. An average of 16 people per day receive the grim news that they have ALS and that there is no real treatment and no cure. Along with that startling fact is that the same number of people pass away from that disease every single day. An average of 1 every 90 minutes. A horrific statistic, a heart-wrenching statistic, an unacceptable statistic.
When May 2017 was approaching, and we were gearing up for our ONE THOUSAND FOR ONE THOUSAND™ fundraising campaign, which was designed to engage 1,000 businesses of any size to join in the fight against ALS by donating $1,000 to ALS ONE during May to celebrate both Small Business and ALS Awareness Month. We wanted to create something equally as impactful for awareness; without awareness of that horrific disease, funding would be impossible. It didn't take long to decide on the awareness campaign for May to go along with the fundraising campaign. We posted just one image on Facebook & Instagram with one simple ask: If you know of someone who has battled or is currently battling ALS, and would like us to showcase them in our FACES OF ALS™ Gallery on Facebook and Instagram during the month of May, simply email us a picture and a paragraph about them.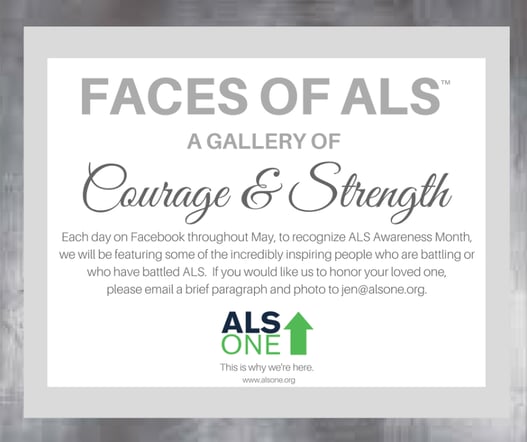 We weren't sure what to expect, how many people, if any, would write. It was supposed to end on May 31st. When I wrote this on June 16th it was still going. How do you end that campaign? How do you say, I'm sorry, we don't have room. We made room, featuring one brave ALS warrior per night. 17 women, 29 men so far. We'll continue until the submissions stop coming in. The gallery has been renamed: THE FACES OF ALS™ and Beyond. The ages in the current gallery range from 16, yes, 16, to 78 and hail from 13 different states. The trajectory of their loved ones all follow a similar path: the loss of one muscle led to the next, yet never knowing when, how long it would take or which muscle it would take hold of next. Some had a fast progression and in some cases, just a few short months. Some had longer, up to 10 years, which is not so common. The average? 2-5 short, cruel, gut-wrenching, horrific years. Muscles and body fading, while the mind stays sharp, fully aware of what is happening to them.
The theme is common: loved, missed, never forgotten, never give up, heartbroken, devastated, lost. The words to describe their loved ones are equal in similarity: brave, courageous, inspiring, strong, determined, positive, hopeful, never complaining, thankful. Thankful. They are thankful. They were thankful. Thankful for the care providers who stayed by their side to fight on the front lines right along with them. Thankful for strangers who opened their wallets and donated to help find a cure so that no one will have to go through what they are or were going through ever again. Thankful for the amazing doctors who continue their research day in and day out. Thankful that it didn't affect someone they love, they'd rather it be them, if it had to happen. It doesn't have to happen. Here's the thing about ALS: It's curable. The roadblock to that achievement: Funding. The ALS ONE partnership team is on the cusp of incredible breakthroughs in that disease and what they need to expedite their research to bring their findings to clinical trials and in the hands of patients who are fighting for their lives is financial support.
---
"The theme is common: loved,missed, never forgotten, never give up, heartbroken, devastated, lost."
---
So as we look to the summer months, we hope you'll join us in our fight, whether it's by sponsoring or participating in our of our annual fundraisers, applying for our ALS ONE license plate, the first in Massachusetts to fund ALS research & care (we need fewer than 100 applications to begin production), or making a simple donation through our website, we cannot thank you enough. It means more than you know.
But back to the FACES, there is one more…the Silent Battle. You won't see their picture. They battle privately, they may not be ready for people to know, or they may not have anyone to submit their story, or they simply don't want to be featured. We are fighting for them, for all the Faces of ALS, the ones you see, and the ones you don't. We will, someday soon, change our name from ALS ONE to ALS DONE, but we need your help.
Please take a few short minutes to see what one courageous man, Kevin Gosnell, was able to accomplish after his ALS sentence was given to him: https://vimeo.com/212785710. He mobilized an army and instilled the fight. He passed the torch on August 8th 2016, just 16 short months after his diagnosis, and we carry it proudly, as bright as ever.
To learn more about ALS ONE, our events & campaigns, and how you can get involved, please visit www.ALSONE.org
-Jen DiMartino, Executive Director, ALS ONE
Jen can be reached at jen@alsone.org for more information about ALS One.
Topics: Amazing People, Community Highlights