Top 10 Blogs For Event Managers: Trade Show News, Tips, & More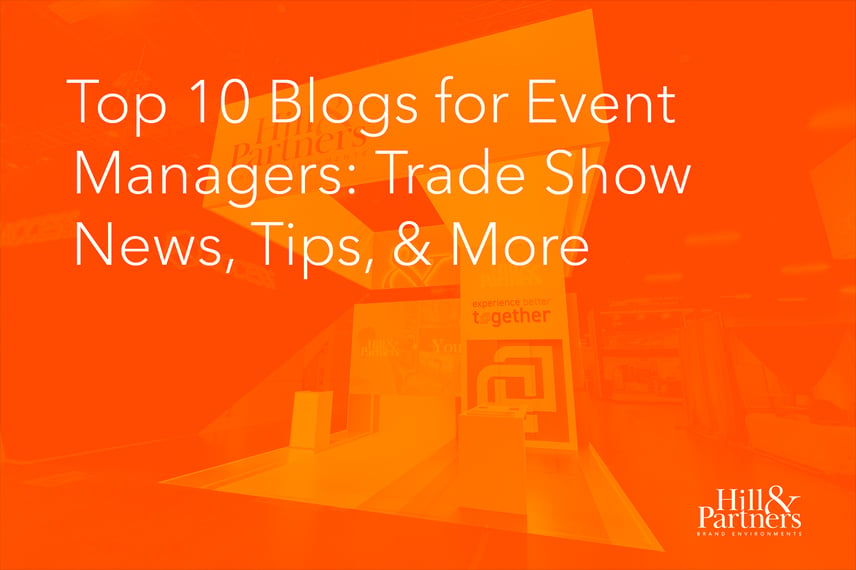 What makes an event manager blog great? First, it needs to help you perform better in your role. Second, it should equip you with relevant knowledge. And lastly, it should provide engaging reads—no one likes boring content! But no one blog can give you everything you need, which is why we curated 10 of the best trade show websites and best event design blogs below. Bookmark them for first-priority references for keeping a pulse on the trade show, event marketing, and design spaces.
Follow These 10 Event Manager Blogs
For trade show industry news, turn to Exhibitor first. Tailored to event managers and similar roles, this blog should be your go-to source (Tweet this!) of not only news, but also guidance, best practices, and other key info. Exhibitor often shares research and statistics that help showcase trends in the industry, which you can use to inform your decision-making.
Like Exhibitor, Event Marketer is also tailored to event managers and features content on the trade show industry. However, this blog has a broader focus on general event and experiential marketing. It shares the latest advice and guidance on aspects such as optimizing your event marketing efforts and making use of new technology.
Exhibit City News also shares the latest happenings and technology in the trade show space. Where it differs from Exhibitor is in its level of specificity—you can find trade show articles on exhibiting in different geographies and even learn about new building code requirements in specific cities. If you're ever curious about why a trade show has changed its rules about what you can (or can't) do onsite, this blog will likely hold the answer.
Unlike the preceding blogs, which were mainly produced by information companies, Event Brite is actually an event management and ticketing platform. But it still produces content relevant to event managers—including best practices for event planning and marketing, interesting ideas and inspiration, and resources like downloadable guides.
Much like Event Brite, Bizzabo is a platform that helps you manage events, except its content has a stronger focus on technology and event interactions. You can find articles on innovative event ideas, announcements of tech-focused events, guides on using tech to increase event engagement, and more.
HubSpot is a well-known blog in marketing. While it isn't heavy on event-focused content, it does cover every aspect of the marketing function. This means much of the content can help your pre- and post-show efforts, such as writing better pre-show blogs and improving your follow-up email campaigns to event visitors.
Fast Company is a business magazine, so it may not be top of mind when it comes to trade shows. However, it has two blog categories—Co-design and Creativity—you might find valuable regarding design, an important aspect of exhibiting. These two categories offer content that bundles design, marketing, business, and technology together. It also includes interesting trends and ideas that may inspire your next exhibition theme.
Also useful for design is Eye on Design, a publication of the American Institute of Graphic Arts (AIGA), the largest professional association of designers in the world. Here you can check out the latest trends in graphic design, from colors to typography to themes.
Business2Community has numerous blog categories, of which its sales and marketing section is most relevant to event managers. This category focuses on B2B marketing, and provides guides, best practices, and thought leadership for companies targeting and selling to other companies.
HBR is well-known for its academic depth on business topics. Its marketing category is quite valuable for getting thought leadership and research-backed guidance on marketing practices. HBR's in-depth, long-form pieces can help inform your strategy formulation and decision-making.
If one of these event manager blogs inspires you to create a standout theme for your next exhibition, reach out to us to talk about creating a uniquely customized space.
Topics: Featured, Trade Show Tips