Prestigious Zeigler award from EXHIBITORLIVE's Portable Modular Awards goes to our own Buffalonian
This year I joined the Hill & Partners team for my first, but hopefully not last, trip to Las Vegas for EXHIBITORLIVE. H&P is a regular exhibitor at the show and I got the nod to join in to help represent the team at the Exhibitor Portable Modular Awards, in which we had four Branded Environments up for recognition.
I was on a real high leading up to the PMAs. It might sound trite, but words cannot describe my experience throughout the show. I was so full of pride for our team. I was inspired from interacting with my industry peers and felt truly excited to be part of our niche industry.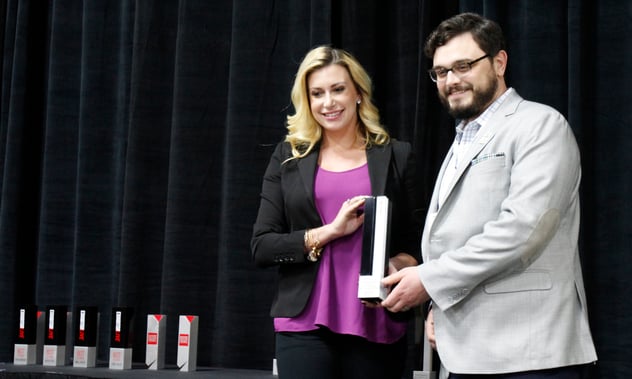 Wouldn't it be the icing on the cake to experience accepting an award for our team? I couldn't tell you, honestly. I blacked out entirely. I'm sure there were some awkward handshakes and unflattering pictures involved, but when I got back to our table sitting in front of us was an award for Best Rental Exhibit for Samsonite's TGA 2015 Exhibit.
As the other awards were being announced, the moment really set in. Although I've been with H&P as a designer for six years, I've only been designing exhibits for two years and I just accepted a major industry award for the biggest project I had worked on to-date, in a room full of peers from around the country.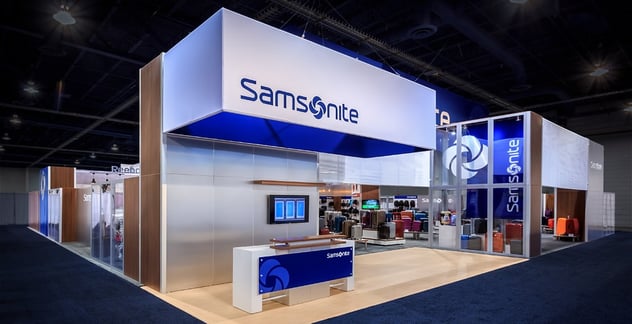 I was completely distracted for the rest of the awards. Combined with the experience of attending the show, I couldn't help sit in awe of how incredibly lucky I am. H&P is an amazing team. That's how a relative rookie in the industry ends up where I was. They gave a struggling kid from Buffalo a start, fostered my career growth, entrusted me with designing an exhibit for a major account, and flew me out as part of the team for the culmination of it all in Las Vegas. Even though I was the one who got to walk on stage and accept the award, this was a win for our entire team and our commitment to each other.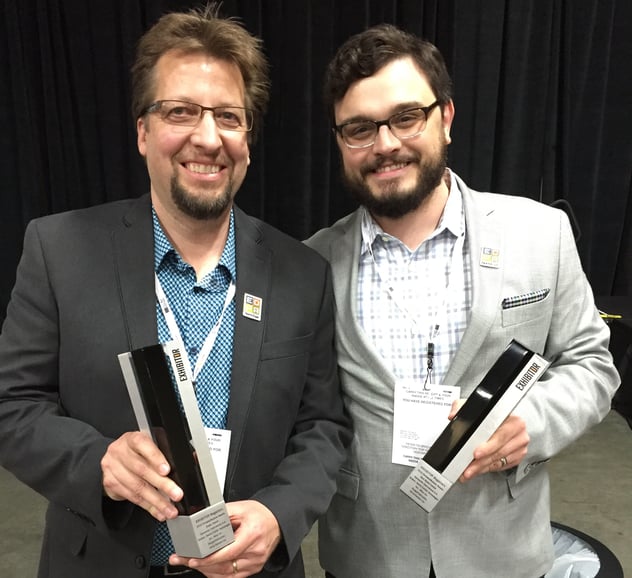 All of these thoughts were going through my head as they announced the remainder of the awards. With only the Ziegler award for best overall exhibit, my mind had already moved on to how I couldn't wait to let the team know and celebrate with them that night. The thought had never crossed my mind that we could win THE award.
They announced the Zeigler winner. I blacked out again.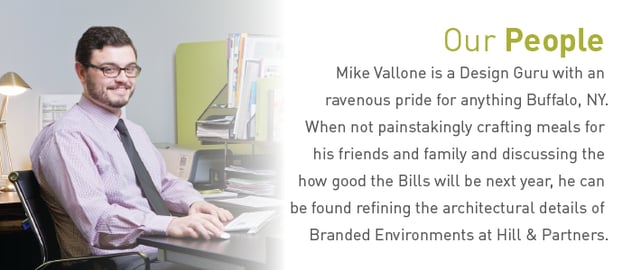 Topics: Our People