An Experienced Marketer's First Trade Show
While Hill & Partners has been creating Branded Environments for over 20 years, we like to periodically get feedback and insights from our team members that are newer to the industry. Martine Pelletier came to us with more than 10 years of Marketing experience, and a peripheral knowledge of trade shows and events. She recently had the opportunity to see an exhibit installation and attend a trade show for the first time.
Admittedly, I had no idea what to expect from my very first trade show. I went with a willingness to help out however I could, and advice from our Director of Accounts echoing in my head. Before I left, he told me three key things to make my trip a success: be on time, wear sneakers, and watch out for fork lifts.
During the Installation

I learned that there's a LOT that goes into getting a Branded Environment polished and ready to go. From getting the crates off of the trucks and into the exhibit space, to setting the wiring and flooring, to cleaning the exhibit prior to client arrival- our Account Management team was on top of every detail. After experiencing (on a small scale) what their day-to-day is like, I have such an appreciation for them and the work they do!
Some things you have to experience first-hand to really understand. If you're attending your first install, don't forget the following:
• I cannot stress the importance of comfortable footwear enough! Install days are long, and you'll be standing on a concrete floor the entire time.

• Dress accordingly. Not only will you be moving around a lot during the installation, but if it's the middle of the winter and your space is anywhere near the loading dock doors, it will be COLD! Usually venues don't turn the heat (or air conditioning) on during install days. Bring layers.

• Stay hydrated and caffeinated, and don't turn down lunch when it's offered to you. Long days and being hangry don't mix.
• Make friends with the locals. If you have an issue or need help with something last minute, it's great to have a member of the convention center staff on your side.
•And that advice about the fork lifts? That was no joke- they move fast!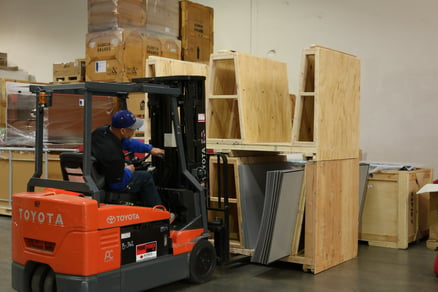 On the Show Floor

After the install, I had the chance to experience the show on opening day, when the energy was high, the booth staff was smiling, and no one's feet hurt… yet.
Even though I was involved from the very beginning, I was still shocked to walk into the show and see the hall completely transformed from the night before.
The show was split into two halls, upstairs and downstairs. The halls had a completely different look- upstairs was a little more "glamorous," with bright, themed exhibits and large interactive activities; in contrast, downstairs was a little clinical-feeling, with lots of clean, white environments. Exhibits upstairs seemed to be competing to be the "coolest" environment, while exhibits downstairs stood out with the details- like what floor type they had, or the design of their hanging sign.
The contrasting looks were due to differing target audiences. The exhibits upstairs were focused on B2C sales, whereas downstairs was a B2B selling environment. Having worked in both B2C and B2B marketing, the different approaches and styles of the halls were not surprising. Being so close to each other, however, made the differences that much more apparent- something even marketers don't often get to see at the same time.
Your first trade show experience might be a whirlwind, but it doesn't have to be overwhelming. Make a list of things you want to look out for to give yourself a frame of reference going into the show. And if you're lucky enough to be involved in an install from beginning to end like I was, don't forget the essentials!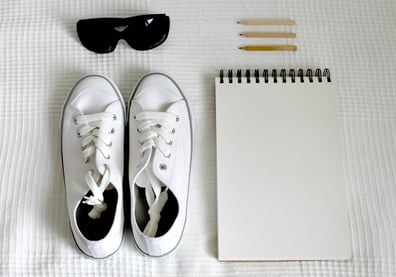 Whether you've been in the industry for a few months, years or decades, we'd love to hear about your first trade show experience! Share it with us on Facebook.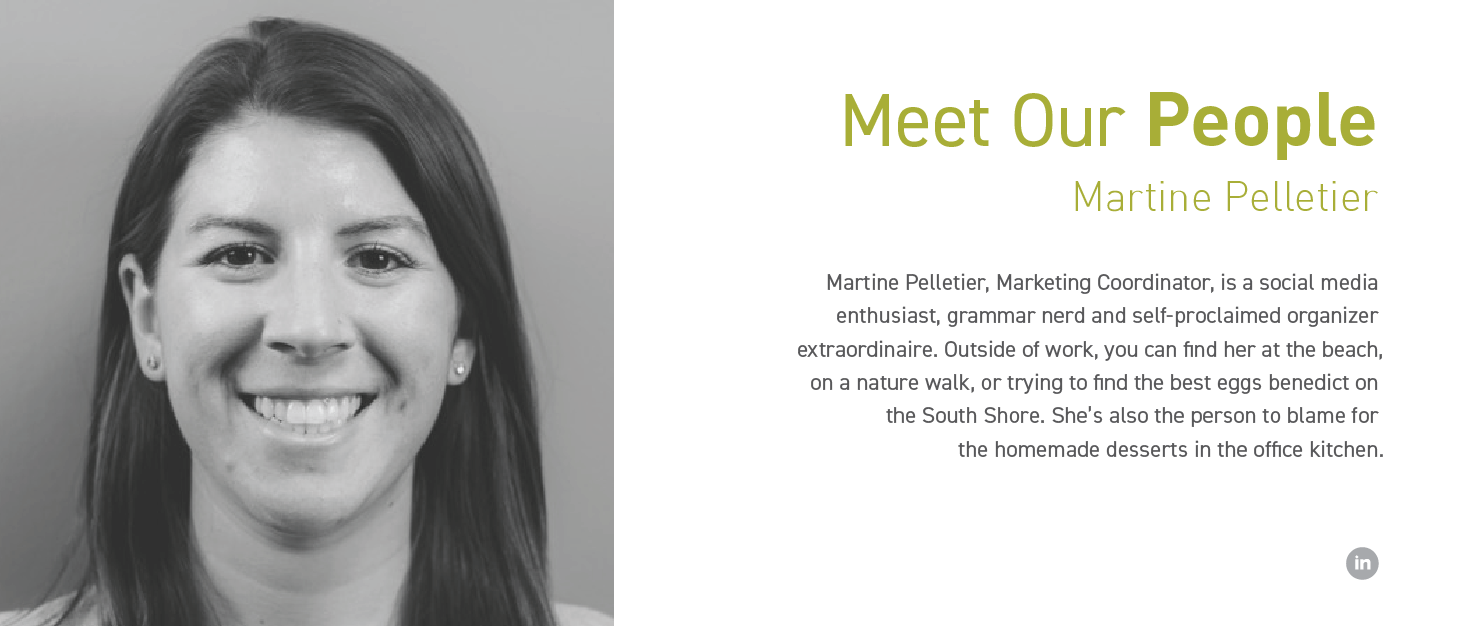 Topics: Tips & Tricks, on the ground, Our People