Hill & Partners Dreams Big - Blue Ribbon Award Winner at America's Small Business Summit
Awards mean different things to different people. They can serve to validate work that is well done, or signify the completion of a period of great challenge. To us, the recognition provided by the recent DREAMBIG Award by the U.S. Chamber, represents the opportunity to begin something new.
We saw the award as a reminder that our organization has something special to offer, and that we measure up well against our peers. We also realize more and more each day that our way of business is unique and exceptional. Through the exchange of ideas with other business owners, we build the strength to move forward in new directions with even higher expectations.
This past June, we took the trip down to Washington D.C. to accept the Blue Ribbon award at America's Small Business Summit. Hill & Partners, along with the other Blue Ribbon winners, attended many of the U.S. Chamber Summit events, including a fantastic keynote address by General Colin Powell.
During General Powell's speech, he made quick references to his life and experience that went well beyond my knowledge of his amazing career. He graciously applied humor to many of the challenges he faced during his military and political life. Most inspiring was his respect and unbroken fascination with our country and its people. His energy, passion and humor bridged the gap between experiences with conflict around the globe, political tides and the main street challenges of small business. He truly is an Amazing Person Among Us.
Every session of the event had something to offer, so our team divided and conquered to be sure that we took advantage of the shared dialogue. Much in the way a CEO forum expands possibility for it's members, so did the opportunity to hear from other business owners about their risks and rewards.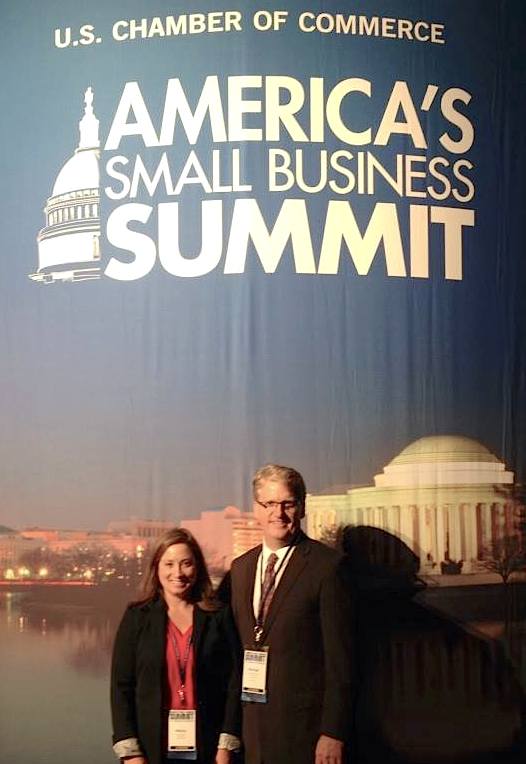 Looking back, I'm most grateful for the opportunity that was created by participating in the Summit as an attendee. Traveling to D.C. with our Senior Graphic Designer and Marketing Coordinator, attending a number of exceptional talks on business by successful business owners, and taking in the contagious energy that confirmed that the entrepreneurial spirit is alive and well, was a valuable and memorable experience.
More often than not, I'm reminded that experience and success in business is something that you can choose to create. The tools are there, the knowledge and support is available, so all it takes is a willingness to really work hard, and "Never ring the bell!
---

*"In SEAL training there is a bell. A brass bell that hangs in the center of the compound for all the students to see. Ring the bell and you no longer have to do the runs, the obstacle course, the PT—and you no longer have to endure the hardships of training... If you want to change the world don't ever, ever ring the bell" - Admiral William McRaven


---
Topics: Our People