How to Brand 12,000 Square Feet of Trade Show Space in Two Days
By Joe Brosnan

If you asked me for one word that would explain how we manage to handle one major client, owning 3 unique brands with separate exhibits that total 12,000 square feet, it would be… preparation.
Oh yeah, and not to mention, we only have two days to install all 12,000 sq. ft. and one day to dismantle and get out of the show hall on time.
---
PREPARATION
The Travel Goods show (TGA) show opens in Spring in Las Vegas, but preparations for this 2015 show begin in early December, right as the snow starts falling in Massachusetts.
Where do we start? With my client of course!
First thing's first! I schedule a kick-off meeting with the team at Samsonite to discuss the overall project and the goals they would like to achieve in this show. This initial meeting covers all the details that will be involved in the exhibiting experience, from the new products being introduced to what the staff will be eating for lunch every day (Yes, lunch is key!).
Out of the ten years of H&P's relationship with Samsonite, I have been the Account Manager responsible for managing the brand's Travel Goods Show presence for five. Each year, this first meeting is one that I always look forward to. The Samsonite team is a fun bunch to work with and we all start off the planning process full of energy for the upcoming possibilities.


After the initial discussion, we begin an execution plan to ensure all will be managed on time and on budget. The responsibility is now squarely on our shoulders to assure that three months from now my client is standing inside the LVCC wearing a big smile, feeling very proud of the way that all three of their brands (Samsonite, Hartmann and High Sierra) are being represented on the show floor.
TIME MANAGEMENT
I produce a timeline that details the necessary steps and important dates, from initial design phases all the way through the return to our warehouse post-show. At this point, we are twelve weeks out from the show and it's of utmost importance for everyone involved to see what needs to be accomplished and when it needs to be executed.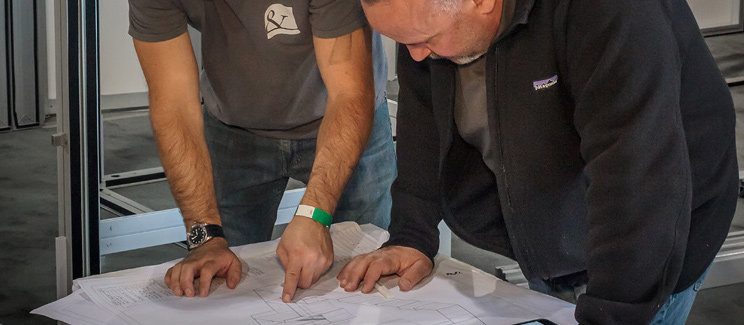 PURPOSEFUL DESIGN
Before the design department begins their work, I start by picturing the 12,000 square feet of space totally empty. I check the hall floor plan from the show organizer to make sure the space sizes and locations are correct, and then I take into account the location of main hall entrances and high traffic aisles to indicate the best booth orientation.
While all three exhibits are in the design phase at Hill & Partners, my goal is to keep the lines of communication open with my client. A great looking exhibit must also be an effective selling tool. How and where to display product must always be kept in mind.
TEAMWORK
At this point I assemble my TGA team of Hill & Partners staff. Putting the right people in the right places assures me that we can execute this project within the timeframe and budget allowed. Account Management, Exhibit Design and Graphic Design must now work closely together to effectively manage this project.

We present our initial exhibit designs to our client ten weeks from show open. The intent here is to receive feedback and revise the exhibits per our clients input to receive final approval within a couple weeks following the first concept.
Now it's time for the real work to start!
For the following seven weeks the TGA team at Hill & Partners will pull together and manage all of the preparation for this event, including sourcing miscellaneous items and planning an in-booth party for High Sierra's Citypak fundraising efforts.

The H&P TGA team keep very busy coordinating every detail -- 3D exhibit renderings, CAD drawings, graphic elevations, electrical diagrams, hanging sign diagrams, install/dismantle, rigging, travel arrangements, 7 truckloads of exhibit components and 22 pallets of client product.
SERVICE ON THE SHOW FLOOR
When the first install day hits, it's time for all of our preparations to turn into reality.

To get execute this install in only two days, we have 7 H&P staff managing 20 I&D laborers, 4 Riggers and 4 Electricians.

Our goal now is to have all flooring down, hanging signs up, raw exhibit components installed, and the second level deck for Samsonite assembled by the end of the first day. A thirteen hour day and a hard-working team accomplish that first day goal.
In the second day we finish the remaining details, including fabric structure installation and the mounting of all exhibit graphics. Our goal is to end with the three exhibits 100% "product ready." The following morning is when my clients arrive to start populating the product areas and displays with their merchandise.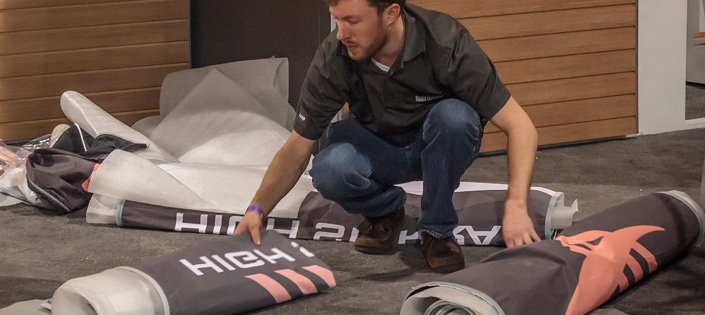 In our pre-show planning, we produce a detailed product diagram that proves effective in managing the limited time frame for merchandising on the show floor. Now that each booth is filled with product and finishing touches completed, the environments are officially brought to life. Now each booth's sales team is ready to communicate face-to-face with potential buyers about their offerings.
Once the show opens, and through the remainder of the 3-day show, my TGA team of H&P staff service all three exhibits. Everything from breakfast, lunch, meetings, exhibit cleaning, maintenance, etc. are taken care of by this team.

By the time Darth Vader and a Storm Trooper arrive in the booth that first morning of show open, everything is rolling along very nicely. The Samsonite staff busily walk attendees through their booth to show off their various product lines (which include the new Star Wars and Disney branded suitcases).

By 4:00 pm on the first day we are ready to manage the Citypak fundraising event in the High Sierra booth. For this St. Patrick's Day theme, H&P decorated the booth (and the staff) in festive green accessories, and provided branded pint glasses for enjoying some theme-appropriate Guiness beer.


After three days of TGA, it's time to undo everything that all have worked so hard up to this point to create. It takes a full team effort to meet our next goal: all three exhibits dismantled and loaded on the trucks in 24 hours. After only one day, we leave the show floor as bare as we first found it.
So, how do we brand 12,000 sq. ft. of exhibit space in two days? The short answer: Preparation and Teamwork.
---
READ MORE ABOUT H&P AT TGA: EXHIBIT CITY NEWS RELEASE
---
Topics: Project Highlights, on the ground