H&P Senior Exhibit Designer Shares Expertise at Bemidji State TAD Talk
By John Grogan
---
Minnesota's Bemidji State University is one of the few institutes of higher education to foster and promote the specialized area of exhibit design. Twenty years ago, the Bemidji design program saw a need to teach students the fundamentals of applying deeply creative minds to the technical aspects of exhibit space and trade show functionality, paving the way for talented youth to excel in conceptualizing purposeful design into any space or place.
Recently, Bemidji's Department of Technology, Art and Design hosted a series of TAD Talks presented by 11 industry experts from throughout the country. One of those experts was our very own Senior Exhibit Designer, John Grogan.

---
HOW I GOT INVOLVED WITH BEMIDJI
Over the last year I have had the opportunity to mentor a student from one of the two universities that offer exhibit design as a major. Through this mentoring opportunity I was invited to participate in the TAD talk presentations at Bemidji State University. TAD Talks, focusing solely on the areas of Technology, Art and Design, are similar to the format of the better-known TED Talks where experts share compelling insights and ideas on various topics in a set amount of time.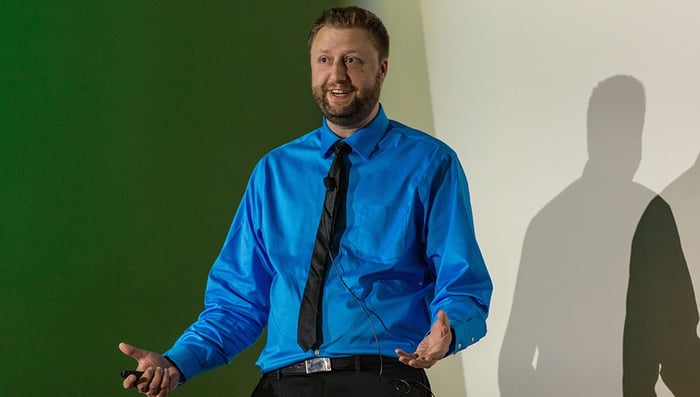 WHAT I HOPE I LEFT BEHIND

I gave a talk entitled "Dance of Design & Technology." My intention was to emphasize that technology isn't just about putting content on the biggest digital screen or using the "coolest" lighting within a space. Designers can strategically leverage various forms of technology to tell an effective story or to help create an engaging and immersive customer experience.
Beyond the creativity of the design itself, it's also important for students to comprehend the flow and function of a project. Understanding where challenges may lie and how to approach them will help create an effective solution.
Simply put, knowing the tools we have at our disposal will ultimately allow us, as exhibit designers, to be both efficient with our process and to push the limits of our designs further.
MY KEY TAKEAWAY FROM THE EXPERIENCE
Personally, as a big enthusiast of the exhibit world, it was such a great opportunity to see students displaying this same level of excitement about pursuing a path in exhibit design. The passion and the commitment of the students to their work and the school was admirable. The commitment that the teachers make to the school and to the students was also something to be truly noted. If it wasn't for the drive and experience of people such as Sachel Josefson and other influential professors, the TAD Talk presentations never would have came to be.

WHY I'D ENCOURAGE YOUNG DESIGNERS TO PURSUE EXHIBIT DESIGN
The exhibit industry has a lot to be excited about. For me, the fluidity and unpredictability of this field is what makes it so interesting. Each client, brand, and project scope is different from the last, presenting new challenges to creatively approach.
Problem-solving is the mission of any design business, but I believe even moreso in the exhibition industry. It is here that we are able to fully use our talents to help achieve client objectives while creating unique architectural spaces and brand experiences for attendees.
I always tell the students that the greatest thrill that they will get for being a designer is when a client chooses the exhibit or space that they designed. It's such a gratifying feeling to be able to walk into a physical space that you put so much passion into designing, knowing that your vision was chosen amongst the competition.

MY VIEW ON FOSTERING THE FUTURE OF EXHIBIT DESIGN
Designing for the exhibit industry is a very niche field, utilizing a multitude of different skills amongst diverse types of projects. We must use these skills to create memorable interactive experiences through deliberate architectural choices and strategic representations of a defined brand.
Due to the complexity of our field, and with so few educational tracks specifically focused on exhibit design, I believe it is imperative to support these programs and mentorship opportunities. A great designer will always be looking around for outside influences as stimulous for growth and learning.
Students that take these opportunities to continue gaining insight and knowledge from a variety of sources will be at an advantage in the journey to not only becoming professional exhibit designers, but also developing into influential individuals in the world of design.
---
Topics: From the Experts, Our People, Community Highlights