Indispensable Advice for Exhibiting Internationally - From The Experts - Shipping, Shipping, Shipping
This past November, Account Executive Rick Lenz, Account Manager John Neil, and Graphic Designer Josh Terceira traveled to Singapore with IGT to facilitate their Branded Environment at WLS. Those of you who are accustomed to exhibiting in the United States might find your first foray into international shows to be a bit of a shock – luckily, our team is well-versed in handling all the obstacles the world might throw at you. Below is some shared experience our people have gathered along the way.

John Neil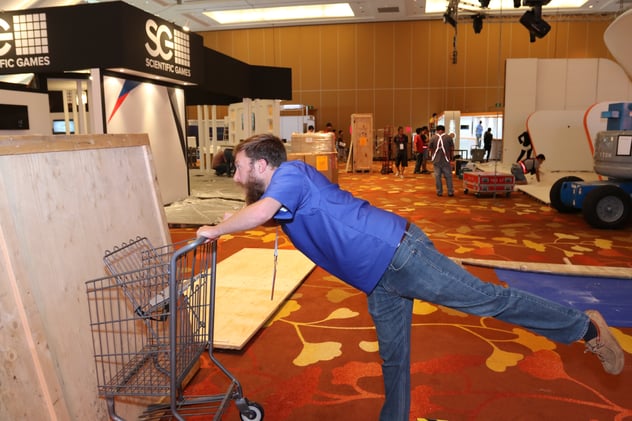 Anyone that has traveled to Singapore has an idea of the countries' strict policy on bringing goods in. Most have heard stories about the moratoriums on items like chewing gum, tobacco, or illegal drugs and the strict penalties they carry, ranging from a ticket all the way up to a death penalty. What many people working in Singapore may not know is the extent to which the laws and regulations also apply into freight importation / exportation.

I have shipped freight in and out of a wide range of countries from all over the world. International freight shipping is never as easy as shipping within the United States - that is to be expected. However, Singapore is unique in its status as one of the most "delicate" countries when it comes to importing or exporting.

Traditionally, a shipping carnet is required for temporary importation of any freight to any country. The carnet notes everything contained within the freight including serial numbers, quantities, country of manufacturer, etc. Additionally, declaring all batteries, magnets and liquids is standard practice and, of course, this is no exception in Singapore.

In addition to these common regulations, Singapore has taken the import/export regulations to a whole other level! Anything related to gambling or gaming, including slot machines, lottery ticket dispensing terminals, and scratch tickets have to be declared and granted permission for importation through the Singapore Police Authority.
IGT's Branded Environment featured many of their lottery and gaming products, so, of course, we needed to ship several non-functioning display and demonstration units into the country. Non-functioning is the key term here - and although our items were non-functioning, they were treated the same as functioning equipment by Customs. Since we were importing & exporting gaming equipment on a temporary importation carnet, our shipment was pulled for additional screening - which was, of course, assessed an additional fee!

These types of caveats are not uncommon when working in Singapore. When shipping anything to or from, it's incredibly important to understand these stringent regulations in order to ensure everything goes to plan. It was a long process, but I enjoyed every minute of it!
Topics: Project Highlights, International Work