Las Vegas: A Trade Show Graphic Designer's Perspective
---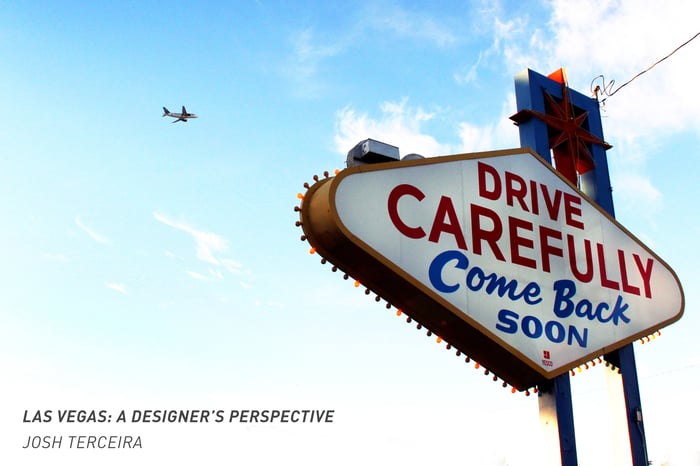 Las Vegas is a major hub for trade show and event activity, and rightfully so. There aren't many other places so particularly suited for the influx of people that trade shows bring with them, and Las Vegas has made serious efforts to bring those shows within their city limits.
I've now been to Vegas twice to help execute projects, which is a drop in the bucket compared to some of my more travel-hardened co-workers. I will say, I am lucky enough that both of my visits have been in late winter, where the temperature was high enough to make me grateful to be away from snow, and not so hot to make me wish I could jump in a pile of it. Our wonderful Project Management team has often spoken of the horrors of working mid-July in Vegas; how they do it, I'll never understand.
When you think about it, it is amazing that Vegas even exists at all - that it does is true evidence of American ingenuity and stubbornness. The dry air won't hesitate to remind you that you're in the middle of a desert, but you could be easily fooled by the stunning amounts of water used in the enormous fountains found at most of the casinos. Drive a few miles outside of the city and you'll forget you were even in one at all.
And this anomaly in the middle of the desert even seems to be exempt to such common things as the concept of time. It is well known that casinos have no windows and no clocks to make their patrons lose track of the 'where and when,' but time doesn't seem to move much outside of their walls either. It is not uncommon to run into someone who's had too much to drink at 10 AM, and it is not any more uncommon to see people just waking up at 10PM.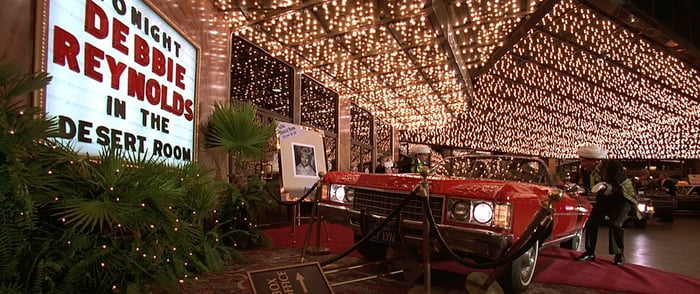 To the designer in me, Vegas is the most infuriating place in the world. Design is about instilling order, finding hierarchy and subtly organizing things so that the message you're trying to convey comes across as intended.
This word, subtlety, is not a word in the vocabulary of Las Vegas. Las Vegas Boulevard at night is a cacophonous experience. The strip is a free-for-all; every building, every sign, every light bulb screams for your attention. In most of America, places like Marshall's and CVS occupy mostly-unassuming storefronts, but even pharmacies and discount clothing cannot resist the arms race that is retail space on the Las Vegas Strip.
I don't know where to look when I am on the strip; my head is constantly spinning, my eyes jumping from this sign to that one, trying to understand the purpose of the miniature Statue of Liberty or why Hooters needs to even have a casino in the first place. The Luxor Sky Beam, an unfathomably bright light that emerges from the top of the Luxor Pyramid, can be seen from 275 miles away. This means that, on a clear night, an airplane over Los Angeles can see it.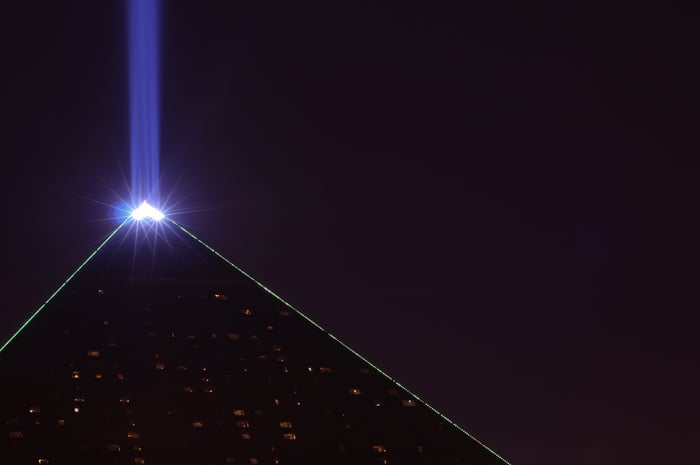 In this way, Vegas reminds me of the modern day trade show floor and the world of marketing in general - instead of well-thought-out, functional design, gimmicks and the temporary successes they bring are often too seductive to resist.
It is impossible to wonder, when you see your competitor's booth flooded with people flocked around whatever cheap thrill they might have employed to get those people there, if you shouldn't give this tactic a try yourself. But when the novelty of a spotlight that shines halfway to Mars wears off and people become bored, will they stick around, or will you be left with nothing?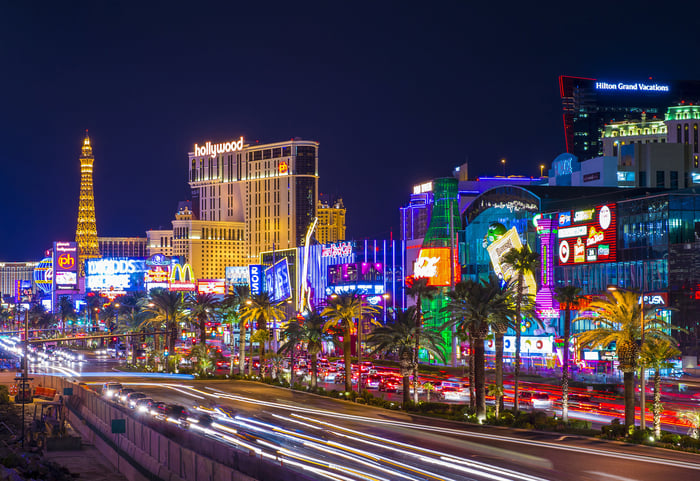 I found that my favorite experience in Vegas was actually when I was taken out of the inferno of the strip. I was brought to a small Italian restaurant about a mile off the main drag, where the seats were mostly empty even though it was prime dinnertime. After the opulence of the Las Vegas strip hotel I was staying in, coupled with the fact that we in the Northeast are spoiled rotten with the best Italian food anywhere outside of Italy has to offer, I wasn't expecting much.
But hey, you know what they say about assuming, right?
Upon taking our seats, we were cheerfully greeted by a hilarious waiter who took great care to help us choose the perfect drinks and the perfect meal. The food was unbelievably good and the desserts were even better. After spending a week getting all but forced out of restaurants by waiters who desperately needed an empty table to seat the hordes of hungry people clamoring for a meal, getting a such wonderfully personal treatment gave me real perspective on what makes a good experience.
Attention to detail, an emphasis on quality, and personalized service - that's what stands out in a world where everyone is racing to build the tallest building or the most obnoxiously large sign. All the pulsing lights mean nothing when the thing that they drew you to see doesn't live up to the hype.
This experience demonstrated what effective trade show design really is. Design purposefully around an intentional and relevant experience to reap the highest long-term benefits rather than blurring your message and diluting your audience with blinding lights and flashy gimmicks.
Topics: From the Experts, on the ground