No Gimmicks- All About YOU at EXHIBITOR 2014
Our goal for EXHIBITOR 2014:
Simply show how Our Spaces are All About YOU.
This year, at the Exhibitor Show we opted to create a draw without gimmicky tactics or trade show giveaways and instead decided to show up as what we are all about 100% of the time. We are all about You, the trade show & event marketing managers.
We designed our campaign to include a 20x20 Branded Environment to communicate Our brand, but our ultimate goal was to create an opportunity for You to discuss the objectives of Your spaces while you focused on a few key areas within ours:
DESIGN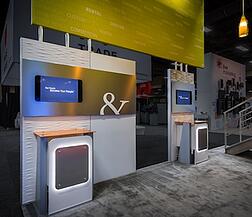 Of course, Brand Presence and the "Wow" Factor rank high as objectives for most exhibitors. For us, a mix of woods, metals, texture elements, and lighting created a bold multi-dimensional brand presence. We were proud to introduce our core products on a 20-foot high Fabric Canopy. The split floor of both carpet and wood subtly segmented the space but the technique of extending that wood flooring up a wall attracted visitors left and right.
FUNCTIONALITY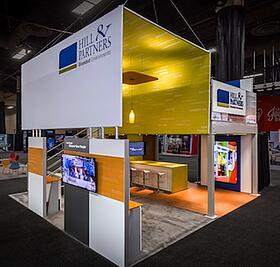 Though it may be different for each, it is usually a top priority for most Sales and Marketing teams.

For Sales: We integrated elements that could be viewed alone or with one of our sales team members. The built-in presentation areas allowed for a complete explanation of who we are, what we do, and how it applies to You. We also included hospitality with comfortable seating options and refreshments to enjoy during the conversations.

For Marketing: We visually communicated our rich character and company spirit through corporate colors and material choices. The mixture of Fabric, Metal and Gloss Surfaces delivered our true brand aesthetic to visitors and reinforced our personality. To connect our people & our process to the actual environment, we produced HD quality videos in house then streamed them on the embedded monitors that were built-into different areas of the space.

TRAFFIC FLOW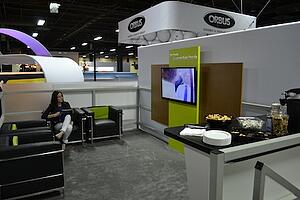 The open layout provided a clear view from all vantage points and created multiple ways for groups of visitors to experience the entire space simultaneously without bottlenecks. After visiting the first level, the experience continued upwards to the second level deck structure. This served as a getaway space more suitable for private conversations.
Once upstairs we encouraged you to relax and talk to us about Your challenges and what You were seeking to accomplish. After all, that's why you came to this show isn't it? (Although the 100th tote bag, playing a game of giant jenga, and branded stressballs are nice perks).

INTERACTIONS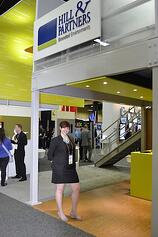 We know the importance of designing a space for engagement, and made sure to create comfortable presentation and demonstration areas. These areas were not just talking points within the structure, they facilitated hundreds of relaxed and professional discussions that did not collide or overlap.
Our staff also acted as guides for attendees, navigating visitors through a tour of the space that became the overall experience.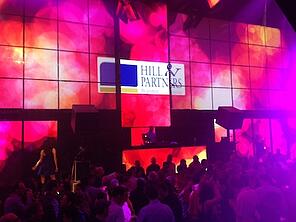 DON'T FORGET THE FUN!
Sure, trade shows are a lot of work, a lot of business talk and a lot of stress on your feet, but we all have to admit that there is some fun to be had while on the road for these exhibiting adventures.
For us, each year at EXHIBITOR we look forward to the industry party hosted by Exhibit City News and Willwork. We always have a great time mixing and mingling with industry professionals at this party, but this year we upped the fun for everyone.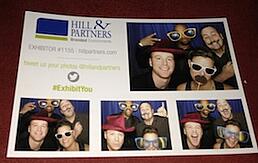 As big fans of capturing the experience, we sponsored the party's photo booth (and spent a little time in it "testing it out" as well). We also created a blue cocktail for the party, fittingly named "The H&P," described as "a smooth combination of liquors & sweetness, with a feisty punch to get the job done."
Our logo displayed on the venue's large screens around the room as we danced to the classic rock beats of the cover band the Spazzmatics. We soon forgot about our tired feet and remembered the joys of being able to experience What We Do with the People that make it possible.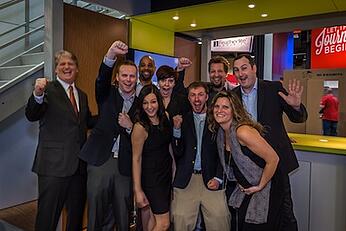 Thanks for a great 2014 show, See you at EXHIBITOR 2015!
Want to talk about how to create YOUR best exhibiting experience?
See all of the photos from the EXHIBITOR Party PhotoBooth
Topics: Project Highlights