Project Highlight: Misfit Wearables' Big Presence at 2015 International CES
THE BACKSTORY
Misfit Wearables, manufacturer of fashionable tracking technology, worked with Hill & Partners for the 2015 International Consumer Electronics Show to highlight the Misfit brand, showcase multiple product lines, demonstrate the advanced technology and establish a presence as a leader in the wearable technology space.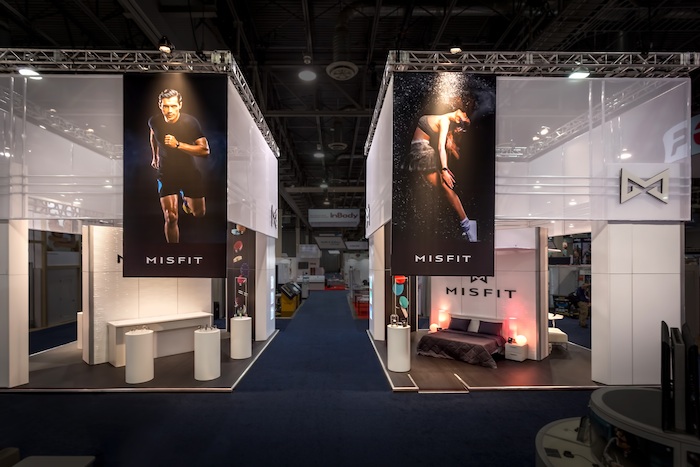 There is an undeniable growing trend in the wearable device industry. Increasingly more, consumers are opting for tracking devices that can quantify lifestyles to provide motivation, help set personal goals and guide towards healthy choices.
At a massive trade show event oozing with the latest in technological innovation, populated with over 170,000 of the industry's top professionals, and spanning 2.2 million net square feet of exhibit space, just showing up on the trade show floor is not enough.
Hill & Partners went to work on Misfit's two 20x20 cross aisle booth spaces, in collaboration with a vision from Misfit's Industrial Designer, Ryan Geraghty, to maximize brand presence in 800 square feet.
THE OUTCOME
Misfit prides itself on designing and manufacturing "premium" wearable computing devices that not only provide the technical functionality of a tracking device, but also provides a fashion element that sets it apart from other fitness trackers that are limited to bulky wrist options.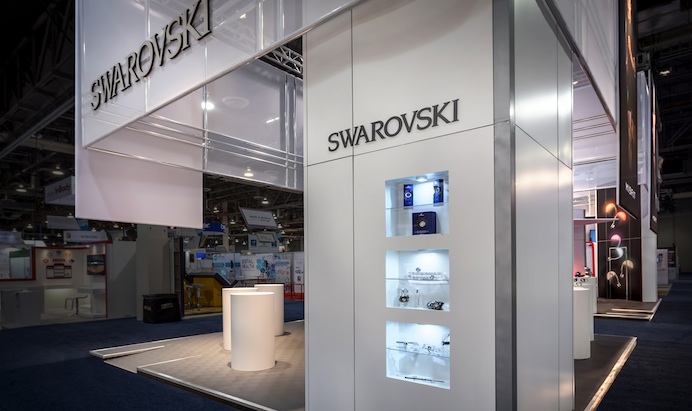 The innovative company offers a variety of options to wear the device, from jewelry to clip-ons and wristwatches. One strategic move was to partner with Swarovski to develop the luxury Shine collection.
A designated feature area within one of the 20x20 booth spaces took on the clean, white upscale essence of the Swarovski brand, complete with embedded display cases, lit to highlight the shine of the Swarovski crystals, catching attention of passerbys.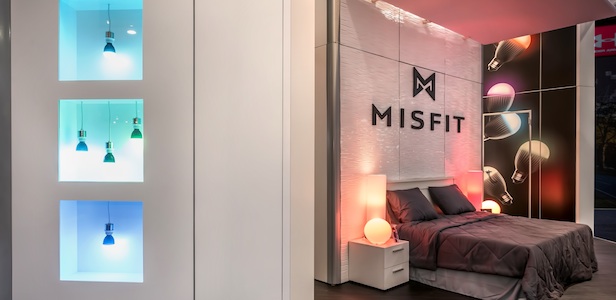 Fitness is a key aspect of the tracking technology, calculating such metrics as calories burnt, distance traveled, and number of steps taken; but another important feature is the ability to track sleep. To represent this on the show floor, H&P mimicked a bedroom, creating a comfortable setting decorated with inviting textures, colors and accessories.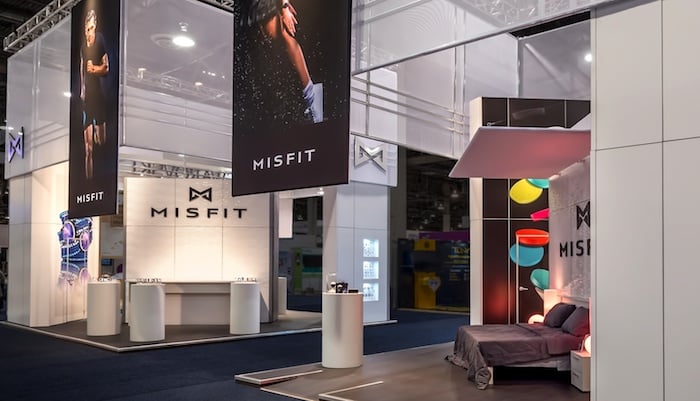 An open floor plan with focused feature areas allowed for continuous traffic flow, yet targetted conversations. The space provided the Misfit sales team with opportunity to fully communicate the product to attendees and potential buyers through strategic presentation and demonstration areas.
A stand-out brand with a stand-out product needs a stand-out trade show booth space to draw in potential customers to experience what sets it apart. We were happy to be able to work with such a brand at CES to help execute this vision. How can we help you with yours?
---
READ MORE on Exhibit City News: Hill & Partners Kicks Off Year with Branded CES Booth
---
---
Topics: Project Highlights