6 Little Known Airport Havens For the Business Traveler
If you consider yourself "a traveler," you've sampled your fair share of airport terminals, gates, restaurants, and attributes. Tired, hungry, bored or burdened by an endless amount of work to complete, knowing what amenities are available could make all the difference in your travel experience.
We've compiled a list of a few oases found in some popular airports that perhaps you may have overlooked. Keep these in mind the next time you find yourself in one of these airport locations:
For a Power Nap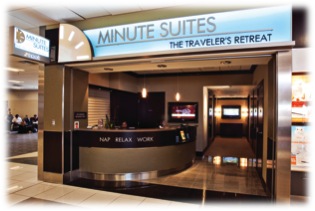 Stuck on a long layover at Hartsfield-Jackson Airport in Atlanta? Find the Minute Suites in Concourse B at Gate B15.
HD TVs in each room offer the option of entertainment or conversion into a computer to get work done in a peaceful and quiet atmosphere. The computer option offers free Internet and flight tracking or you can connect your laptop to the room's Wi-Fi.
When you want to take a "power nap," curl up on your private bed and relax as a sound masking system neutralizes noises.
For the Multi-Tasker
A growing trend in airports, the use of iPads at convenient charging and work stations that allow for a traveller to not only keep on top of flight updates, weather and entertainment, but also order from restaurant menus where the food will be delivered right to your work station!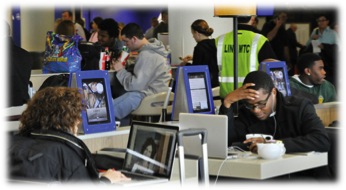 There are 300 iPads in place at Terminal D in New York's LaGuardia airport, plans to boost to 2000, spread across Terminals C and D and 2500 iPads at Minneapolis-St. Paul International Airport, Concourse G.
For the Nature Lover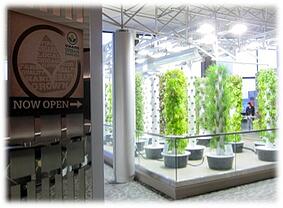 The Urban Garden, located in the G Concourse of Chicago O'Hare Airport between terminals 2 and 3, is the world's first aeroponic garden.
The quiet spot is not only a place to sit and relax in comfortable seating while taking in the sights and fragrant smells of plant life, it also has a restaurant that uses the vegetables, herbs and edible flowers from the garden.
For the Connection Seeker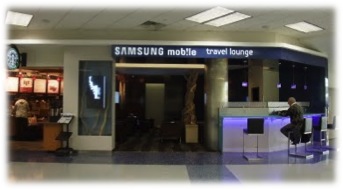 The Dallas Fort-Worth Airport boasts 24 hour Samsung Mobile Travel Centers at the base of each Skylink station in Terminals A, B, C and E, offering the opportunity to kick back and relax in plush leather seats, watch news or sports, and use the Wi-Fi or data ports while charging your electronics. Added perk- it's connected to a Starbucks to keep you caffeinated.

For a Unique Experience
The Encounter Restaurant is a futuristic and intergalactic-designed bar inside the iconic Theme Building at the center of the Los Angeles (LAX) Airport in the Central Terminal area. Moonstone quarry walls, a crater-shaped bar and lava, beers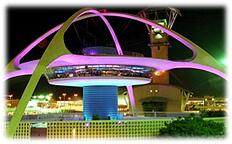 poured out of an alien-shaped tap and bar guns that emit futuristic sounds, and laser lights whenever bartenders pour a drink all contribute to the fun atmosphere and uniquely memorable airport dining experience. Don't worry, there are also always large tables available to spread out with some work while grabbing a bite.
For the Active
Next time you fly out of San Francisco, make sure to leave some time for a good stretch. San Francisco International Airport just opened what's thought to be the world's first inner-airport yoga studio. You can find the studio in Terminal 2. No worries about bringing along your mat. There are mats available free of charge.

DID YOU KNOW? The American Heart Association's Start! Walking program has teamed up with various U.S. airports to promote walking paths within terminals.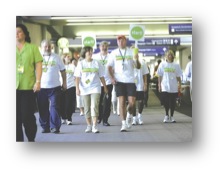 Airports like Minneapolis-Saint Paul International Airport and Cleveland Hopkins International Airport have walking circuits. On the Start! Walking program's webpage, find a selection of airport maps on which measured walking paths are charted.
Topics: Tips & Tricks, From the Experts, on the ground