Things to Do This Summer in These Top Business Travel Locations
Remember those days when summer meant no school, $1 ice cream treats out of a musical van, and burnt skin from sitting at the beach all day long? As a busy business traveler, the notion of 'Summer' may have changed a bit. After all of those long nights at the office, back to back meetings, and weekend business trips, Summer seems to be over in a blink of an eye.
You don't have to let your Summer business travel obligations get in the way of truly enjoying the season. All it takes is making some room in your busy schedule to find those hidden gems in that next city you're being shipped off to.
No matter where you are, there are always experiences to be discovered. Here is a list we compiled of Popular Summer Trade Show Locations and suggestions for those lesser known things you can do to add to your Summer experience:
Chicago

|

Las Vegas

|

San Francisco

|

San Diego
---
If you have 15 minutes…

Buckingham Lights: beginning at dusk and repeating every 20 minutes, take a short time-out from your busy schedule to enjoy this fountain of lights and music.

If you have 30 Minutes…

Visit the Osaka Japanese Garden:

10 Minutes from McCormick Place by car, grab your lunch and head over to enjoy the views of the garden and Monroe Harbor

If you have an hour…

Chicago Navy Pier: Besides the dining and shopping options that you probably have already experienced, hop on the Seadog and take a 30 minute speedboat cruise around Chicago's harbor.

If you have a couple hours…

If you have a free day/night…

Check out the Upcoming Events Schedule at Soldiers Field

Take Advantage of the Summer Outdoor Concerts at Ravinia Park: If you can afford to spend a bit more time, Ravinia Park is a 40 minute ride from Mccormick, offering a variety of affordable concerts all Summer long. Bring your drinks and food of choice and sprawl out on the lawn to enjoy the music under sun or the stars.
---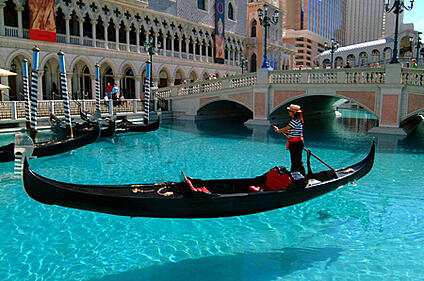 If you have 30 minutes…

Ride the Gondolas at the Venetian. Unless you're new to trade shows, there's no way you don't already know about the Gondolas, but chances are you haven't thought to ride them. Soak up the sun as you are seranaded by a Gondolier in the outdoor canal or float through the cool air-conditioned shopping area, gazing up to the beautiful painted sky.
If you have an hour…

The PBR Rock Bar at Planet Hollywood offers outside dining where you can partake in Las Vegas "people-watching," or, if you're feeling a bit more adventurous, head inside for the bull riding.

Hofbrauhaus- This German dining experience offers "outside" dining inside with live music, dancing and beer hoisting contests. You'll get the outside beer garden feel without the uncomfortable heat of the Las Vegas Summer.

If you have a free day…

Hit The Pool: Beyond the standard pool at your choice of hotel, The Cosmopolitan, Aria, Hard Rock Hotel, Garden of Gods Pool Oasis at Caesars, and GO Pool at The Flamingo are a few of the popular daytime Pool locations that are open to non-hotel guests.
If you have a free night…

If you're in Las Vegas on a Monday Night in the Summer, the Cosmopolitan Pool offers Dive In Movies. Catch a double feature for $3, starting at 7:30pm.

Extend Your Trip!

As one of the most popular destinations for both Trade Shows and vacations, if you are extending your stay and looking for ideas outside of the typical business trip atmosphere, here are

10 Outdoor Activities to try.
---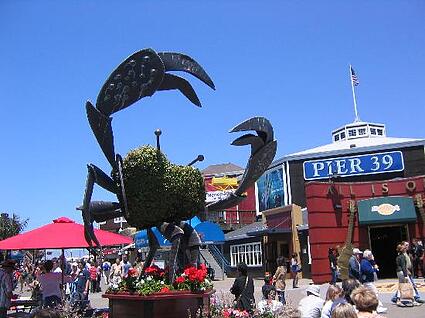 If you have 30 minutes…

Next to Moscone Center in the 
Yerba Buena Gardens, eat your lunch overlooking a waterfall. There's also cute tea shop upstairs and plenty of seating overlooking the city.
If you have an hour…

See the whole city in less than an hour at Coit Tower.A couple miles from the Convention center, take an elevator up this recently renovated historic tower then take in the City views.

The Marina Wave Organ – You'll find the ocean playing this instrument 15 minutes from Moscone at the end of the pier in the Marina. The pipes play "music" based on the movement of the waves. It's best at high tide (8am currently). As an added bonus, the several levels of concrete seating is pretty well shielded from that San Francisco wind and provides a relaxing escape.

Market Street, only a few blocks from Convention Center provides a range of Dining and Shopping (or Window Shopping) options. You can also catch San Francisco's famous cable cars from here.
If you have a few hours…

PIER 39: A highly touristy area, but a can't-miss Summer place to experience in San Francisco. Only a 10 minute ride from Moscone, watch the Sea Lions, dine outdoors along the pier, or try one of the hundreds of flavors of Salt Water Taffy.

Cool down with a wind-in-your-hair thrill ride: The RocketBoat zips under the Bay Bridge, down to AT&T Park and back to PIER 39 all within a safe, 30-minute roundtrip.

Get Your Coffee Fix, stop by the lesser known Buena Vista Cafe near the Pier for their famous Irish Coffee, modeled after the original Ireland-born beverage and perfected at the Cafe in 1952.
If you have a free day…

Visit the hidden stretch of beach to the south of Treasure Island's yacht harbor. It is shielded from the wind and offers great views of the Golden Gate and the Bay Bridges.
If you have a free night…

Dine at Top of The Mark- An iconic Rooftop Bar with waiters in tuxedos and panoramic views provides a fancy dining experience with unbeatable views of the city.
---
If you have an hour…

Directly behind the San Diego Convention Center, Stay Active while taking in the gorgeous water view of San Diego Bay on this running route to Broadway Pier past the "Unconditional Surrender Statue" by the U.S.S. Midway Museum.
If you have a couple hours…

Catch the 15 minute Coronado Ferry behind the Convention Center to Coronado Ferry Landing for some quick shopping or lunch on the water.

A 20 minute drive from the Convention Center, Climb up to the top of Mount Soledad for stunning 360-degree views of the entire city. It is the ideal spot for a picnic on one of the benches lining the area or for simply taking in the breathtaking view.

If you have a free day…

San Diego Zoo is rated one of the best in the country. If you can finagle the time to escape to the zoo, check out these tips before going.

Visit Old Town: 5 miles from the convention center, you'll find cultural shops, authentic Mexican food, and fun Old Time Photos.
(What better souvenir to take back to the office than your group captured in time like this?)

If you have a free night…

If you are into Live Jazz and good cocktails, bring your group to the GasLamp Speakeasy and be transported back to the roaring 20s era.

A 15 minute ride from San Diego Convention Center, soak up the sun, watch the sunset, dig your toes in the sand and watch surfer's take on the man made wave at the Wave House Bar. The beachfront bar offers a unique dining and cocktail experience to decompress with colleagues or clients after show hours.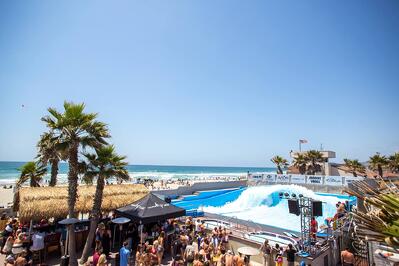 ---
Jump to Top
Topics: Tips & Tricks, on the ground