5 Things to Know Before Traveling to Belfast
Ever wondered what working abroad is like? Our Event Manager, Whitney, and Sr. Graphic Designer, Josh, recently traveled to Belfast for a client's event, and they shared five key things you'll want to know before you go.
WORK: On Belfast Time

Whitney and Josh found the people of Belfast extremely friendly and helpful, both professionally speaking and as tourists. If you're new to working overseas, Whitney's biggest piece of advice is to be mindful of your timing. Make sure to build extra time into your plans for overseas shipments and customs clearance, so everything is where you need it, when you need it.
In general, running an event in another country is pretty much the same as running one here in the U.S. In Belfast, however, you'll need to prepare yourself to work on "Belfast time." What does that mean? The people you'll work with in Belfast will get the job done, but not in the sometimes-frenzied way we do things here in the U.S. Instead, working in Belfast is much more laid back, something our team found extremely refreshing.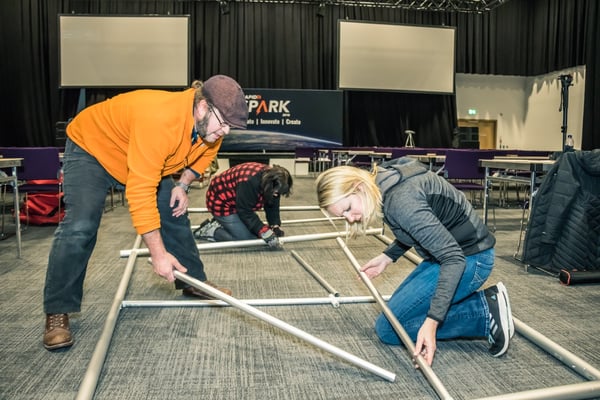 EAT: Made In Belfast
For Josh, traveling and eating are two sides of the same coin - experiencing a place through taste is easily his favorite way to do so, and the Made in Belfast restaurants are the perfect place to accomplish this if you find yourself in the city they take their name from.

Josh tried The Grill, whose unassuming facade hides a truly unique ambiance that borders on the absurd. The six-foot gloss white ostrich is overshadowed (somehow) by the food, which is the main attraction. All dishes are comprised of locally, sustainably, and ethically grown ingredients, and the attention to detail and quality are apparent in everything they make. Josh went for the meat pie, which seemed like the most appropriate selection – "when in Rome" (or Belfast) - and every bite was perfect.
SEE: The Starlings

While snapping photos of two hilariously fat pugs along the River Lagan behind the Belfast Waterfront, their owner inquired as to whether they had seen the Starlings yet. They had to confess they hadn't, and, truthfully, didn't even know what a Starling was. Thankfully, she explained: every night at sundown, a flock of birds (the aforementioned Starlings) take flight in the Belfast sky before eventually coming to roost on the nearby Albert Bridge. Her nonchalant explanation did not adequately prepare them for the stunning display they were to see that night - 30,000 birds flying in unison above the city, undulating in synchronicity, moving as if they were one. Watch the video below for more - no amount of words will do it justice.
DO: A Tour Fit for the Queen of Westeros
Maybe you've heard of a little show called Game of Thrones? What you might not know is that 80% of the show is filmed in Belfast! As such, there are a lot of Game of Thrones location tours offered. After doing some research, Whitney decided on the tour that visits the most filming locations. Led by one of the show's extras, they stopped at seven locations seen in the show, plus a few tourist attractions, and were treated to lots of behind the scenes information about the show. Whitney recommends the tour even for people who aren't self-proclaimed "GoT nerds" because it's a great opportunity to see beautiful areas around Belfast, and learn a lot about Northern Ireland.
LEARN: Titanic Belfast

Josh was nine when the film
Titanic
came out and, while he was not much of a fan of the romance genre, the historical event itself was endlessly fascinating to him. 20 years later and on his way to Belfast, he was excited to visit the Titanic Belfast, a museum dedicated to the ill-fated ship and the city that built it. The building itself is awe-inspiring - eight floors tall and featuring a facade clad in aluminum shards that evoke both the ship and the iceberg that led to its demise. The museum is engaging and has something to offer everyone, no matter age or interest level, and features some truly fun experiences. The conference center at the top floor features a painstakingly accurate reproduction of the famous
Titanic
staircase that I highly recommend - the acoustics are sure to make your rendition of "My Heart Will Go On" sound incredible.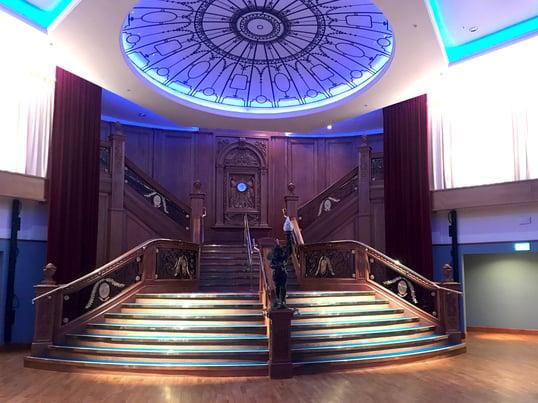 Whitney and Josh had a great time working, and playing, in Belfast. If you ever find yourself scheduling a trip to Northern Ireland for business or pleasure, don't miss out on their favorite parts of the city!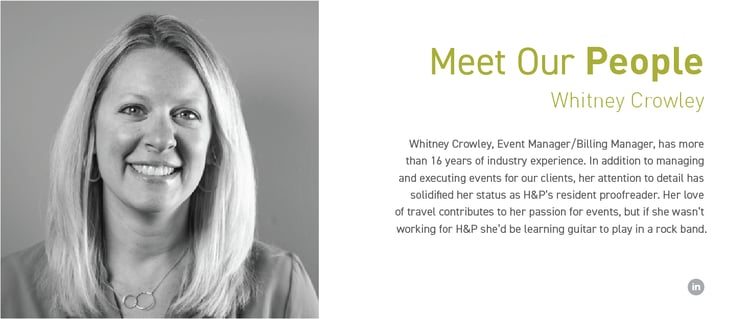 Topics: Tips & Tricks, on the ground, Our People, Featured