6 Interactive Trade Show Games To Steal The Show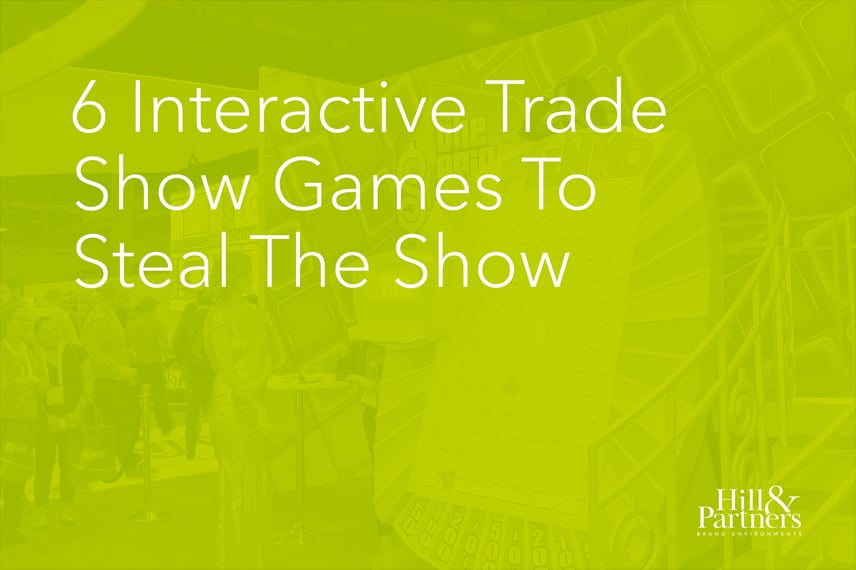 One of the biggest challenges at trade shows is standing out. There are dozens of exhibitors around you, and you have to figure out how best to draw attendees into your Branded Environment. Trade show games are a great way to get the attention you seek. But what type of game should you use for your space? A number of interactive games for exhibition stands are listed below; try one out for yourself, or use them as inspiration for a trade show game idea of your own.
6 Engaging Trade Show Games
1. Plinko
Exhibiting at Total Rewards, Payfactors, a developer of compensation management software, used a Plinko board as an attention-grabber. Plinko is a surprisingly inexpensive game that creates tons of opportunities to engage with attendees. Passersby could step up and drop a chip into the board for a chance at prizes. Additionally, Payfactors also sent out special branded chips to a select few high-priority attendees—if the attendee brought the chip with them to the show and dropped it in, they got a chance at even better prizes. Nearly all attendees who received the special chips brought them to the show, and there was a constant line of people wanting to play.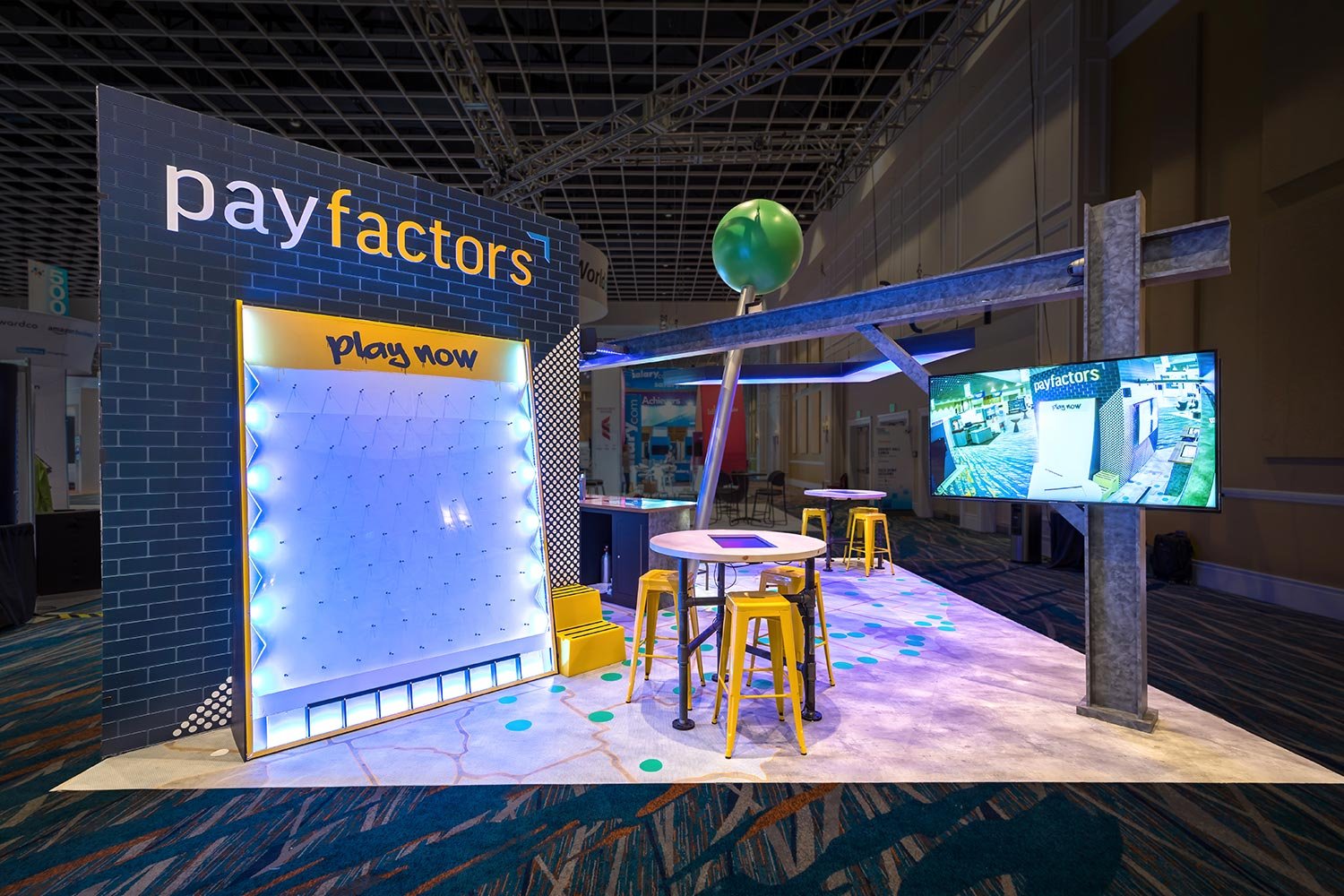 2. Riddles
Black Hat is a well-known cybersecurity show where Cybereason, a cybersecurity tech company, regularly exhibits. One year, the company featured a riddle game in its Branded Environment. The space included various paintings paired with golden plaques that offered attendees riddles to solve, which focused on the history of programming, cybersecurity, and cyberattacks. Here's one riddle from the exhibit:
I'm a Countess and daughter of a lord,
but I did not while away at home bored.
The first algorithm I created;
a century later my accomplishment was finally celebrated.
(The answer was Augusta Ada King, Countess of Lovelace.)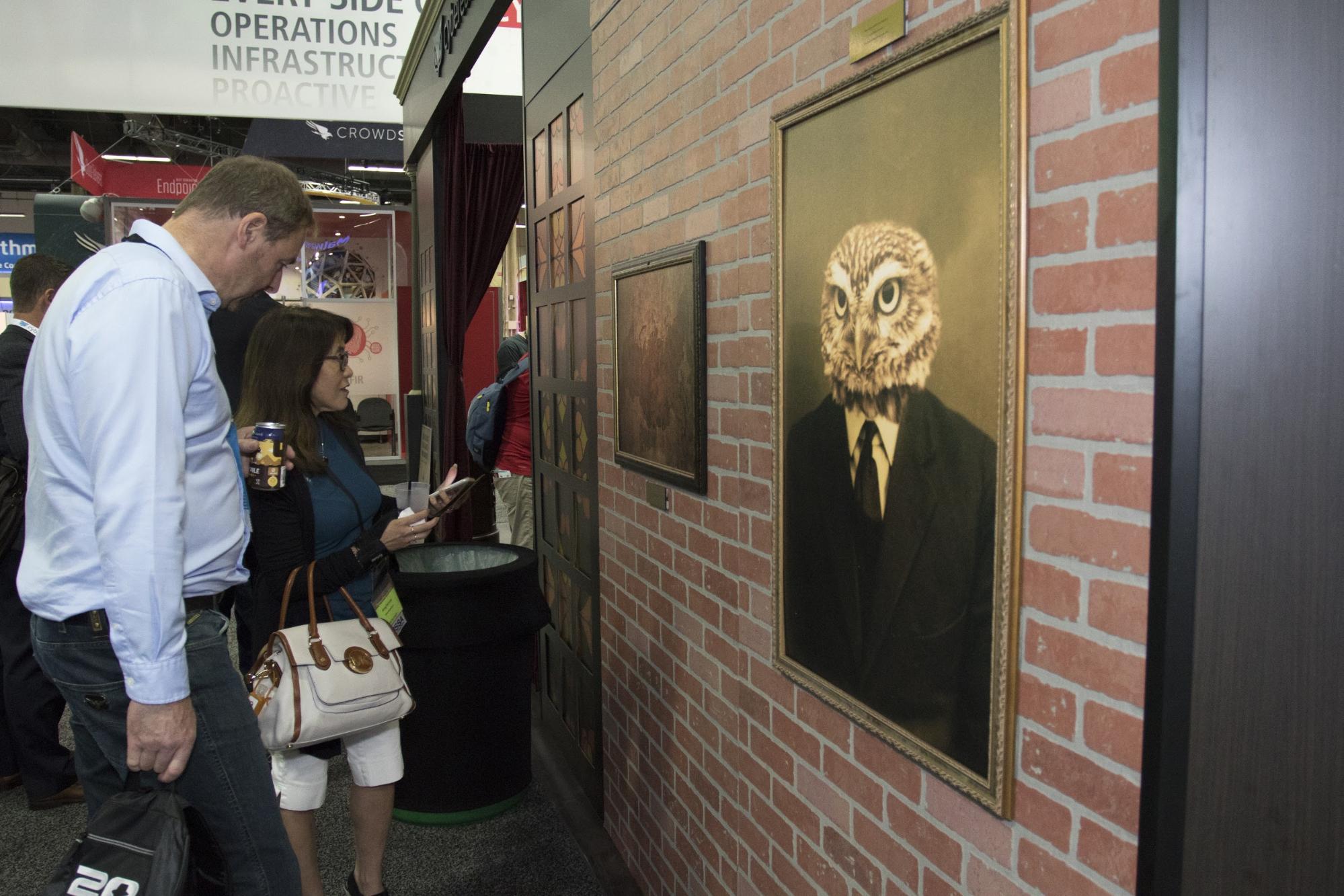 One set of paintings featured silhouettes of countries, with plaques listing famous viruses or cyberthreats that originated in that country. The other set of paintings featured portraits of historical figures in the computer science and cybersecurity world—only the heads of these famous individuals were replaced with owls, tying into the Cybereason brand identity. The game provided a fun yet thoughtful way for visitors to test their knowledge, problem solve, and engage with booth staff.
3. Golf Simulator
Simulation games can take a lot more effort to pull off than simpler alternatives, but they really draw a crowd. Macanudo's exhibit at IPCPR, a show for cigar and tobacco shop owners, did just that with its golf simulator. Why golf? Because the cigar brand was a sponsor of the Golf Channel's reality TV series "Big Break," where 12 contestants compete in golf-related challenges to win an exemption to enter either the LPGA Tour or the PGA Tour. Given the strong correlation between cigar smokers, golfing, and the TV show, Macanudo's golf simulation game made complete sense and worked well as a promotional tie-in.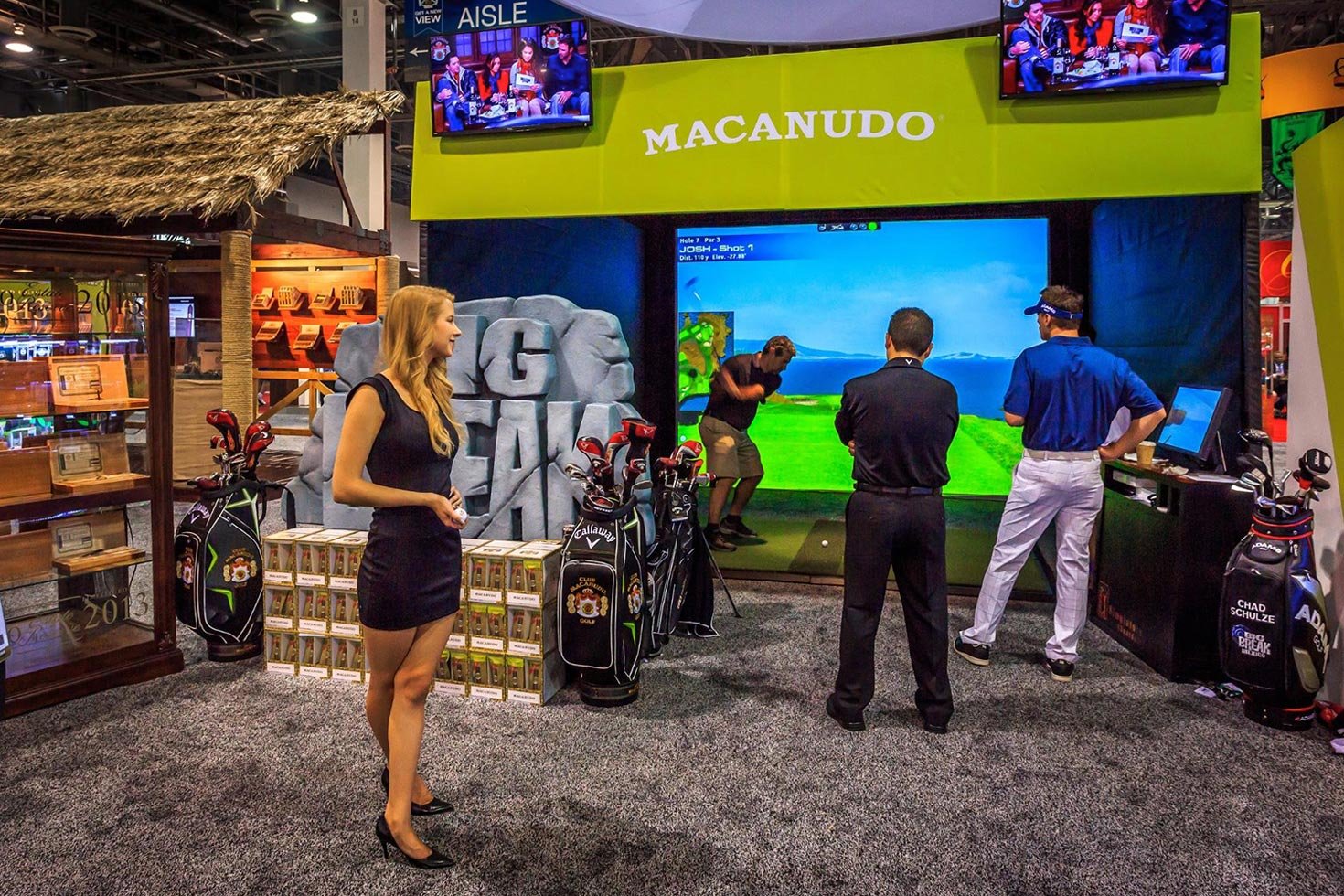 4. Tetris & Puzzles
For ExhibitorLive, our own company took a fun approach as part of our "Find Your Fit" theme, providing visitors with the choice of either an exciting game of Tetris or a more low-key puzzle bar. The Tetris side of our Branded Environment included big screens and live commentators from our team, which helped get the attention of attendees in the area. Anyone who wasn't interested in playing Tetris migrated to the puzzle bar, which provided them a hands-on experience and the opportunity to have one-on-one conversations with members of our team. Not only was this dual gaming approach fun and engaging—it also doubled our leads compared to the previous year.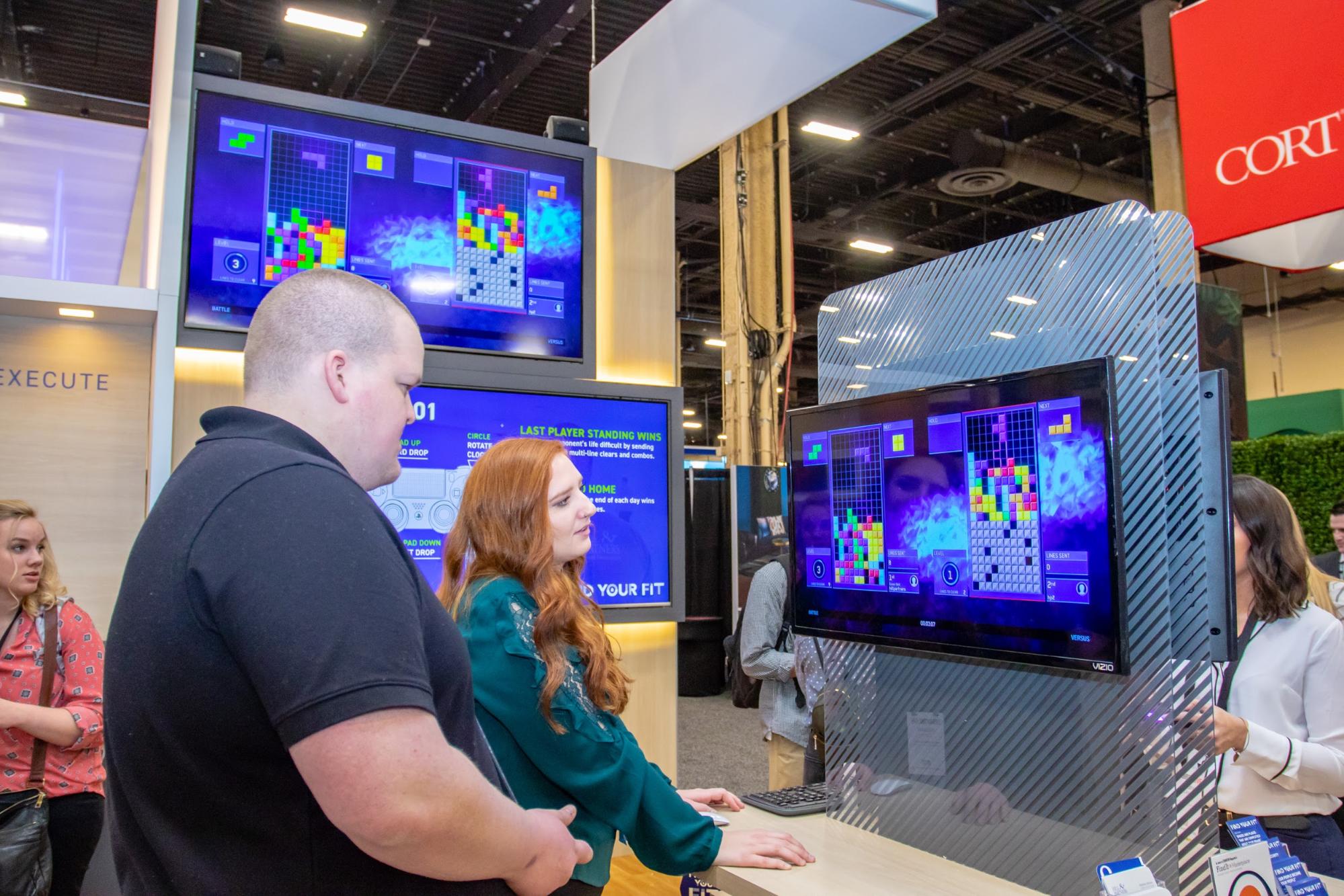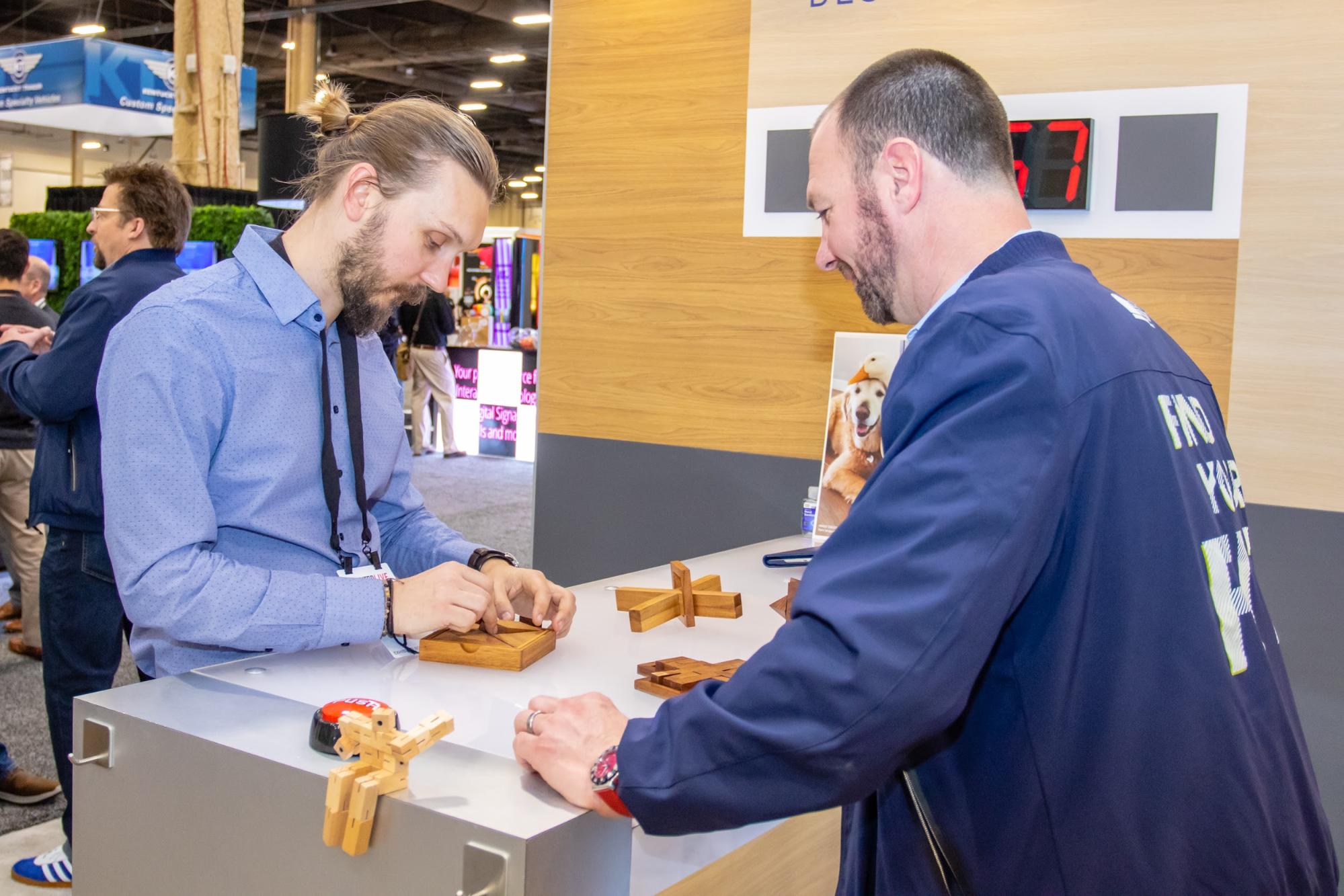 5. Prize Wheel
To promote its new Wheel of Fortune-branded slot machines, IGT, a gaming technology company, built a massive digital version of the iconic wheel. The setup was visibly stunning and drew in huge numbers of attendees. Once in front of the wheel, visitors could press a button to spin it, getting a chance to win various prizes. This trade show game promoted awareness of IGT's Wheel of Fortune properties, and gave people a chance to interact with the properties on a larger-than-life scale.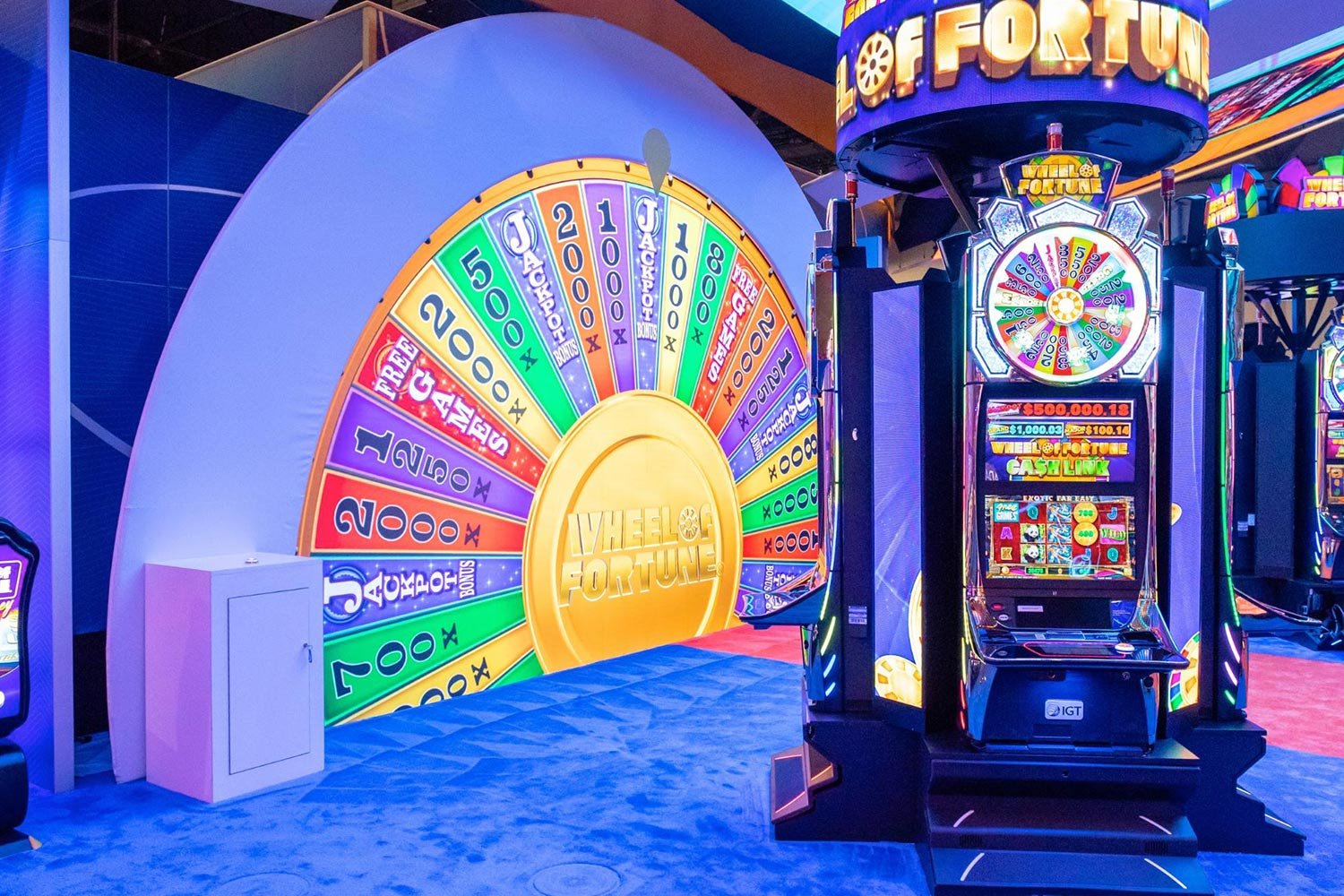 6. Memory
When Amadeus, a global travel technology company, exhibited at the GBTA Conference for travel professionals, it used a memory game to engage visitors. Conference attendees—a group consisting primarily of corporate travel managers—had to match cards containing travel items, like clothing and no-fly items such as aerosol spray cans. The goal was to match as many cards with acceptable travel items as possible. The game tied in perfectly with the Amadeus brand, and it effectively captured attendees' attention (and contact information).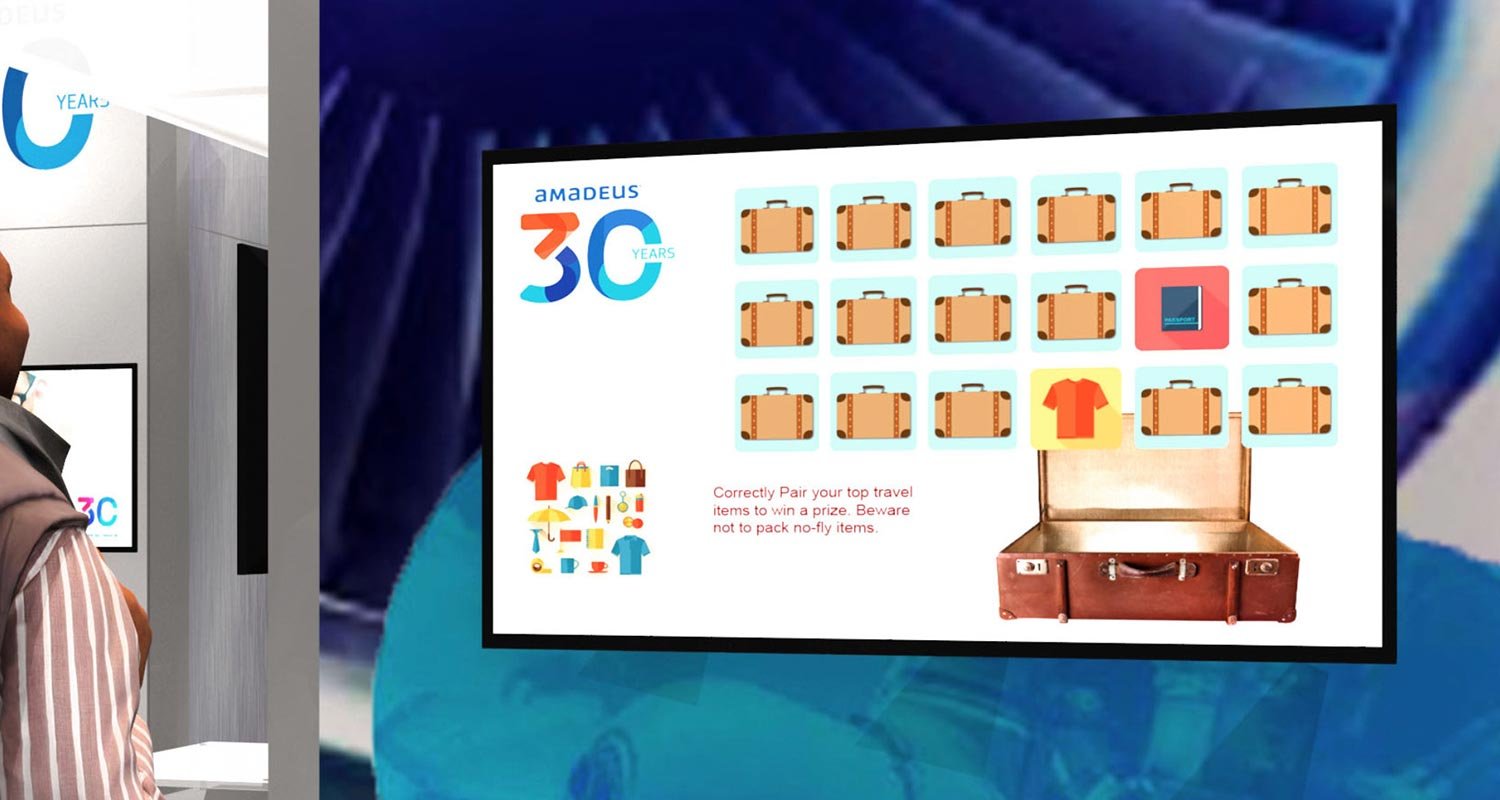 Inspired by some of these trade show games? We can help you gamify your brand to draw in and engage attendees at your next show. Reach out to us to talk about creating a uniquely customized space of your own.
Topics: Featured, Trade Show Games