Trade Show Video Walls: Make A Big Impact With Answers To These FAQs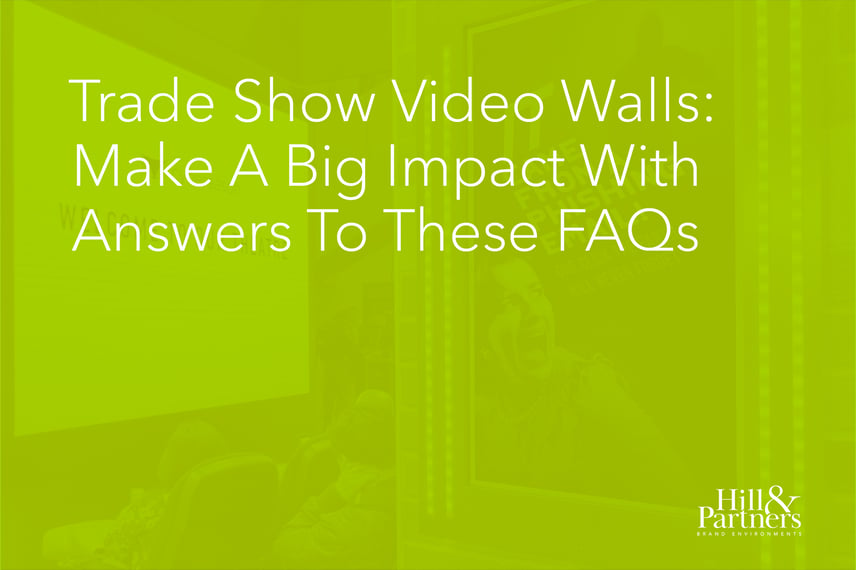 Trade show video walls are becoming an increasingly popular tool to attract attendees into your Branded Environment. But you may not know that video walls actually refer to two different types of audio/visual (A/V) technologies—monitor walls and video tile walls. Below, we cover their differences, as well as trade show video best practices for using them to stand out in a meaningful way. (Also, check out the video for additional visuals.)
5 FAQs About Trade Show Video Walls
1. What is a monitor wall?
As the name suggests, a monitor wall is literally a wall of monitors—a collection of standard-size displays designed to work together as one large screen. Monitor walls are a great way to get a big video presence.
It's important to note that monitor bezels—the outer frames—are much smaller than the ones on screens you'd see in your home. Despite their smaller size, bezels are still large enough to be noticeable, meaning the final product will not display as a truly seamless "wall." Additionally, due to the gaps (or blind spots) created by these bezels, you'll want to know their exact size so you can plan your content creation accordingly. The last thing you want is to display important information behind a bezel.
2. What use cases work best for monitor walls?
Monitor walls are great for content like presentations and live demos—their high-definition resolution means small details will be crisp and easily readable. (Tweet this!) Plus, since they have the same aspect ratio as your average screen, any videos or presentations you've made for standard widescreens should fit them comfortably.
3. What is a video tile wall?
A video tile wall is a collection of square screens that snap together to form one large screen. And unlike with monitor walls, once video tiles are in place, the seams between them completely disappear.
Video tiles are newer technologies that are used to achieve big video impact flexibly—these tiles are modular, meaning they can be linked together in any number of ways. The size and shape of the screen is completely up to you. Tiles come in various resolutions and the technology is evolving rapidly, but higher resolution tiles do come with a higher price tag.
4. What use cases work best for video tile walls?
Even the highest resolution tiles don't compare to the resolution of a standard monitor, so tiles work best with big, bold content intended to be viewed at a distance. If you're planning on using a video tile wall, you should plan on creating content designed specifically for that type screen to ensure you're using it to its maximum potential.
5. When should you use a monitor wall vs. video tiles?
Choose monitor walls when you:
Need to show content with small details because monitors have higher resolutions.
Must adhere to a smaller spend since monitor walls are generally more budget-friendly.
Choose video tile walls when you:
Want to make a big impact from a distance, since they can get attention from across the show floor and be assembled in whatever format you want.
Have a larger budget to work with, as video tiles can wind up being a significant investment. The costs for tiled walls extend past the screens themselves—there's custom architecture, rigging, A/V staffing, and drayage.
Renting video wall solutions is a great way to keep costs down and preserve your future flexibility. But whichever solution you choose, make sure your content is designed appropriately for the application. Your big video wall is only as effective as the stuff you put on it!
6. What are some good trade show video examples?
Two good examples come from our clients Cybereason and Sophos. Cybereason created a theater screen and overhead marquee using video tiles for showing its movie trailer. The screen was integral to the movie theater theme we designed for the show.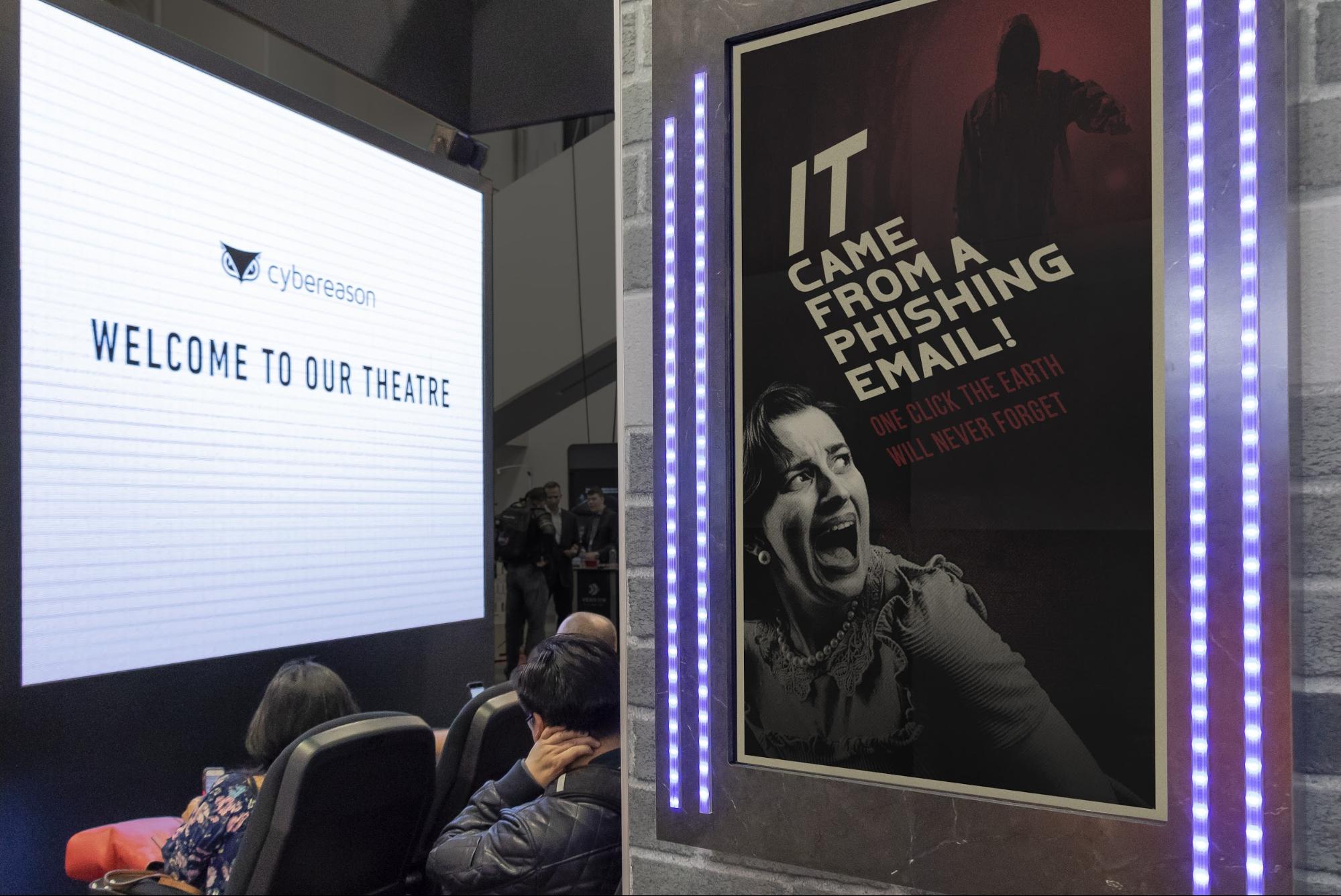 As for Sophos, their theme was more traditional and called for a less dramatic approach—hence a small monitor wall made up of four screens. The company used the monitor wall to showcase presentations and demos.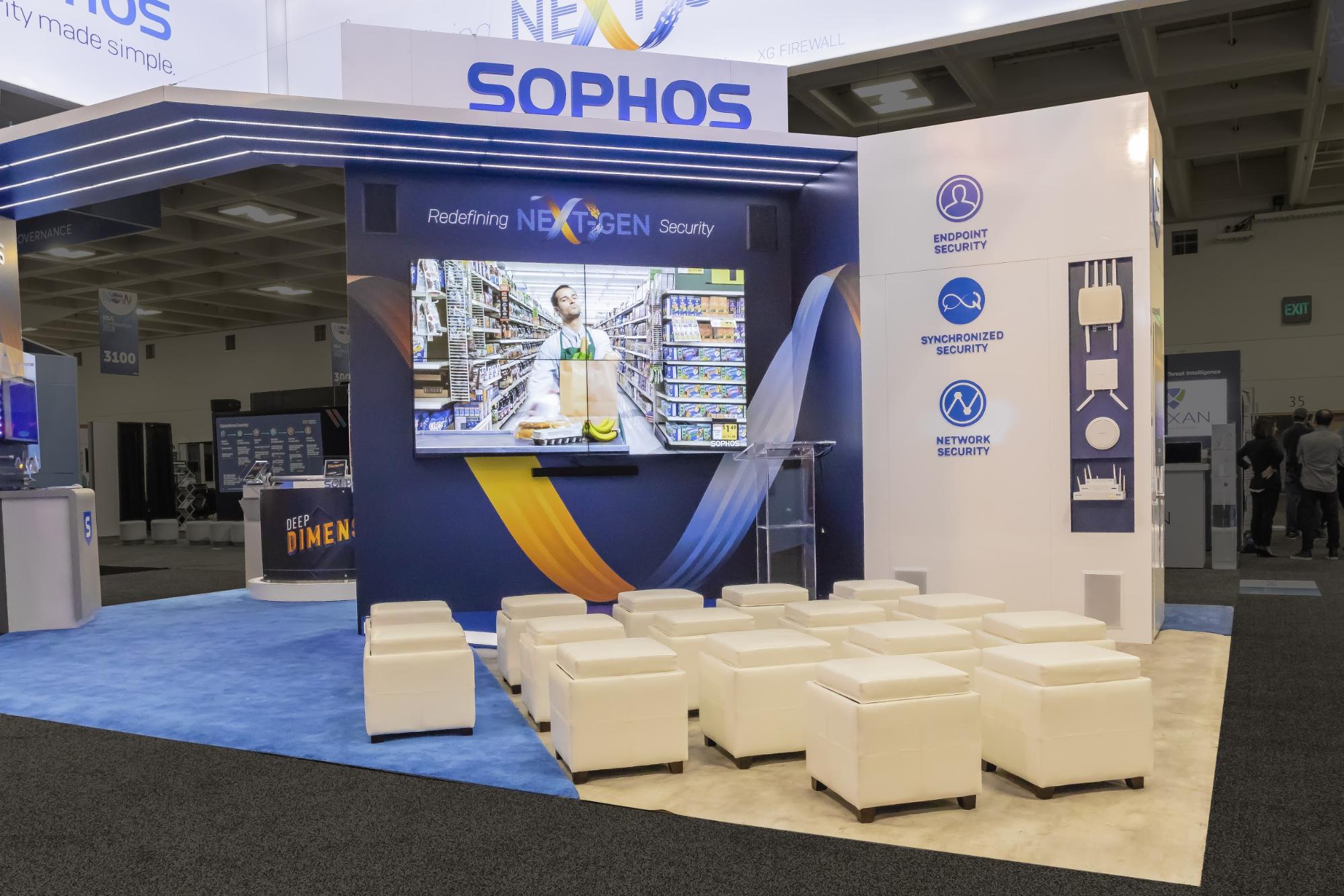 Want to incorporate trade show video displays into your Branded Environment? Reach out to us to talk about creating a uniquely customized space that steals the show.
Topics: Featured, Trade Show Tips