What to Consider When You're In a New City
By Paul Cunningham
If you asked me how many times in my career I've quoted projects in Las Vegas, I would quickly lose count. For our client,
ChannelAdvisor
, and their annual user conference Catalyst, the count is three.
As professionals in the trade show and events industry, it's no surprise to hear Las Vegas is like a second home for our H&P team. This past year we were excited to move Catalyst to a new city, Nashville, TN. I had not been to Nashville before and it has been on my "bucket list" of places to visit. I was excited for the opportunity, but I can say it came with some anxiety.
Everything in a new city is different, from the floor plan to delivery systems and even labor crews, so you have to start from the ground up to plan accordingly. Through this new experience, I learned there are three questions you have to ask:
1. What is my budget, really?
This question might seem a little silly, but when you're in a new city or venue you never know what will come up. Our contracts at Hill and Partners are not to exceed pricing, meaning once you sign on the dotted line you will not be charged more. For our team, this means researching every financial detail and aspect beforehand, because you don't know what will be impacted by the move unless you take the time to plan. We have a facility in Las Vegas, so shipping there is infinitely more controllable than shipping ahead to a facility 945 miles away from your nearest warehouse, like we had to do for Nashville. We've also had the same labor team for the last three years of Catalyst, but we weren't going to get all 24 of them to commute 1580 miles each way, everyday.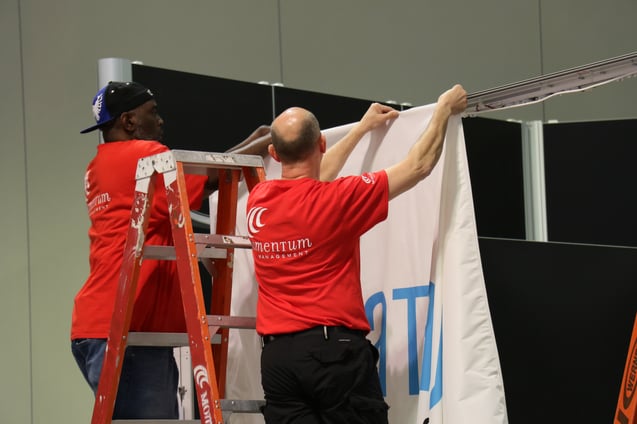 It also means understanding the venue and physical aspects of the new show hall. In previous years Catalyst has been held in a carpeted hotel ballroom. The Music City Center hall had concrete floor, which meant padding and carpeting the entire 50,000 sq. ft. area before any structural installs could occur. Carpet can't be installed before overhead fabric is rigged and exhibit architecture should be removed from crates before the carpet gets laid down. Not only does this add cost to the project, it requires a more coordinated instillation within the short timeframe.
2. Am I communicating clearly?
When communicating with new contacts it is important to clearly state your goals and expectations, and make sure you clearly understand theirs. It's human nature when working with the same partners year over year to develop a short hand for communicating and for expectations.
Exhibiting in a venue you're not accustomed to, in terms of chain of command or all their on-site capabilities, requires you to think in a more completed, one step ahead mindset. It is critical to know exactly what you want or need and by what time, so you do not run out of time when and if you hit an unexpected roadblock. When your needs are communicated up the ladder, there is no room for misinterpretation. The worst problem to run into is having expectations for one outcome, and showing up to something completely different. Communication is key.
3. Are our expectations realistic?
When you show up on a work site, there are certain expectations we make about how the day will go. Our team visited the site seven months in advance to do a walkthrough and get a feel for the space. We considered the number of loading docks, the path from docks to show floor, and thought about how traffic would flow from the front halls to the show entrance. We expected the hall would open and the venues' labor crew would be hard at work. Construction would start, signs would be raised, lights plugged in and everything would come to life.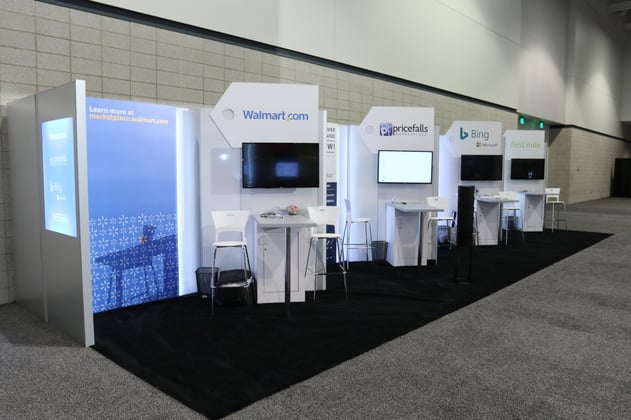 In Nashville, we learned expectation does not always match reality. We were working with a new facilities team on an event they had never executed before- some efficiency was naturally lost. We expected certain things like electrical work to be completed quickly, where in reality we saw a delay because their team was not sure where everything went. We expected a list of contacts for all the main people working on the event; instead, we had a new point person each morning. The reality of going to new places is that you always have to be prepared for change. It can be frustrating to try and adapt to a different process, but it's the only thing you can expect consistently in our industry.
---
Nashville wasn't our first "new city" and it definitely won't be our last. There is so much value in working with a new venue and location; the insight we gained will help our future events be even stronger.
Do you have a new city you want to work in? We're creating a Bucket List of places to go, and we'd love your input, too. Tell us where you want to see the H&P team travel next!