How To Create A Successful Event Marketing Plan [GUIDE]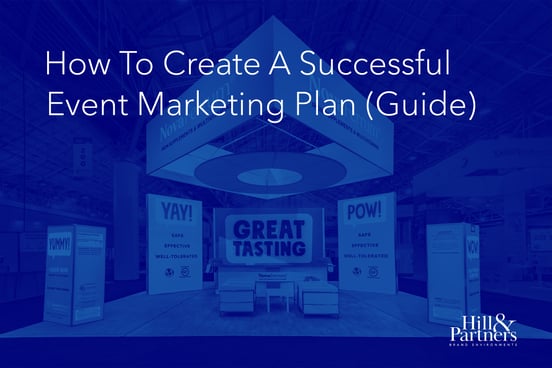 What does it take to go from a blank slate to a memorable event? Creative brainstorming is a good place to start, but ideas require a solid plan to transform into reality—whether you're planning a pre-show party, product launch, or exclusive meet-and-greet for your clients. (Great teamwork is also required, but we'll get to that shortly.) Keep reading to learn about steps you can take to create a successful event marketing plan of your own, as well as several event marketing ideas we've helped bring to life that may generate a spark of inspiration for you.
Your Go-To, 10-Step Event Marketing Plan
1. Put together a cross-functional team.
Whether you're creating a B2C or B2B event marketing plan, the first step is finding the right team to support it. (Tweet this!) The marketing function may lead the meeting and resulting efforts, but you'll still need input from other functional areas—marketing, design, sales, finance, etc.—since each department will want something different out of the event.
Gather your key stakeholders across departments in the same room (or conference call). Lead the group in a free-form discussion, where you'll brainstorm event theme ideas, potential messaging, and a general approach to execution. This is also a good time to define the responsibilities and expectations for everyone involved. The purpose of this step is to get everyone on the same page. And remember—you'll need to keep this core team informed throughout the process.
2. Set your goals.
Together with your team, determine exactly what you're looking to have the event accomplish for your brand. Do you want to:
Influence key decision-makers?
Create buzz around a new product?
Position your brand as a leader in the industry?
Reinforce existing customer relationships?
Your goals will guide your event marketing strategy, and dictate how you measure your resulting tactics going forward. Consider the interests of all functional areas on the team so your goals are holistic. You may finalize these goals during your initial team meeting or in a follow-up discussion—either way, be sure to get buy-in from everyone so they will provide their support.
3. Create a budget.
Determine how much money you have available to spend, as this information will be vital in informing the experience you're able to create. It's important to partner with finance to be clear on what's available. Keep an open channel of communication in case anything changes—you may be able to justify garnering additional spend. And make sure to consider all the costs of turning your event into a reality:
Design & development hours for graphic design, branding, content creation, and other creative labor.
Production & execution items such as A/V technology, install and dismantle labor, transportation of materials, electrical and internet needs, and catering and food service needs.
Location costs, including the cost to rent the venue, or purchasing space at a trade show or conference.
Travel costs such as transportation for your team to the event, lodging, travel while in the destination city, and food and entertainment.
Promotion & marketing collateral such as paid ads for social and other channels, event website, digital and print literature, and post-show promotion (e.g., video capture, photography, digital editing).
Additional staffing & other resources, which could include hiring temps and event staff, engaging influencers or celebrities, paying speaker fees, and so on.
4. Create a timeline.
Determine all the action items needed to execute your event and, working backwards from the event date, assign each a deadline. Consider how much time each phase will take, and allow for unplanned contingencies. Here are a few tips to help with this step:
Consider past, similar events to help accurately estimate how long you'll need for certain action items.
Add contingency time for estimates within the range of 10% to 20%, unless you deem more is necessary.
Keep in mind holidays and weekends for the exact number of days you'll need.
Inform your team about potential weekend work if you anticipate it so they can prepare accordingly.
5. Define your target audience.
Develop a thorough view of exactly whom you're looking to reach with your event. You likely already have an ideal customer profile built out, but your event may be attempting to reach a broader or different audience depending on your goals.
Consider the following factors:
Age
Location
Interests
Pain points
Job responsibilities/role
6. Craft the event experience.
Now comes the fun part—conceptualizing the experience for event attendees! Consider the following:
Start with the feeling. What do you want attendees to feel while attending the event? What do you want them to be thinking when they walk away? What kind of things do you want them to say when they share their experience with others?
Define the event journey. How will they find out about it? How will the event experience actually work? What is the plan for following up once it's done? Identify all portions of the journey from start to finish.
Decide on giveaways and collateral. Think about things your audience can take with them after the experience is over that will reinforce and remind them of the experience later—promotional items, samples, etc.
Formulate a plan for measuring success. What are the things you can track and measure to determine whether your experience is a success? Is it the quantity of people who participate? Brief surveys with participants after the fact? Brand exposure and media coverage?
7. Execute on the event.
Use your timeline and start delegating responsibilities to your team. One key item to create is your onsite plan, which includes the details around which team members will be onsite, their responsibilities, scheduling, and more. Additional details will vary based on your event, but here are some common execution tasks:
Construct or install any structures.
Work out the logistics of getting materials to the event location.
Liaise with location staff (hotel, conference, etc.).
Keep track of pending and completed tasks.
Oversee the design and construction processes.
Set up environmental graphics for wayfinding and other needs.
8. Promote your event.
There's no point in putting on an event if your attendees don't know about it! You need to get the message out in multiple ways to encourage people to show up. Try these useful approaches:
Create a dedicated event website to generate interest with potential attendees. The website should describe the event clearly, the attractions that will be available, what to expect, who will be speaking, etc. Don't forget to give people the ability to register or sign up.
Promote on social media before, during, and after the event. Consider whether you need dedicated social accounts or if your standard social channels will suffice. If you use your current social accounts, make sure to plan how you will parse out your standard content and content for the event. Try creating a branded hashtag to centralize event communications, and keep everyone in the loop.
Encourage word-of-mouth marketing by contacting currently registered and previous attendees, and asking them to share their interest in the event with their network. Referrals are the most effective form of marketing.
Engage in public relations and let the media know about your event. Try to garner media coverage before and during the event to maximize exposure.
Use post-experience promotion by capturing the event in photos and videos, then sharing on your event website and social channels. Events that have limited in-person participation can extend their impact to non-attendees through post-event promotion. This is essential to promoting the event the next time so people who did not attend know what to expect—it can also be nostalgic for people that attended previously.
9. Measure your results.
You'll of course need to analyze the success of your event. Gauge attendance, attendees' feelings about the event, and its effectiveness as far as reaching your goals. Keep in mind some measurements may be immediate (such as social media stats or leads), but some may take more time to realize (such as repeat attendees).
Also, feedback from attendees about what they liked (and didn't) can help you improve next time. Candid attendee feedback during and immediately after the event can be particularly helpful since the experience is fresh in their minds. You may also try sending them some questions after they've had time to digest the experience.
10. Debrief with your team.
Remember your cross-functional team from step one? It's time to reconvene and discuss results, takeaways, and potential changes based on your analysis and feedback. Get each function's take on the results—one department's needs may have been met more than another's. Use the discussion to build upon the knowledge and experience you've gathered from this event to make your next one even better.
Event Marketing Examples
What can you expect from implementing the above steps? Well, your results will vary based on aspects such as your industry, target audience, and goals, but below are a few examples where our handiwork helped produce some memorable experiences for attendees.
Hill & Partners
We created an event experience inside a Branded Environment at ExhibitorLIVE 2019. The ultimate goal of the event was to give attendees an authentic, on-brand experience to foster brand awareness about our company, planting seeds for long-lasting partnerships.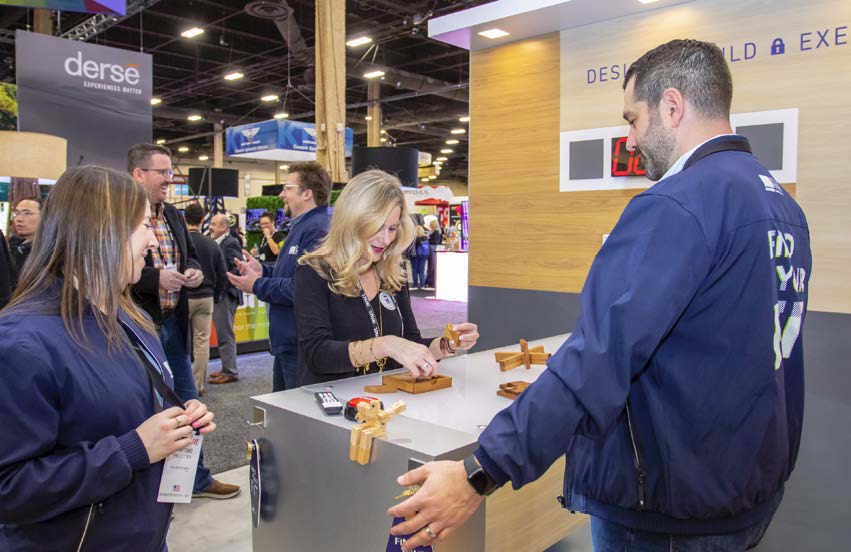 Given the fact that attendees' schedules were jam-packed with courses and learning sessions, we decided to provide fun games—including Tetris and a puzzle bar—to help them relax and clear their heads.
Cybereason
Cybereason exhibited at Black Hat, a cybersecurity conference. We helped them create a Branded Environment featuring a series of complex puzzles and games that would speak to the engineer-types who attended the event.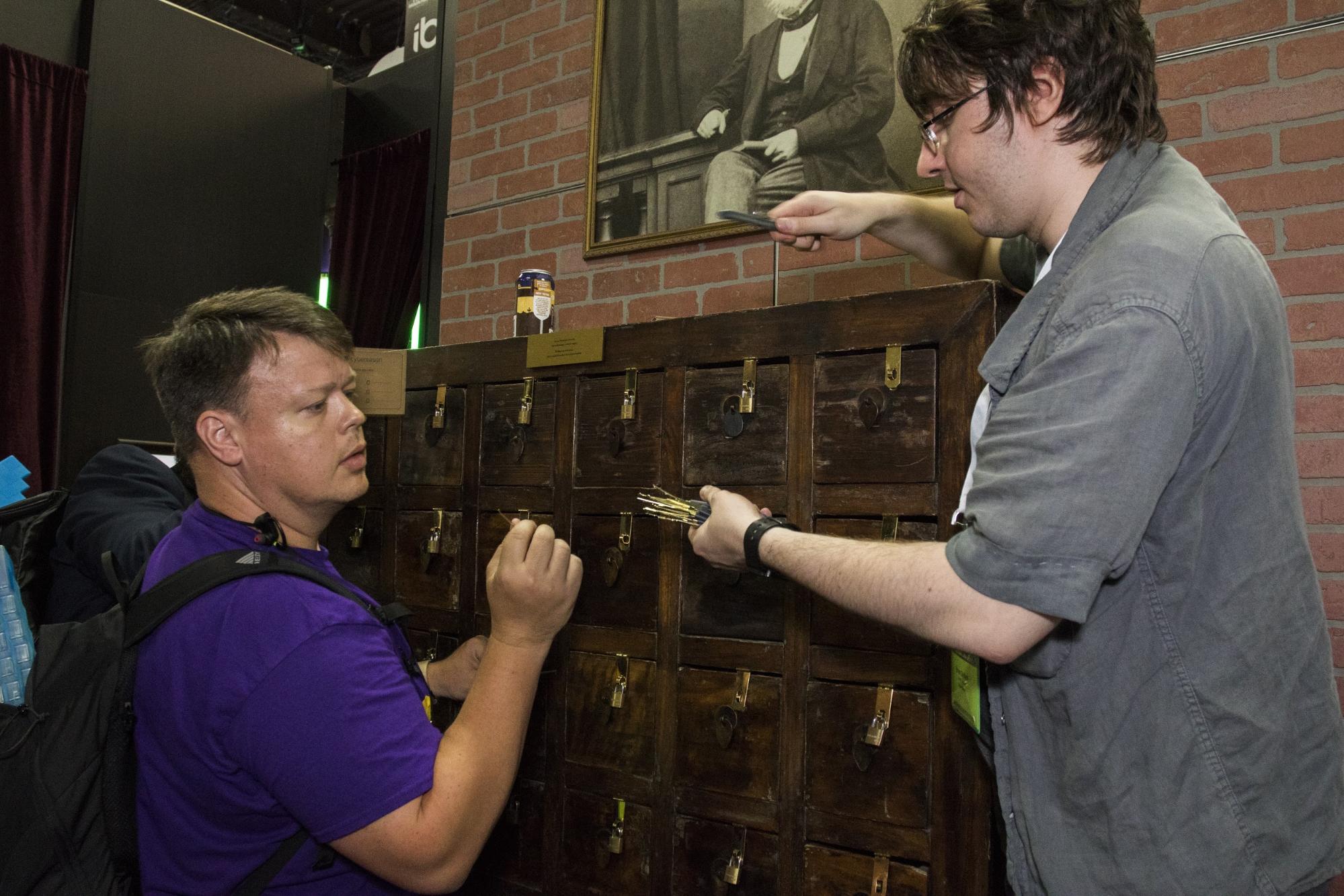 There were several lock-picking puzzles, complete with branded lock-picking kits, which challenged attendees to open antique apothecaries and safes. Attendees were enthralled with the experience, especially when they were successful in picking a lock to claim the prize inside.
Rapid7
Spark is a conference Rapid7 puts on for its employees. The 2018 edition was held in Belfast, Ireland, and the company flew employees in from all over the world to educate, inspire, and collaborate.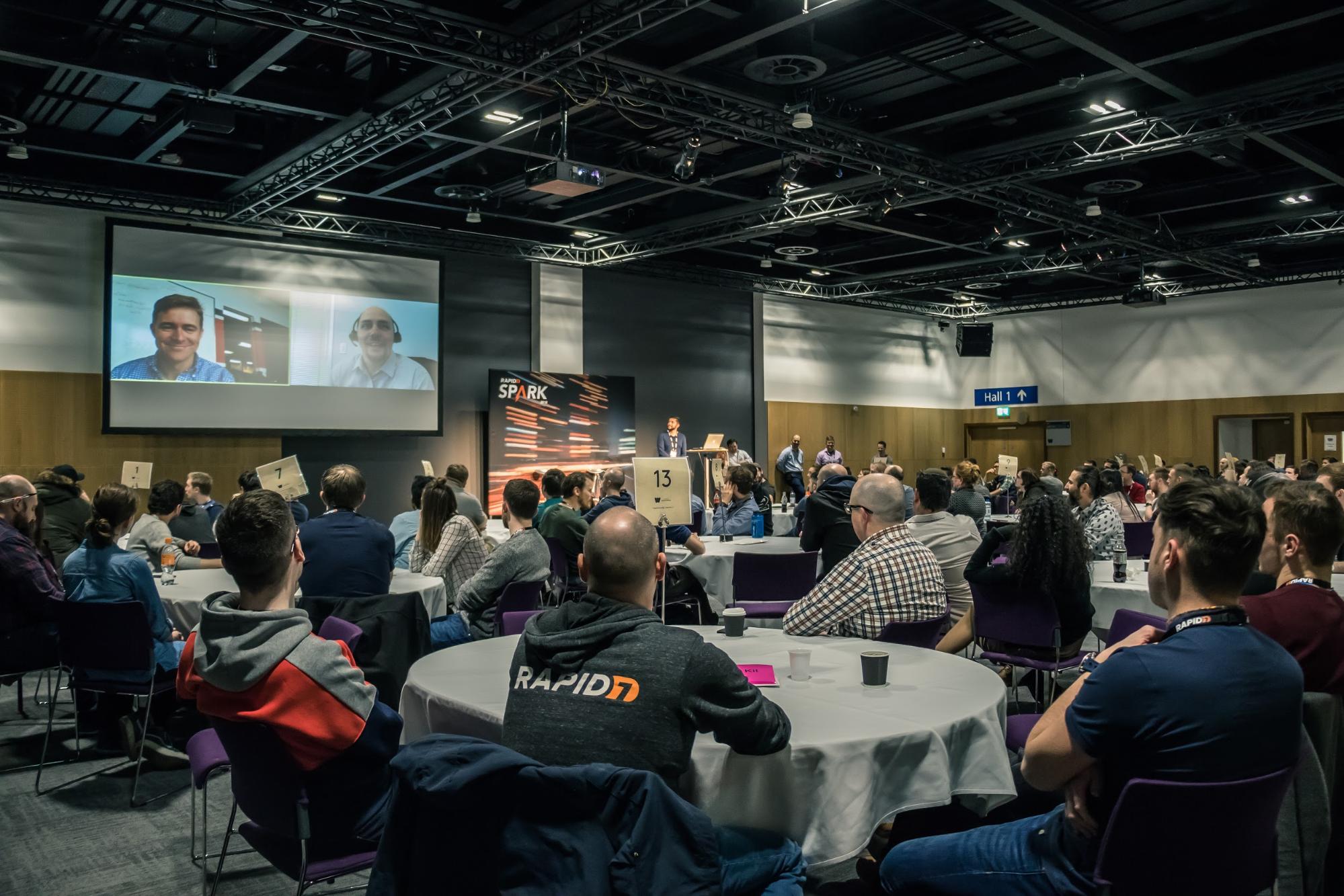 Like most conferences, the internal-focused event featured speakers and different sessions. The aim was to put everyone in the Rapid7 organization on the same page about new innovations and where the company was headed. We helped with the environmental graphics, ensuring attendees knew where to go throughout the conference.
Need help planning or executing your next event? We can help you transform an idea or theme into a memorable event with stunning environmental graphics. Reach out to us to talk about creating a uniquely customized space.
Topics: Featured, Trade Show Tips