Lone Star Rundown: 4 Of The Most Interesting Trade Shows In Texas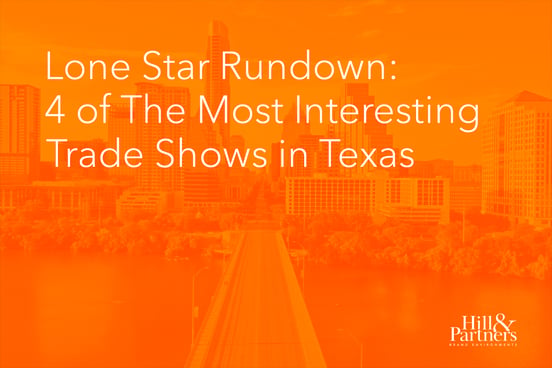 We previously covered several large trade shows from a global perspective, but today we're focused on the Lone Star State. Texas may not be the first place to come to mind when thinking about trade shows, but it's home to a number of interesting conferences and expos that run the spectrum on industries. Check out some of the most notable trade shows in Texas below.
4 Trade Shows In Texas
The 10-day South by Southwest (SXSW) Conference, held annually in Austin, Texas, brings together the film, music, and technology worlds into a unified yet diverse experience. An estimated 280,000 people attend the show.
The conference features over 20 program tracks—climate & social action, connection & culture, experiential storytelling, health & MedTech, future of music, and space to name a few. The focus of the show is to promote networking, learning, and discovery of new knowledge for attendees from around the world.
Marketing consultant Natalie Andreas has attended SXSW multiple times over the years. As an attendee, she values exhibitors that go a step beyond handing her a swag bag or business card. "I enjoyed when exhibitors immediately showed value. For example, a digital marketing agency offered a free, five-minute social media assessment right in the booth. This incentivized me to stop and (eventually) share my contact information."
Started in 2011, IMAGE Expo is an annual, Houston-based trade show catering to beauty professionals. The event features over 200 seminars and workshops covering a diverse array of beauty segments. Exhibitors present thousands of beauty products and services to salon owners and managers, stylists, nail techs, cosmetologists, and more.
The show notes how it helps promote exhibitors on its website, in its preview guide, and through direct mail, among other methods. In addition, statistics the show provides about its estimated 7,000 attendees are promising: 78% of them spend at least $300 on products and services at the show, and combined they spend over $1.5 million.
Here's a testimonial about the expo from one exhibitor:
"I am super impressed and loved the hospitality of the staff; I did not feel like a number. I was treated just as important as any large company head would be treated even though I own a small company. I had the pleasure of teaching two classes at the Expo and I will definitely do it again. Teaching classes brought buyers to my booth. All in all it was a success…"
DigiMarCon South is the Houston-based edition of DigiMarCon, which is touted as the largest digital marketing conference series around. DigiMarCon has over 20 annual conferences held around the world aimed at enhancing attendees' marketing efforts. An approximate 5,000 attendees can expect to see a wide range of marketing topics—digital strategy, search engine optimization, marketing and sales automation, user acquisition, UX/UI, and more. The conference draws speakers (and attendees) from well-known brands such as Microsoft, Moz, Adobe, Facebook, and Coca-Cola.
There's also something unique about DigiMarCon: At each conference, there is a co-located event called TECHSPO Technology Expo, which showcases innovative technologies in the AdTech, MarTech, mobile, and SaaS spaces.
Check out this testimonial from the DigiMarCon site: "DigiMarCon brings together some of the greatest minds in digital marketing to interact, engage, and learn from each other. I highly recommend it."
The Dallas KidsWorld Market is unique in that it occurs not just once every year, but five times. The show claims to be the "most comprehensive market for children's products in the nation." Retailers are provided the opportunity to source a wide selection of baby and children's products in numerous categories—apparel and fashion accessories, shoes, toys, textiles, décor, and more. An estimated 10,000 attendees come throughout the year to shop at the show from other states and from 84 countries.
The Dallas Market Center, which hosts the show, also features a plethora of similar shows throughout the year—the center is open daily. Depending on your business, you may be interested in exhibiting at sister shows for categories like accent furniture, candles, collectibles, hardware, luggage, and spa.
Whether you're considering exhibiting at one of the many trade shows in Texas or anywhere else around the world, we can help you produce an engaging Branded Environment. Reach out to us to talk about creating a uniquely customized space.
Topics: Featured, Trade Shows