What Do You Need For A Trade Show Booth? 10 Must-Have Items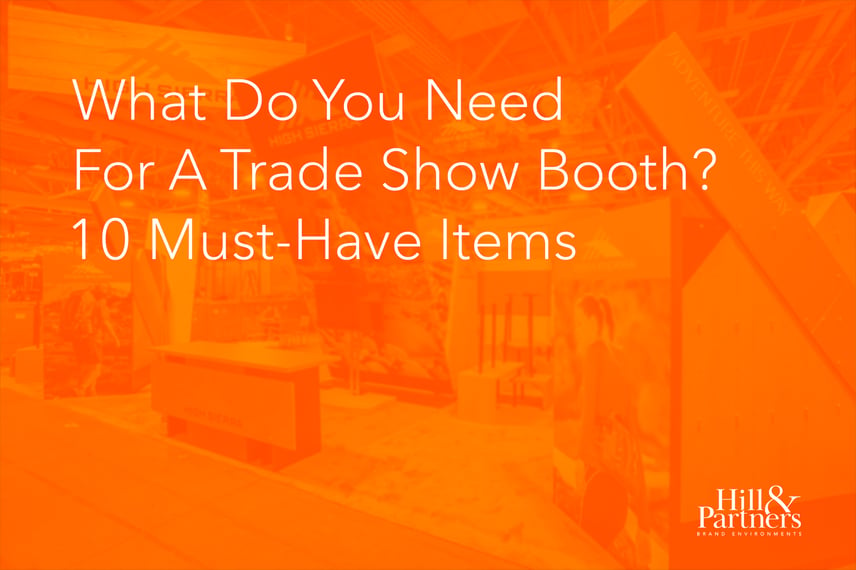 It's (trade)show time again—another opportunity to make sure your soon-to-be customers know you're the best option to address their needs. But before you hop on that plane, train, or automobile and make your way to the event, there are a few things you need to check off your list. Some items are important for trade show booth setup, while others can fit in your pocket. Below we cover 10 essential items you should pack or have sent to the show before you arrive to ensure your show day goes smoothly.
How To Prepare For A Trade Show: 10 Essential Items To Bring
1. Business Cards
Everyone attending the show should have a stack of business cards, not just your sales team. You never know who's going to meet who. For example, a booth visitor may talk to one of the staffers or marketing reps, but not actually meet a salesperson—that visitor should leave with a business card to personalize and solidify the experience. The rep can then follow up later with the visitor and CC a salesperson to continue the sales cycle.
Be sure to keep the cards on you at all times, not just while you're in the booth. You may meet an attendee at a nearby restaurant or while waiting at the airport, and you don't want to miss out on the opportunity to leave a good impression.
2. Adapters
Not having the right tech accessories can ruin your day, especially when you need a laptop or other device to run your demos. You could arrive at the show and not be able to connect the device to the provided equipment. And with international shows, you may not be able to connect to the power outlet at all. Avoid scrambling for what you need and just bring these tech necessities with you.
3. Comfortable Shoes
Here's one people often forget when thinking about the myriad of other items they need for the show. You're likely to be standing for long periods of time, and walking around the trade show floor. There may also be a lengthy walk to the show from the hotel. Developing foot and/or back pain can quickly sour your mood, impacting your performance, patience, and the attendee experience. Plus, nobody wants to be in pain all day!
4. Copy Of Show Schedules
You actually need copies of two sets of schedules: one for show events and one for your team covering the booth. The show schedule tells you when the show begins and ends, when networking breaks occur, etc. Your team or booth schedule should outline everyone's responsibilities and expectations, breaks, and so on. Be sure to include travel info in your team schedule so people know when everyone is coming and going.
5. Phone Chargers
The dreaded 1% battery life—we've all been there. The last thing you want while manning the booth is for your phone to power off. (Tweet this!) You won't be able to easily contact your staff, exchange information with visitors, or connect with leads on LinkedIn. If you use mobile apps for lead capturing or booth games, you'll be missing out there as well.
6. Over-the-counter Pain Medication
In the hustle and bustle of trade show days—traveling, interacting with hundreds of people, keeping track of everything, and putting out fires—headaches (both literal and figurative) are bound to happen. Be prepared with some Advil or Aleve on hand to ensure you and your staff stay comfortable and productive.
7. Lip Balm & Hand Lotion
If you're visiting a trade show held in a dry climate—such as Las Vegas, a popular trade show hub—you're bound to lose moisture. Stock up on hydrating items like lip balm and hand lotion.
8. Giveaways
Giveaways are perfect for solidifying the attendee experience. They represent a brand impression that goes beyond the trade show floor. When selecting a giveaway, think about what appeals to attendees and select (or create) items accordingly. You can start with these giveaway ideas. Whatever you choose, be sure those items make their way to the show on time!
9. Marketing Collateral
The literature you print or digitize and provide to attendees can help them remember who you are and what you offer. If you're using prints, consider how they will be stored and accessed—you may need shelving that makes the prints readily accessible. If you're going digital, plan for how and when the literature will be sent to prospects, and how it will be followed up on after the show.
10. Hotel Key Card
If you've ever misplaced your hotel key card when you're ready to pass out on your bed after a long day on the trade show floor, you'll probably never do it again. But before you make that mistake, here's one last reminder to keep track of it. First, make sure it's the last thing you check for before leaving your room. Then either keep it on your person in a safe location or leave it in your locker at the show (if provided).
Not sure how to prepare for a trade show? It takes more than knowing what to bring—a standout Branded Environment is a critical factor when exhibiting. Reach out to us to talk about creating a uniquely customized space.
Topics: Featured, Trade Show Tips