4 Ways To Add Comfort To Your Business Travel
There is a quote that states "Travel: The only purchase that can make you richer." Although this does hold truth, it may apply a bit more loosely to those who travel for their living. For us Business Travelers, the process of traveling to and from various locations so frequently can be taxing, uncomfortable, and a bit annoying.
Hill & Partners gets it. Our Account Management team travels around the world so frequently for so many exhibitions and events that they have experienced almost every travel inconvenience you can think of. Here are a few more tips from our team to offer some tips on how to make your next travel experience a little bit better:
1) SPACE SAVERS

Packing for your trip to fit in one carry-on will save you the stress of lost luggage and save you time getting out of the airport once you land. Plus it's just less to lug around. However, it's easier said than done to limit to a carry-on sometimes. Here are some tips to create more space in your small suitcase:

Roll socks inside shoes (it also helps shoes keep their shape)

Roll clothes tightly

Lay wrinkle-prone clothes flat on top

Insider tip: Most hotels have an iron. If not, there are now wrinkle release sprays offered in travel size. This option saves time and space.

Pack dryer sheets as an anti-static solution

Buy Travel Sizes for Everything

Avoid bulky items- like heavy sweaters or chunky high heels (you'll regret those heels on the show floor anyways)
2) ZOOM THROUGH SECURITY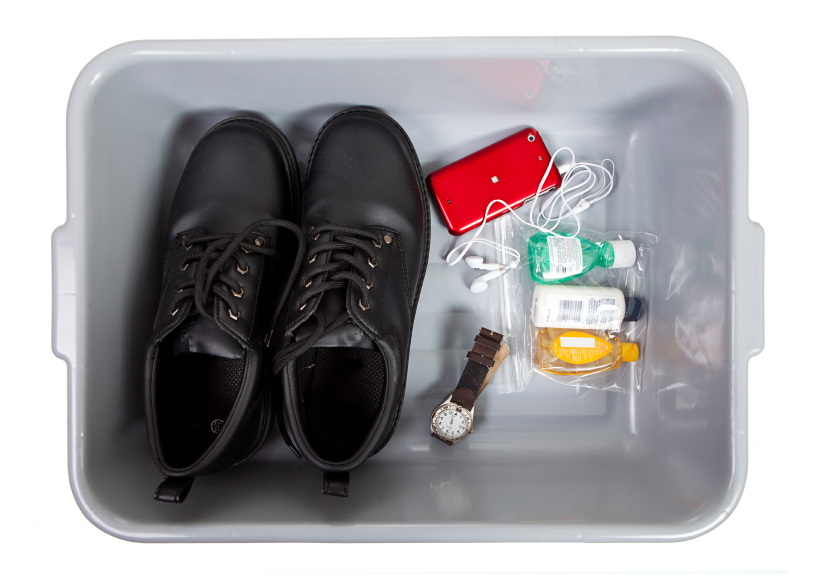 The dreaded Security Check Point. Your flight is taking off in 20 minutes and you're stuck in a sluggishly moving line of airline passengers of all types and all levels of flying experience. What can you do to help your chances of moving more quickly?
Insider Tips:
Frequent Flyers can register for the TSA Pre✓™ . It hasn't been implemented in all airports and at all Terminals yet but it is on its way. Check if this option is offered for your next flight and skip the line and the need to take off any article of clothing or footwear.

If you travel frequently and do not take part of a loyalty program, SIGN UP NOW! Sticking to a frequent flyer rewards program can really offer some perks in travel. Check out the best programs here: 7 Top Frequent Flier Programs
If the Pre Check is not available to you:
Wear Slip On Shoes

Keep Your Belt in the Carry-On until after you're through Security

Eye the Line – Get behind other people who will move fast. Evaluate this by how much stuff they are carrying and wearing and how many people they are traveling with. Ideally look for people who are well traveled and prepared to slip through security just like you are.

Before you leave the house, make sure NOTHING that is not TSA compliant is hiding in your bag. You don't want to be the reason for holding up the line for a bag check.
3) PREPARE FOR COMFORT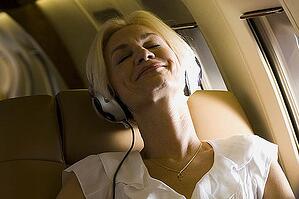 How many times have you taken a flight and de-planed saying "Wow that was really comfortable and rejuvenating"? Be prepared to make the trip as enjoyable as possible:
The plane can get hot or cold so bring an extra layer and some socks.

Feet can swell due to the cabin pressure so wear loose shoes that you can easily slip off.

If you're on a long, late or overnight flight, invest in a neck pillow. It will save you a lot of discomfort from the "head nods" and stiff necks.

Check-in online early to make sure you get the best possible seat option.

Pick the first row or exit row for extra leg room.

Moisturize! The dry air on a plane can do a number to your skin.

Hydrate. It's best to buy a bottle of water before boarding the plane (or fill up a Brita filtered bottle to save money).

Make sure you have headphones in your carry-on so that you can either stay soothed with music or drown out those unpleasant noises that come along with sharing a space with so many people. Noise cancelling headphones are a plus.

Insider tip: Get some E-A-R soft foam disposable earplugs. There are five good reasons why these trump other solutions: they're far cheaper, far less bulky (thus easier to pack), easy to replace, takeoff- and landing-friendly (non electronic), and you can actually sleep comfortably wearing them because you don't have to wrangle big earmuffs.
4) KEEP A READY-TO-GO STASH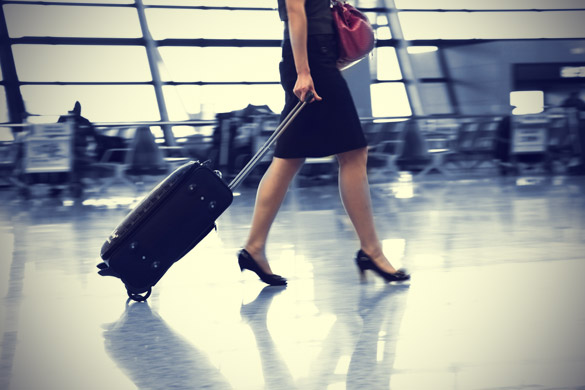 If you travel frequently, you know the basics of what you'll need for every trip. Keep your travel bag ready to go in your suitcase at all times.

Insider Tip: Keep Toiletries, Basic Jewelry/Make Up, Snacks, Notebook, Pens, Business Cards in your bag for each trip and replenish as needed.



Follow the Hill & Partners Travel Tips Pinterest Board
---
READ MORE:
4 Tips for Avoiding Travel Stress
How You Can Still Soak Up Summer During Business Travel
---
Topics: Tips & Tricks, on the ground